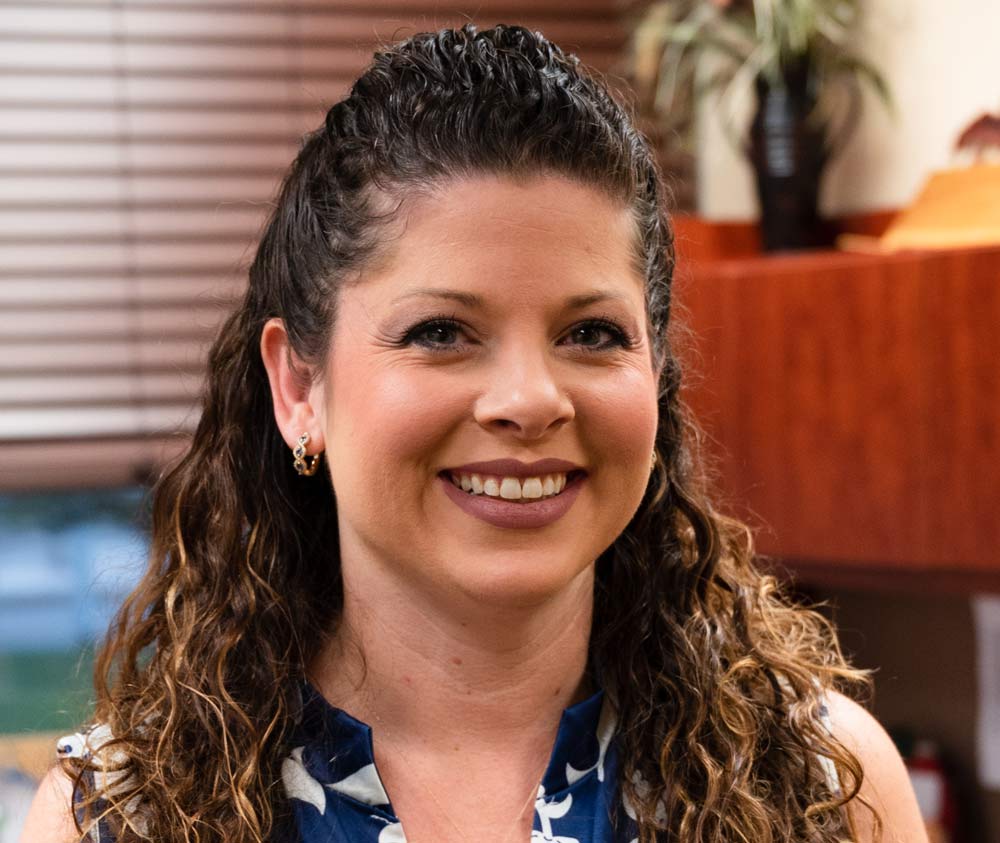 A month after the termination of Paul Peacock's principalship at Wadsworth Elementary School–two months after he was ordered off campus as he was investigated over a half dozen employee complaints–Interim Superintendent LaShakia Moore today appointed a new principal for Wadsworth, the third in as many years: Amy Neuenfeldt, the county's 2021 assistant principal of the year.
All eyes were on Moore's decision, her first that would have an immediate impact on a large school community and would hint at the sort of decision-maker she would be in her new role. The Neuenfeldt appointment appears to combine caution with proven leadership, elevating from within an administrator less interested in hogging the limelight than  in a making her team and students shine.




Neuenfeldt had been an assistant principal at Indian Trails Middle School since she was appointed to that post in 2017–by Peacock, who was the principal there at the time. He'd first hired her as a Teacher Education Special Education (TESE). After overseeing the transition of sixth graders to the middle school, she will try to fulfill the district's wish at Wadsworth, which has gone wanting over the last few years: bring some leadership stability there.
Peacock was assigned the principalship last year when then-Superintendent Cathy Mittelstadt was looking to steady the school after the end of Anna Crawford's tenure and rocky year under Mary Kate Parton, only to be showered with complaints from employees on one hand and Peacock's own combativeness and machinations on the other. Seven of his employees and one district employee filed complaints about him. Only the district employee's complaint was substantiated.
Neuenfeldt has had a calmer career–or at least a less publicly eventful one. "I don't like to be the center of attention," she told the district's Jason Wheeler in a podcast last year. "I feel like I am great because of the people that are around me, if I can just facilitate their successes."




Neuenfeldt's mother was a teacher. She graduated Flagler College with a deaf-education major before Stewart Maxcy hired her at Wadsworth. That was in 2003. She stayed there for 14 years, working as a reading coach and teacher support colleague along the way.
She seems to have had a knack for detecting the organizational complexities of running a school, as when she described  the difference between what the public at large sees in an administrator–someone walking the hallways–and what an administrator actually does the rest of the time.
"What they don't always see is the behind–how to organize the school, how to organize testing or writing curriculum, writing assessments and the things that go into ensuring that each day runs smoothly," she said. "There's some things that people don't necessarily always get to see. It's that part of the job, the things that go on behind the scenes that make it work."
Wheeler, a former reporter whose instincts at times still transgress the prisonhouse of PR, posed a prescient question during that podcast: "Not every AP wants to be a principal. I think you do," Wheeler told her, using the abbreviation or assistant principal. "Your time as an AP, how's this preparing you for when that call comes? And you know, you never know when that call is going to come. So how prepared are you and ready to hit the ground running if that phone does ring?" (There's no indication that the superintendent had put him up to that line of questions.)




"I don't think you're ever completely prepared," Neuenfeldt said. "In education, every day is excitement, every day is something you never know what something is going to be for that day. But I think preparing by working together with such a great team from just the academic side, which is kind of my background, to working with [Justin Cronk, the other assistant principal] and [Ryan Andrews, the principal] on facilities and what is entailed with that, and student discipline, and what is entailed with that. I think by working as an AP you get to see the whole school and multiple components, which leads to being a principal and being able to see all of it because it's not just one role."
Clearly, she was fulfilling an apprenticeship for the role she got today, though she credits her years all the way back to Wadsworth for the circle she seemed to close today.
"My time at Wadsworth and the relationships I made there shaped me into the educator and administrator I am today," she was quoted as saying in the release Wheeler issued this afternoon. "Students, teachers, staff, and parents will see me actively engaged as I do everything I can to promote this great campus. I know what a special place WES is, and now it's time for our entire community to find that out."
Andrews had described her this way when he nominated her for the 2021 assistant principal of the year honor that she won: "Schools are living, breathing organisms with their own heartbeat, and without Mrs. Neuenfeldt, our school and its success would not be the same." (It'll be up to Andrews to appoint her replacement at Indian Trails.)
Wheeler also asked Neuenfeldt a revealing question he frequently asked the subjects of his podcasts: "What makes you sad?"




"I always try to see the positive in a situation and then take that little bit of hope, that little bit of positivity, and build on it," Neuenfeldt said. "So when I see a kid hurting, we understand why they're hurting, but I want to see a positive that I can then use and change and help make them positive. I can see a kid struggling academically and they're failing and they feel like they're in a hole. And we just start with one piece, one thing, and they feel that success. So where I feel sad, when kids don't feel successful, it is an opportunity to build on that hope and that little piece and then they're coming to you at promotion ceremony high fiving you because they passed, and they're excited, or they've worked their differences with their friends, or something exciting happen or they were good at sports. So they had that moment that just made them shine for a moment."
Other than Maxcy, principals at Wadsworth since 2010 have included Carla Taylor, Robin Dupont, Jacob Oliva and John Fanelli. That was before the years of turmoil.
"Amy has learned so much about effective leadership in her time as an administrator at Indian Trails," Moore said in the release. "That, combined with her long history at Wadsworth Elementary, makes her the ideal principal there. On top of that, she inherits an amazing leadership team who are committed to steering WES in the right direction."
Neuenfeldt's assistant principals are Robby Hallock and Chris Tincher.