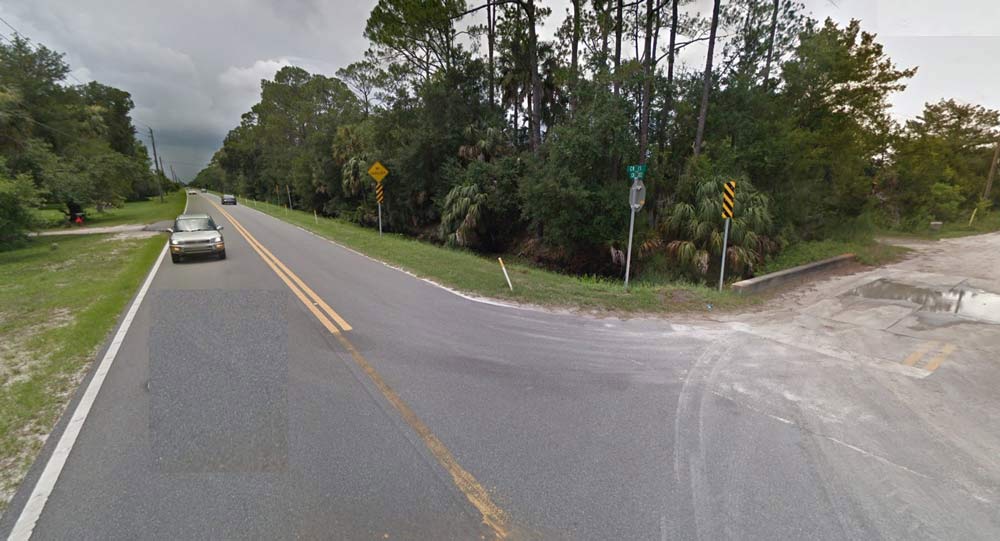 A 51-year-old Palm Coast man cycling on County Road 302 early this morning died in a crash involving two vehicles, the third cyclist to die on Flagler County's roads in six weeks. Half this year's deaths on Flagler County roads have happened to cyclists, motorcyclists or pedestrians.
The cyclist, whose identity the Florida Highway Patrol has not released, was traveling west on County Road 302–a narrow two-lane road with no shoulders, no bike lanes and no street lights–a few minutes before 7 a.m., just east of County Road 15.




A 62-year-old Bunnell woman was driving an SUV in the same direction, immediately behind the cyclist, and a 34-year-old Palm Coast woman was driving her own SUV behind the other SUV. According to a Florida Highway Patrol report, the first SUV's passenger-side mirror struck the cyclist, throwing him to the pavement. The second SUV then struck the cyclist.
According to FHP, the cyclist had no illumination devices on the bike and was not wearing a helmet. Sunrise was at 7:09 today, 15 minutes after the crash was reported, but the area was in fog at the time, as it often is in the morning.
Authorities attempted to call in two emergency helicopters–Trauma One, which declined due to weather, and Air One; Flagler County Fire Flight is not in service until 8 a.m. But the cyclist, who was unresponsive after the crash, was pronounced deceased by a Flagler County Fire Rescue paramedic at 7:07 a.m., according to 911 dispatch notes.
The drivers of the two SUVs were not physically injured. County Road 302 was initially closed at County Road 15, then at County Road 302's intersection with State Road 100 to the east. CR 302 was shut down to CR305 as an FHP traffic homicide investigator and others worked the scene. The road was opened shortly before 11 a.m.




A 40-year-old cyclist was killed the afternoon of Sept. 7 in a collision with a pick-up truck that entered the bike lane on U.S. 1 near Old Dixie Highway. The cyclist was not at fault, according to FHP's preliminary investigation. And a 50-year-old cyclist was killed on July 31, crossing State Road 100, in that case violating the right of way of oncoming traffic, according to FHP. Today's fatality was at least the 12th on county roads so far this year.
"My condolences go out the cyclists family and my thoughts and prayers also with the drivers of the vehicles as they deal with this tragedy," County Commissioner Andy Dance, who chairs the Community Traffic Safety Team, said today.
"It's tragic, that's really all you can say. We preach safety as much as possible," Dance ssid. CTST's monthly meetings are regularly attended by local law enforcement and the state Department of Transportation. It will be discussing the recent incidents. "The objective of the CTST is to look at every fatality and serious accidents to se if there are components of engineering and education that can help alleviate these in the future," Dance, himself a ubiquitous cyclist, said.
For instance, CR302 being a connector between the Daytona North population center and Bunnell, and both population centers having a number of people who rely on bicycles as their mode of transportation, there may be discussions toward reviewing capital improvement plans ahead, and some consideration about the feasibility of broader shoulders or a bike lane on CR302. "Those are things we have to take into account when we review our five-year construction project list," Dance said. He has not seen any plans for a bike lane or wider shoulders for CR302 on future plans. "But we'll definitely take a look at our current list."




The state Transportation Department takes seriously its Target Zero initiative to reduce road fatalities to zero across the state–a very tall order in a state where eight people are killed and 49 seriously on average per day on Florida roads, but a goal nevertheless. Safety programs frame the initiative.
"If people are following rules of the road, when you're sharing the road with a 2-ton vehicle, it's tough," Dance said, drawing from his own experience as he has become increasingly familiar with county and city roads, and experiencing his own close calls. "Even on a road like 100 where we have a bike lane, you need a rearview mirror, you need to be conscious of what's behind you because you're riding with traffic, you need to have a full set of safety gear on."
There are numerous ways even for cyclist with lesser means to secure safety gear–from the free bike helmets handed out by Tax Collector Suzanne Johnston at her offices to the regional Transportation Planning Organization, which distributes such things as light reflectors or flashing lights for bikers, or Joe the Bike Man–Joe Golan–who got a "Standing O" from the Observer in January for his work donating and repairing thousands of bikes for children and adults.




Notably, the Flagler County Sheriff's Office has stepped up its traffic enforcement patrols, and traffic crashes involving vehicle-on-vehicle collisions have been relatively low this year: a cursory analysis of the year's 12 or 13 recorded fatalities (including likely medical episodes) reveals that possibly only two of those crashes involved collisions between two vehicles. Four crashes involved single vehicles either losing control or crashing because of the driver's medical episode. One of the fatalities was caused when a man riding the bed of a truck was ejected.
But five of the fatalities were to cyclists or motorcyclists, and a sixth was a pedestrian. In other words, fully half the danger of death on Flagler roads so far this year has been to non-car riders, suggesting that traffic safety may have to adjust its focus. The types of fatalities are annually confirmed and more precisely broken down by the Florida Highway Patrol.