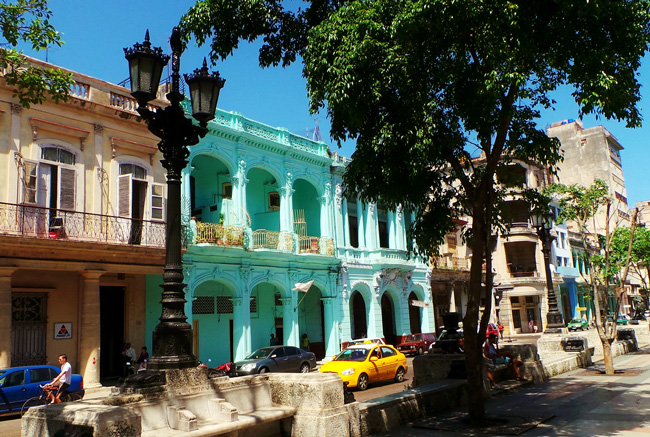 President Obama is addressing the nation from the White House at noon today to announce that diplomatic relations with Cuba will be restored and embassies of the two nations will open in Havana and Washington, D.C., 53 years and 10 presidents after Dwight Eisenhower, citing "self-respect," closed the American Embassy in the Cuban capital on Jan. 3, 1961.
Eisenhower would soon approve orders for the CIA to overthrow the regime of Fidel Castro, a decision that would lead to a string of blowbacks that culminated with the disastrous and ill-planned Bay of Pigs invasion weeks into President Kennedy's tenure, and the installation of Soviet nuclear missiles on the island the following year, triggering the Cuban missile crisis.
The more positive trigger this week was the release of Alan Cross, an American entrepreneur who was jailed in Cuba five years ago, on a 15-year prison sentence, for attempting to start an Internet service there. Cross's imprisonment had been an obstacle to Obama resuming relations, though the two sides have been negotiating secretly for 18 months, according to The New York Times. Cross arrived in the United States this morning. In exchange, though the U.S. government denies there is a connection, the U.S. returned to Cuba three Cubans convicted of spying in 1981. The government said the release was a swap for a CIA agent who'd been in prison in Cuba for 20 years. For its part, Cuba will also release some 53 political prisoners.
Normalized relations with Cuba are a boon to Florida's economy, as renewed links will open Florida and Cuba to rich economic and cultural exchanges. ""The definition of insanity is doing the same thing over and over again and expecting a different result," former Gov. Charlie Crist, who narrowly lost a bid to replace Rick Scott in November, said in an interview last May. Obama today used virtually the same words to justify the resumption of relations.
"Today, the United States is taking historic steps to chart a new course in our relations with Cuba and to further engage and empower the Cuban people," the White House said in a written statement ahead of a noon statement by Obama. "Mr. Obama spoke with Mr. Castro by telephone on Tuesday to finalize the agreement in a call that lasted more than 45 minutes," The Times reports, "the first direct contact between the leaders of the two countries in more than 50 years, American officials said."
European nations and Canada have long maintained diplomatic and economic relations with the island nation of 11 million, giving their companies a competitive advantage in the American hemisphere. Obama's move toward Cuba is not s surprise. He had signaled that he considered the embargo outdated, and that he wanted closer relations. In his first term, he vastly eased family visits to Cuba. He was not prepared to resume full diplomatic relations, however, until his second term, so as not to jeopardize his chances of winning as much of the Hispanic vote as possible in Florida, which may have provided him the difference between winning and losing that state's electoral college. (Obama won Florida in 2008 and 2012.) Over time, the Cuban-American community, which had once exercised a veto on Cuban-American relations, has lost its cohesion, with the older generation of immigrants dying off and a younger generation feeling far less inclined to see Cuba as a belligerent.
The Economist in April summed up the damage the embargo was having on the American economy: "Earlier this year Alfonso Fanjul, a sugar tycoon and longtime Castro opponent, raised the possibility of investing in the island. Heavier remittance flows mean that many Americans are now funding Cuban firms without having control over them. Meanwhile, other countries are pushing ahead. The European Union, the largest foreign investor in the island, is soon to start talks on a new accord. In January a deepwater port opened in Mariel on Cuba's northern coast, a prime spot to handle traffic with the United States should the drawbridge come down. The port was built by Brazil; it is operated by a Singaporean firm."

Watch President Obama's full speech. Starts at Minute 27.