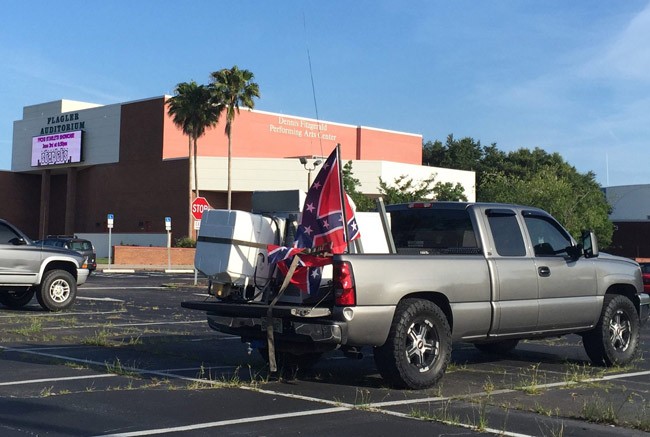 It's considered bad form to speak ill of the dead. But some corpses deserve less respect than others. The Confederate flag is one of those. It died exactly 150 years ago. But its corpse was exhumed in the 1960s all over the south and exhibited quite ghoulishly as part of that strange region's contempt for civil rights at the time. The carcass is still flopping in places and creating a stench, like a running scene from "Night of the Living Dead." It looks like the flag's days may be numbered, again. But you never know with this thing. It can still surprise you, Gagnam-Ebola-style.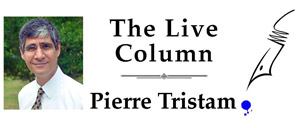 The Confederate flag has had its many shades of hate, from the Stars and Bars to the Stainless Banner, that one first used to cover the body of Stonewall Jackson at his funeral. But the Confederate Battle Flag is the top of the line in hateful symbolism. That's the one that flies still on the grounds of the South Carolina legislature. That's the one that, until Wednesday, flew on the grounds of the Alabama capitol, when Alabama's governor decided he did not have to follow South Carolina's impotence to do the right thing. He had it removed without ceremony. That's the flag that still flies wherever the Mississippi state flag flies, because the Confederate symbol is embedded in that one. Mississippi had its chance to remove it from the state flag during a seven-year lawsuit from the NAACP in the 1990s, but Mississippi being what it is—a place where "the past isn't dead," to quote its native son William Faulkner, "it isn't even past"–the flag still flies with its Nazified heritage.
And oh, what a heritage. It's the heritage white soldiers waved in black soldiers' faces as they burned crosses in Da Nang after Martin Luther King was assassinated, the heritage Virginia Senator Willis Robertson, father of Televangelist Pat, waved on the floor of the Senate as he filibustered the Civil Rights Act in 1964, the heritage Dylann Roof spoke for when he murdered nine black church-goers in Charleston, and of course the same heritage that flew from the back of a pick-up truck parked at our own Flagler Palm Coast High School a couple of weeks ago until an insurgent of intelligence informed the administration, and the administration immediately did the right thing.
Don't mistake this for a First Amendment issue. It isn't one. No one is keeping you from from flying the Confederate flag anywhere you please on your property, on your Facebook page, on your family Bible, on your pick-up's rear or your girlfriend's boobs. Fly it as proudly as all your other prejudices and bad taste. Just don't do it on public property. That's all this is about. There's no slippery slope here, no where-does-it-end gripes. It's a matter of basic decency on public grounds, what your selective antebellum memory might call good manners.
The NAACP was very successful in the 1990s in its campaign to have the old cadaver of hate removed from all sorts of public places, with some notable exceptions. That's when Alabama and South Carolina thought they were doing us a favor when they removed the flag from atop their capitols and placed them next to monuments celebrating their Lost Racist Cause, and when then-Gov. Jeb Bush more appropriately had the hate flag from Florida's capitol shipped off to a museum, though no sooner did he do so than Marco Rubio, himself a bit of an expert in fabricated heritages, sponsored a bill in defense of the hate flag. It failed.
The historian Shelby Foote—who's always downplayed slavery's place in Southern culture the way Catholics like to downplay the Crusades, the Inquisition and the massacre of protestants as a 500-year footnote—argued that the Confederate flag had merely been a battle flag and that in its original form "it stood for law, honor, love of country." It was only during the civil rights era, when racists "misused" it as their standard and weren't stopped from doing so by Southern elites that should have known better, that it became "a banner of shame and disgrace and hate." That's a nice way of introducing the sort of nuance that gives the flag a noble crease for its latter-day worshippers to wrap themselves in, and it's not entirely false. But it still ignores 4 million blacks in the 1860 South (or three-fifth that if you go by white math). And this is the same Foote who said of blacks in a late 1990s interview, when he should've known better, that "They are acting as if the utter lie about blacks being somewhere between ape and man were true." He was talking about black neighborhoods being unsafe for whites. The insertion of that "utter lie" in his white-gloved phrase doesn't excuse him: this is a man who knows how to use nuance as shield and spear. Neo-Confederates have adopted his artful venom.
Right about then the Confederate flag backlash under the banner of "heritage" hit hard, with all your plantation-variety bigots claiming the flag has nothing to do with fighting a war to defend 300 years of human trafficking and the genocide that entailed (16 million blacks died in the Atlantic slave trade, though that was not an exclusively Southern specialty until late in the trade), and everything to do with a noble history of Southern culture and States' rights.
I don't disagree. Heritage is heritage. But that Southern history was soaked in the blood and sweat of blacks, whose culture human rights were systematically denied by whip, rape and the lynching tree to ensure that whites could have their balls and frilly little white gloves. That's the heritage that flies when the Confederate flag flies. It's an odd way to reflect on one's version of "honor." And it's 150 years past time to quit playing a word game that insults people and history and be done with that born-again Swastika cross-dressing as heritage.

Pierre Tristam is FlaglerLive's editor. Reach him by email here or follow him on Twitter @PierreTristam. A version of this piece aired on WNZF.