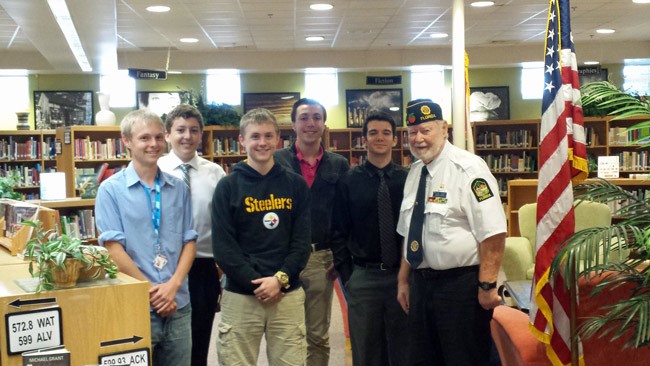 American Legion Flagler Post 115 representative George Stockley interviewed high school junior boys from Flagler Palm Coast High School today (Feb. 26)  to select candidates for the Boys State Leadership Conference held in the state capital each summer. William Gibbs and Alex Lull made the cut, with Devin Ritter as an alternate.
Boys State is a comprehensive one-week leadership course in state and local government development to offer youth a better perspective to the practical operation of government and to show that the individual is responsible for the character and success of government.  Delegates  selected for the program  learn of government's processes first hand as they live on the campus of Florida State University and conduct much of their work at the Florida Capitol, meeting the governor along the way.
Each delegate is assigned a political party and has an assigned legislative role in the workings of a mythical 51st state, using the laws of Florida as a basic guide. Program staff guides the students through the week's work. Two delegates are selected to participate in Boys Nation, in Washington, D.C., and five delegates are selected to receive two-year scholarships from Tallahassee Community College and two years at Florida State University.
Junior boys in Flagler were encouraged to apply in early February.  Five applicants were granted interviews: Gibbs,  Lull, Evan Ore, Hayden Ore and Ritter.  Committee Chairman George Stockley referred to the group as "an impressive group of young men."  Each applicant faced a 10-15 minute interview and then waited nervously while the committee deliberated, finally selecting two candidates and one alternate to send to the 2015 Boys State Conference.
Gibbs is an International Baccalaureate student, the treasurer of the Mu Alpha Theta and a member of the Varsity Tennis team.  He is also a member of Community Problem Solving,  Future Problem Solving and the National Honor Society. Gibbs hopes to attend the University of Florida and major in Economics.
Lull is an Honors Student, a member of the Student Government Association, the Student Adviser for the Future Farmers of America, and a member of SWAT, or Students Working Against Tobacco.  Alex was a State finalist for the VFW Voice of Democracy Speech Contest and says if he were governor for a day, he would fight for better benefits for people with disabilities.
Ritter is the alternate in case another Flagler County delegate cannot attend.  Devin is in Advanced Placement classes, is the leader of a Community Problem Solving Group and a member of Youth Leadership Flagler.
The program will be held at Florida State University June 14-20.