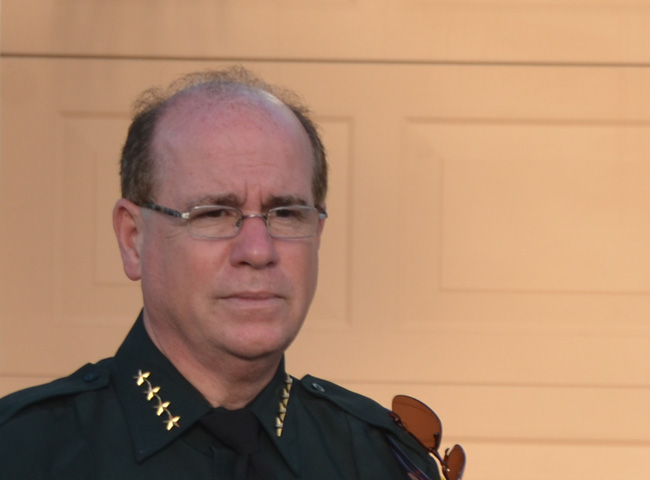 Linda Bolante, the long-time finance director at the Flagler County Sheriff's Office who says she was forced to resign in March after flagging inappropriate spending by the sheriff, has filed a whistleblower lawsuit against Flagler County Sheriff Jim Manfre.
The lawsuit, which hadn't yet been served at the Sheriff's Office as of Thursday, focuses on "certain unethical and unlawful employment practices by Sheriff Manfre involving his personal use of public funds and county-owned vehicles," and more particularly, "unauthorized" spending by Manfre on agency-issued credit card. The focus on ethics is apparently intended to contrast with one of Manfre's overriding promises when he was running for sheriff—to run an agency ethically above reproach.
Bolante is seeking damages in excess of $15,000 and reinstatement at her job with lost compensation, among other things. Bolante worked at the Sheriff's Office from July 2000 to the end of March. She announced her resignation in a letter to the sheriff in a January 23 letter in which she cited "mixed emotions."
Sid Nowell, the Sheriff's Office's attorney, rejected the claims by Bolante.
"We absolutely deny the allegations contained in the complaint," Nowell said Thursday. "We haven't been served yet, but I have seen an unserved copy of the complaint, and I don't see any merit to the complaint especially that of her playing the role of a whistleblower." Bolante, Nowell said, doesn't meet the criteria of a whistleblower. Referring to Manfre, Nowell said: "We deny that he did anything wrong, or that she suffered any adverse employment actions" as a result of the actions she describes.
According to the lawsuit, Bolante was preparing to respond to a public record request initiated by the Sheriff's Office's own Finance Unit for documentation on credit card purchases Manfre had made when, examining receipts, Bolante "discovered several inappropriate purchases such as multiple meals and alcoholic beverages, including those for the Sheriff's wife and other persons who were not FCSO employees."
On Oct. 30, Bolante, according to the complaint, met with Manfre, Staly and Nowell to inform them about the spending she believed to be "improper and not in accordance with county policy" or a section of Florida law that governs allowable costs for public officers. Staly at that meeting suggested Manfre reimburse the amount for the "improper purchases." The next day, after Bolante had calculated the amount, she again met with Manfre, Nowell and Staly. At that meeting Manfre said his wife had spent about $1,100 in personal funds to spruce up the sheriff's offices at the time of the inauguration. Manfre, the complaint states, "asked that these receipts be used to offset what he owed the agency for his unauthorized restaurant and entertainment purchases." Bolante said that would be "inappropriate, and she could not ethically comply with this request," according to the complaint.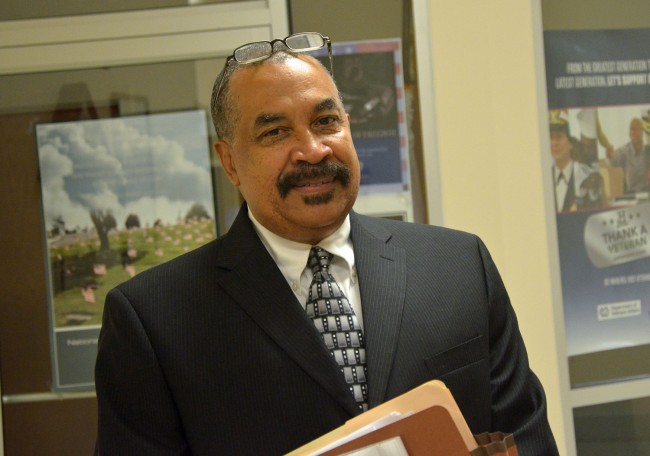 At that point, the complaint claims, Manfre told Bolante he needed her to "take the hit for this." Nevertheless after advice from Staly and Nowell, Manfre "reluctantly wrote a check for $344.03 as reimbursement for some of the unauthorized expenditures."
At 7:30 that evening, Bolante sent the following email from her husband's personal email address to Manfre, copying Staly on it: "Referring to our meeting today with the Undersheriff and Attorney Nowell as to statements made and information flowing from those, please understand that I must be and will be completely honest and forthright if and when any inquiry is made of me concerning the issues discussed, including those about the agency credit card usage and receipts provided for reimbursement by you or any other member of the Flagler County Sheriff's Office.  I intend to continue serving the FCSO and citizens of Flagler County in a professional manner with unquestioned integrity. [] I hope that you appreciate my honesty and candor on all matters related to my public responsibilities are not negotiable. [] As always I will be available to discuss this or any other matters with you." (The text of the email does not appear in the complaint , which only alludes to it.)
The following day, Staly told Bolante that "Manfre had told him he needed to 'be the bad guy' and find a reason to terminate her," the complaint states. "Undersheriff Staly told Mrs. Bolante he did not intend to do that." For the next few months, Bolante claims Manfre's behavior toward her changed, indicating "to her and others he was angry with her."
In an interview Thursday, Nowell said that Bolante had not mentioned a key fact: that the independent auditors, not Bolante, had flagged the inappropriate spending.
"There was a situation where she was obligated to provide the sheriff with advice as to certain expenditures, and she failed to do that," Nowell said. "Once the sheriff was made aware of the problem, he rectified it."
"If anyone in the agency was doing something wrong with regards to existing policies and procedures, it was her obligation to make the appropriate people aware of that," Nowell said. "What happened was that there was an audit by an outside agency, and they raised the issue."
Nowell says the spending had to do with meals and drinks for Manfre and his wife as well as Staly and his wife.
Staly and Manfre were at a Florida Sheriffs' Association training conference in early August 2013. An Oct. 31 memo Staly wrote Bolante indicates that Manfre had invited him and his wife to dinner, but that Staly was unaware that the meals–the Stalys did not drink–were paid for on a Sheriff's Office credit card. "As the agency records will reflect and, as you know," Staly wrote Bolante, "I have never charged a meal or asked the agency for reimbursement for any agency related business meals for myself or anyone else." Staly notes in the memo that in six months that year he'd spent $5,750 in business meeting meals, uniform dry cleaning and other work-related items, but that he paid for it all out of his personal funds. Along with the memo he submitted a check for $71.23, reimbursing his and his wife's portion of the meal charged to the Sheriff's Office.
What ensued, Nowell said, "in no way was related to her separation from the agency."
"She retired," Nowell said, refuting Bolante's claim—familiar to many individuals at the Sheriff's Office who have been given the choice of retiring or getting fired since Manfre took over as sheriff two years ago—that she was forced to retire. The highest-profile name at the agency to have been given that choice was David O'Brien, a senior commander and former undersheriff, who chose retirement in March 2013 after Manfre gave him a few days to make his choice. Colleagues of ex-deputy Joe Delarosby, who committed suicide earlier this week after battling grave personal and substance abuse issues, say his retirement was also involuntary.
Bolante's lawsuit charges that on Jan. 17, Undersheriff Rick Staly called her to his office "and informed her Sheriff Manfre had specifically instructed him to advise her she needed to resign or be fired. Undersheriff Staly told Mrs. Bolante that, if she would commit to retirement, he would protect her employment until the end of March, which would be the date her retirement benefits became fully vested. To avoid the significant financial consequences of being terminated prior to full vesting of her public service retirement benefits, Linda Bolante was essentially forced to tender a letter of resignation effective March 31, 2014."
"I am excited and at the same time, somewhat reserved to reach the point in my life that I have completed the major milestone of 30 years of creditable service in the Florida Retirement System," Bolante wrote in her Jan. 23 letter.She recounted her years of service at the St. Johns and Flagler sheriff's offices, thanked "everyone" who gave her opportunities at the office and offered her assistance during the transition.
"She's vested and she was not forced to retire,"  Nowell said. Asked why Bolante would be asking for her job back, he said: "That's a mystery to us," adding: ""The person who is now doing the job is a highly qualified individual who is paid significantly less than Ms. Bolante, who doesn't have nearly as many credentials as Ms. Burgess."
Cissy Burgess, formerly Bertha, took over the finance job at the Sheriff's Office at a salary of $69,000 a year, compared to Bolante's $90,000 a year.
Burgess left a similar position at the Bunnell city administration, where she was one of many top administrators who exited that scene during the turmoil surrounding ex-City Manager Armando Martinez's wrangles with the city commission. One incident that precipitated her leaving was the revelation during a public meeting by Dan Davis, at the time the city clerk, that then-police chief Jeff Hoffman was involved romantically with Burgess, and that Martinez was keeping a blind eye to it. (There was no supervisory relationship between Hoffman and Burgess, neither of whom reported to the other, as is still the case at the Sheriff's Office.) Davis resigned at that meeting. Hoffman six months later  took a job as Manfre's chief deputy. Burgess briefly worked as the finance director in Lake Helen before joining the Sheriff's Office, shortly after Bolante left the agency. Davis has since returned to Bunnell as deputy clerk.
Nowell said the Sheriff's Office is facing no other lawsuit from a former employee. Manfre and Staly were given the opportunity to comment on the Bolante lawsuit. Instead, Bob Weber, the agency's chief spokesman, issued the following statement: ""We intend to vigorously defend and refute the false allegations made by Ms. Bolante against the Sheriff, and look forward to having the opportunity to fully respond to them in Court.  We will have no additional comment on this pending litigation."
Nowell, asked whether the sheriff had acted improperly by spending agency dollars on non-employees, said: "From a public perspective, it probably is a better practice for to pay for your non-employees with private funds. I would think that that would be the better practice."