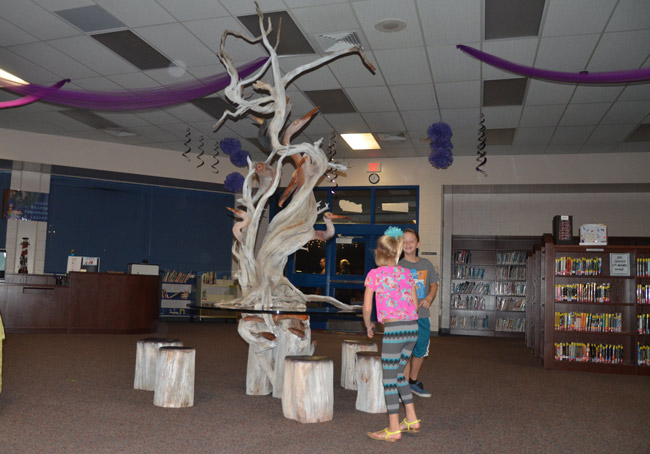 For our conservative friends, an alternative version of this column appears here.

It's not often that the Flagler County School Board acts as if under the influence of LSD. It did so Tuesday when it approved a so-called Ben Carson Reading Room at Old Kings Elementary School.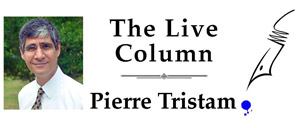 There might have been nothing objectionable to either Ben Carson or a reading room named after him until recently, when Carson was just a skilled surgeon who two decades ago started a scholarship fund and reading rooms in elementary schools to encourage literacy.
Then Carson started running for president and running his mouth. He's polling well, but only because so far the Republican bus-full of crazies favors the clueless. Carson and Donald Trump, his more bellowing version, don't know government from their adenoid. But they know how to exploit their mobs' prejudices.
Before we get to Carson's bigotry, just the fact that someone is running for office should be hint enough that it's not a good idea to plaster our public schools with his self-promoting marketing tools, however well intentioned. If we can have a Ben Carson reading room established smack in the middle of his election run, then why not a Donald Trump business club? Why not a Clinton Foundation study hall, or a Jim Manfre junior cop academy, all accompanied by their own token scholarships, of course?
The reading room idea at Old Kings is that of Garth McDonald, a 69-year-old retired surgeon who sits on the board of the Carson Scholarship Fund. He bought a $1 million house in the Hammock a little over a year ago. Through his intercession the fund is providing the $15,000 start-up for the room—to buy furniture, $6,600 worth of books and a few hundred dollars for incentives. "What the project is, is being able to create a safe reading environment for students," Old Kings principal Ben Osypian told the school board. But isn't every school's elaborate media center designed for that purpose? Aren't there lesser-served places than better-funded school libraries that could actually use a reading room, questionable sponsors aside?
Yet none of the board members objected during a presentation that took all of seven minutes. Most thought it a grand idea. Only Colleen Conklin cautioned: "I just wish it wasn't tied with someone running for president," she said. "That is my only hesitation because I don't like the feeling that we would be engaging in any way to politicize the donation at all."
But you are. Clearly and unequivocally. The fact that Carson started this in 2000 doesn't alter the fact that he is spreading these rooms in 2015, while running for office, and using the shield of a charity to evade a scrutiny the school board should have applied if these reading rooms are not to be ethics-free zones, let alone ploys for political candidates to evade campaign laws.
I might say I have nothing against Carson, and that the whole thing would be hunky-dory the moment Carson is booted out of the presidential race, which is a matter of time. But I have plenty against Carson, and so should every self-respecting member of this school board and the principal willing to have Carson's name slur Old Kings's walls.
Let's assume Carson was not running. We now know things about him that we cannot un-know. And knowing what we know disqualifies him as a role model to school children. I don't mean his idiotic blatherings comparing Obamacare to slavery or comparing Democrats to Nazis, or his claiming that AP History is a training course for ISIS, or even calling the death and suffering of soldiers "a gift from god" as he tried to make a point about government bureaucracy. Politicians' quickest visa to Fox News, stupid politicians especially, is the unaccountable exaggeration. Carson is a product of the Network of Hate. He speaks the language.
But there are limits. When he compares gays to pedophiles or homosexuality to pedophilia, he's displaying the sort of prejudice that has no place in an alleged role model. You could make the argument that Carson is simply behind the time, as many Americans are on the subject. Fine. The same can't be said about his denigration of Muslims. When he said that he "would not advocate that we put a Muslim in charge of this nation," he was being an out-and-out bigot. It's no different than saying a Jew, a Catholic or a Hispanic shouldn't be in charge of this nation. Or a Christian, for that matter.
Imagine the next Muslim kid at Old Kings Elementary who thinks she can be president, walking into a reading room to brush up on her Founders. Carson's name doesn't belong on the threshold of that reading room, whether he's running for president or not: he's already made it clear that he belongs, but certain others don't. Like that little girl with presidential dreams. How revolting.
Worse, having a Ben Carson Reading Room at Old Kings means, as the principal put it to the school board, that there's "a day during literacy week that we also celebrate Ben Carson." That would be no different, at this point, than celebrating Bill Cosby during Black History Month. That celebration might have had a place a couple of years ago, before the scabrous revelations about Cosby's predatory habits. It has no place now.
Same goes for Carson, who presumes to be a lot more than a comedian and Jell-O salesman. But the school board doesn't get it, though Allah knows it should: If one of its employees were to peddle Islamophobic insults to students, that employee would be fired as surely as if the employee were degrading students or being racist toward them. Yet the board thinks nothing of celebrating an Islamophobe in its elementary school. What an insult to Muslim students—or to the board's own Student Code of Conduct, which brooks no bigotry of any kind in our schools.
I'd like to think it's merely a blind spot, that the board will eventually catch on (the project hasn't been formally approved). If not, shame on the school board for enabling a permanent slur to have a room of its own at Old Kings Elementary.

Pierre Tristam is FlaglerLive's editor. Reach him by email here or follow him on Twitter @PierreTristam.