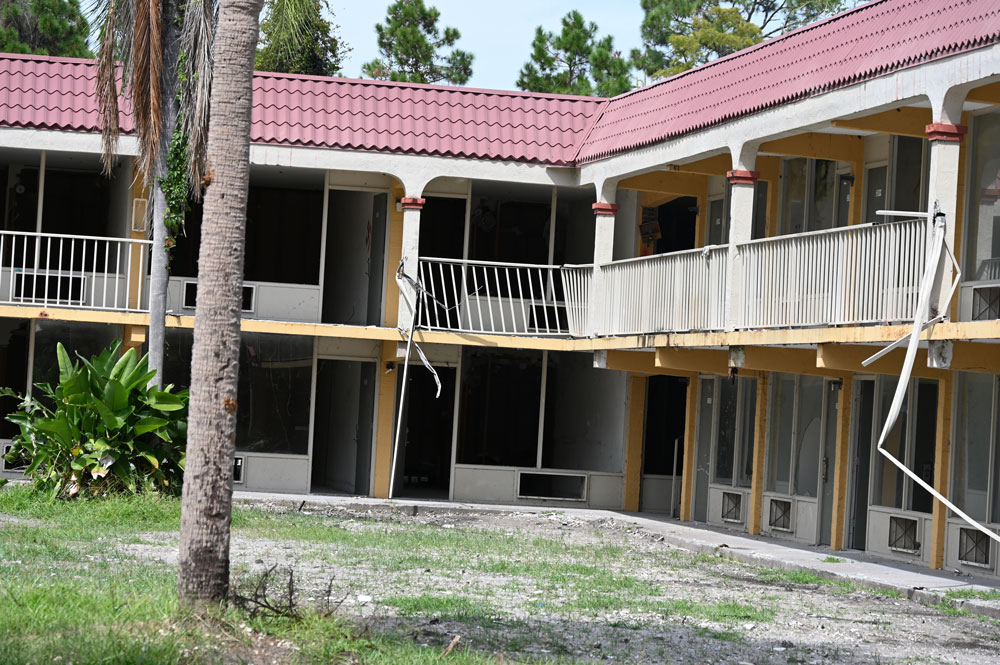 It's déjà vu season again at the Old Dixie motel, the derelict property Flagler County government has been trying to clean up for years, through two owners and interminable court proceedings, only to get a run-around of empty pledges and promises.
County commissioners have had enough before, and the county two years ago came close to demolishing the place, only for an 11th hour reprieve when new owners promised yet again to do better.
They have not.
"It troubles me greatly that they have not progressed," County Attorney Al Hadeed told the County Commission this morning. "They made representations. They clearly have violated the agreements. They have, in my opinion, violated every good faith gesture that the county has made. There's absolutely no excuse."
County Commissioner Dave Sullivan, who raised the issue this morning, said "it's probably time to move on and get some something done there. We just can't let that valuable real estate there in the county just sit there idle, and just kind of nothing happens. I'd like the board to agree with me that we need to push on now."
He was addressing his fellow commissioners. There was no disagreement, though there was no explicit agreement or vote, either. Instead, Hadeed summed up the case as it stands today.




Once known as the Country Hearth Inn, the roadside, two-story motel at 2251 South Old Dixie Highway, which turns 50 this year, was abandoned to scavengers and vandals in 2009. A pair of investors bought the property in 2017 for $300,000, raising the county's hopes. But there were no substantial improvements. Instead, the grounds continued to attract vagrants, vandals broke what glass panes remained or stole furniture and scrap, and the pool lingered as a potential danger to lost souls.
Health Department fines and the county's code enforcement fines accumulated. In May 2021, a company bought the motel, paid off the fines, and pledged to rebuild. The owners were listed as David Shebeiro and Manny Gomez. They called their company MG Capital. They never appeared before the County Commission.
The pool was filled in and covered in dirt. The grounds were cleaned up to a degree. A chainlink fence rimmed the property. And the new owners, through their local representatives, promised that repairs would be next. That October County Administrator Heidi Petito was seen meeting with a few people at the motel, apparently to see for herself that plans were afoot to get something done.
But by December that same year, it was back to stalemate. Nothing was happening.
In March, Greg Kong, a local realtor representing MG Capital Partners, and Jim Albano, representing the architect and the general contractor, appeared before the County Commission with a home-made slide presentation about the motel. Pictures illustrated what they said were recent clean-up efforts and roof repairs.
Kong said the owners had a dozen and a half hotels in the Northeast, that the Old Dixie property was their 19th, and that they would turn it into a "boutique hotel." He said the facility would be called The Henry, would be higher end, would have a fine restaurant–and a steakhouse on weekends–a 3,500-foot banquet center, and that it would make the county proud. One of the owners owns five restaurants in New York City, Albano told the commission. (See: "In Place of Old Dixie Motel Relic, Developers Promise a Jazzed Up 'Henry Hotel,' With a Year's Construction.")




Kong could not be reached today.
Today, Sullivan recalled those promises and said, wryly: "They talked about they were going to have a restaurant there and all that kind of thing. So I haven't had any invitations to have dinner at Henry's, their new restaurant."
He wondered why it hadn't been torn down.
"You just can't snap your fingers and be in court," Hadeed said. "Consequently we are looking at other approaches." (He compared the county's strategy to the way it went about securing easements from property owners in Flagler Beach, for a beach renourishmnt project, where the threat of eminent domain had hung in the air for over two years. The county never exercised the threat. The county secured its final easement after three years this month.)
Hadeed said similarly "creative approaches" will bring "closure" to the Country Hearth Inn matter. "We agree with you, we are on top of it," he told Sullivan. "We're going to try to bring this one home as quickly as we can." In the Country Hearth Inn saga, speed of course, has been a relative matter.

[Table id=1907/]
Reader Interactions