Panic: On the Prospect of a Trump Presidency
Pierre Tristam | September 23, 2016
It's time to panic, at least for people like me who have any one of what in Donald Trump supporters' eyes would be considered leprous types: Liberal, immigrant, member of the media, Arab, and not entirely, absolvingly white-skinned. I'm a quint of heresy in those eyes. I wouldn't be surprised if the yellow badge reemerged, adapted and trumped up not just for Jews—though I'm part that, too—but for all apostates of the Gospel according to Donald, kind of like the church applied the badge to all non-Catholics in the 13th century.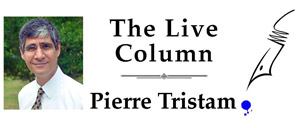 I spent the past year making fun of Trump and taking it for granted that Hillary Clinton would demolish him. I didn't take into account her fabulous skills for self-destruction or the country's ripeness for mass delusion. So the joke is on delusionals like me. As things stand today, Trump could very well be president by Nov. 8.  It makes me feel exactly like what Orwell wrote right about this time in 1934: "This age makes me so sick that sometimes I am almost impelled to stop at a corner and start calling down curses from Heaven like Jeremiah or Ezra or somebody."
Even my money would be on him, if I weren't counting my pennies to see if I had enough for a four- or eight-year exile on one of the rings of Saturn. As it turns out I don't, so my only hope is that Mayor Milissa Holland will institute a forgiving sanctuary in Palm Coast for refugees of the Trump regime.
It's not really the lying, the vulgarity, the narcissism, the thuggery, the amorality, the violence, or the false piety that bother me about Trump. Those things are problematic to be sure, but all they tell me is that the man whose chief attraction to his hordes is his claim not to be a politician happens to be more of a politician than Machiavelli's wettest dream. Passing himself off as Joe Six Slugs is just another deception.
We have a way in this country of getting outraged at the strangest things about our presidents, or at least pretending to be outraged, like the fact that some of them have sex with women other than their wives, that most of them are self-aggrandizing narcissists who wear one mask or another, or—shock of shock—that they lie, as if lying weren't as essential to their job as pretending to believe in God and lip-syncing the Pledge. Kennedy had the Bay of Pigs, Johnson had the Gulf of Tonkin, Nixon had Cambodia and Watergate, Ford had Nixon, Reagan had Iran-Contra, Clinton had Lewinsky and Bush had WMDs, all of which were gigantic lies and, with the exception of the White House blow jobs, violations of law or trust that cost the country immeasurably. And those are just the big ones. There are enough everyday unspoken lies we end up discovering a generation or two later when papers or tapes are declassified, the routine foreign incursions, the assassination plots, the domestic spying, the witch-hunts and abuses of power. In comparison, Trump's inability to tell the truth looks amateurish, even idiotic. But for the pathology, they'd have been absolutely ordinary.
So that's not what bothers me, or what bothers me most. No, what bothers me is that there's nothing else there. He has no idea. No ideology. No plan. No Clue. Lies don't crumble empires. Stupidity does. Ignorance does. Recklessness does. Take any of what passes for his proposals—on taxes, defeating ISIS, lowering crime, addressing immigration. There's no coherence. Nothing computes. Ask him about it in person and he rambles more insanely than Tina Fey's imitation of Sarah Palin. He is, as Garrison Keillor just described him, "the biggest con job since the Trojan horse."
The con is all out there for anyone to see, and of course refuse to see, whether it's his claims about being a self-made man while profiting, daddy aside, from nearly $1 billion in tax breaks, or claiming to be an astute businessman while carrying a $650 million debt, or claiming to make the country great again while failing his own businesses, or accusing Clinton and her husband's foundation of crookedness while defrauding his own charity, or using our own eminently usable Pam Bondi to shut down inquiries into his fraudulent Trump University, or…
But this gets tiresome. Any one of these revelations should have sent Trump back to his reality show, assuming NBC rescinded his firing over his campaign-kickoff bigotry. Instead he coasts, he pushes the con further. And why not? It's been working. His ignorance makes no difference. He's a talking baseball bat, very much hollowed and corked, who'll say and do anything to project power for power's sake, with no more wisdom to wield power than the wisdom he showed running businesses into bankruptcy. He has achieved the impossible in at least one sense: he is all power and all vacuum, though hate seems to be the preferred dark matter of his barren universe.
The presidency has never had a combination like that in the Republic's 228 years. And it seems willing to make that deranged bet. President Trump. Only in America will have a new ring on Nov. 8.


Pierre Tristam is FlaglerLive's editor. Reach him by email here or follow him @PierreTristam. A version of this piece aired on WNZF.