"Some have such command of their bowels," St. Augustine writes in "The City of God,"  "that they can break wind continuously at pleasure, so as to produce the effect of singing." We have such a commander in fife in Donald Trump. The effect of course is not of singing. And a lot more than wind is breaking.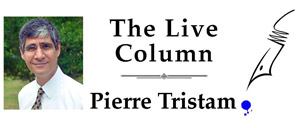 It's become almost impossible to go a day without hearing Trump make one outrageous declaration or another. I find myself clicking on news sites every few hours just to see what imbecility he's come up with last, and with what perverted ingenuity he manages to self-destruct, as if there were much left to destroy. It's like a cross between Kurt Vonnegut's Dresden in "Slaughterhouse Five" and Bill Murray's "Groundhog Day." The firebombing starts over every time Trump speaks.
If he's not insulting members of his own party, making treasonous suggestions to Russia or adding bricks to the masonry of his racism, he's denigrating the parents of a decorated soldier killed at war or signaling to "Second Amendment people" that assassinating Hillary Clinton or judges she appoints to the bench  might be an option after all. "And that, ladies and gentlemen, is how Israeli Prime Minister Yitzhak Rabin got assassinated," The New York Times's Thomas Friedman wrote on Aug. 9, in a column that also called Trump "a disgusting human being" for playing with fire as if it has no consequences.
Friedman was being too polite, considering what Trump belched next. Just between the third and fourth draft of this piece he came up with a new one: President Obama didn't only facilitate the rise of ISIL by withdrawing from Iraq (itself the asinine cover for George W. Bush's lost war) but he was ISIL's founder, its "most valuable player." For Trump, it's a crudely coded way to revive his old racist birther taunts and Obama's Muslimness. (You can't get more precise with Trump, who really wouldn't know a Muslim from a Presbyterian.) Disgusting? Unquestionably. But not nearly as disgusting as his apologists, some of whom are your best friends, judging from Flagler County's collaborative infatuation with the most virulent hater and unabashed liar in the history of candidacies to the the presidency.
If Trump is flagged for the outrage he calls it sarcasm, blames the media, adds it to his self-fulfilling prophesies about a rigged election. Or he sheds another one of his crocodile tweets. He's the victim, you see. The guy who can fix all our problems on his own, the infallible businessman, the untouchable superstar of what he calls, like Prometheus from earth's bowels, "a movement," this guy claims to be the victim. "It's not fair," that anthem of middle school angst, is the Trump mantra.
He's desperate to be taken seriously. We keep hearing his campaign handlers promise that if we only give him a chance and hear him on the issues, he'd clobber Clinton. She's eminently clobberable, but not nearly as much as her vigilante detractors make her out to be. Compared to the flaws of a Lyndon Johnson, a Richard Nixon or a Ronald Reagan—by far the most crooked and indicted administration of the last century, which says something about modern Republicans' affinities for the Gipper—Clinton comes out looking more noble than Lady Bird.
Anyway Trump had that chance this week in Detroit when he delivered a speech on the economy. But it was as if he'd asked Melania Trump to put her skills to work and plagiarize a bit of Paul Ryan on taxes (cut them all), a bit of Bernie Sanders on trade (tear up those treaties), and a lot of standard GOP theology on Obamacare (send it to hell). It was a string of bumper stickers without a plan for accountants to add up, though his tax cuts alone would, as Politico put it, make the deficit great again. So just like a few candidates for local office who make things up as they go along, thinking no one will check after them, he could say whatever he wanted without having to be held accountable to any bottom line. But he's not running for mosquito control. It's hard to take seriously.
He's not any different on foreign policy, where he's managed to sound like even more of a blithering idiot than Sarah Palin. At least Palin's imagination stopped at what she saw from her house. Trump keeps confusing Scotland with England, Russia with Ukraine, Sunnis and Shiites and nuclear weapons with baseball bats, all the while finding ways to praise not just one dictator but five, including North Korea's, Syria's and Saddam Hussein. Forget his small hands. He has fascism envy. No wonder even Palin ditched him: it says something when a former McCain policy adviser says she'd have trusted Palin more than Trump with national security—or that 50 national security experts–Republicans, Democrats, Independents—are calling Trump dangerous. They must smell the daisy.
When you look past the brute, behind the knave and beneath the hair, there's no there there: no policies, no plans, no grand vision. Just appeals to base instincts and violent impulses by a totalitarian wannabe. He'll never win the presidency. It's become clear that he knows it and doesn't want it. Nothing else explains his reckless abandon and his compulsion to pack his bulk with more explosives the moment he appears to edge ahead of Clinton. But that makes him more dangerous, not less. He's a fanatic. He's a suicide candidate. And we still have three months of rampage.


Pierre Tristam is FlaglerLive's editor. Reach him by email here or follow him @PierreTristam. A version of this piece aired on WNZF.