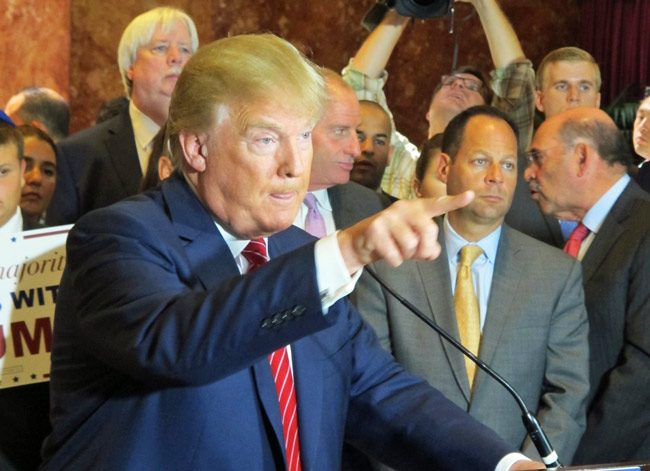 "It can't happen here? My friends, it is happening here." So says New York Mayor Fiorello LaGuardia near the end of the "The Plot Against America," the Philip Roth novel from 12 years ago that re-imagines American history if the isolationist, Hitler-sympathizing anti-Semite Charles Lindbergh had defeated Franklin Roosevelt for the presidency in 1940. And so "the right-wing saboteurs of democracy–the so-called patriots and the so-called Christians" of the Republican right, Roth writes, make their march "under the sign of the cross and the flag."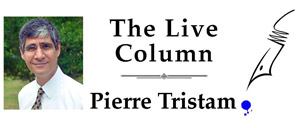 "It Can't Happen Here" was the title of Sinclair Lewis's 1935 novel that imagined a fascist senator who beats Roosevelt to the presidency on a promise to, you guessed it, make America great again: "To you and you only I look for help to make America a proud, rich land again," the imaginary Buzz Windrip tells a crowd that includes his paramilitary "Minute Men," who beat up dissenters and open fire on them. (The paramilitary vigilantes who still "patrol" the Mexican-American border on this side of paradise also call themselves the Minutemen.)
The two books are somewhat fictional. Only somewhat, because they draw on a strain of either violent or repressive impulses that, like the roils of magma under a volcano, have always been present in America's political culture, at times more overtly than others. The years of the Alien and Sedition Acts in the early republic, the KKK, the Red Scare, Roosevelt's internment of Japanese-Americans in World War II, the John Birch Society—whose founder thought Eisenhower was a "dedicated, conscious agent of the Communist conspiracy"—McCarthyism, the more muddled racism of the tea party movement and now Trumpism, its more fascist mutant, are all part of that toxic lineage.
If the poison has always been around, it's never been enough to poison the entire country. Sinclair Lewis himself thought America too strong a democracy to allow a fascist take-over. He's right, for now. Donald Trump isn't going to win in November. By then the hordes of Bernie Sanders supporters who are making Hillary Clinton's negative numbers look almost as bad as Trump's will have fallen in line.
As unappealing as Clinton can seem, especially if you tune in to the hysterics of reactionary propaganda—the same machine that managed to turn John Kerry's war heroics into treachery and Ronald Reagan's administration, the most corrupt since Ulysses Grant's, into a paragon of conservative values—she's in a league of her own. Comparing her in any way to Trump isn't apples and oranges, two quite evolved fruits. It's more like comparing a human being to a single-cell organism, with Trump's single cell defined by one thing: his vengeful racism.
Two things struck me about the Republican reaction to Trump declaring Judge Gonzalo Curiel unfit to preside over his case for being "Mexican." The first is that even as people like House Speaker Paul Ryan call it "the textbook definition of a racist comment," they are standing by Trump. As Bill Kristol, editor of the Weekly Standard, tweeted, "Official position of the Republican Party: Trump is an inexcusable bigot, and Trump must be our next president." (Kristol is leading a campaign to dump Trump and draft Mitt Romney again.)
Appeals to bigotry have never been far from national campaigns: Al Smith was demolished for his Catholicism in 1928, John Kennedy almost was in 1960, Nixon and the first Bush couldn't have been elected without coded appeals to prejudices against blacks, McCain and Romney couldn't anymore do the same with Obama and get away with it so they did the next-best thing, calling him a terrorist sympathizer, a foreigner, a Muslim. But the appeals were more tactical than central to campaigns, rather like paying tribute to a base of barnacle Republicans whose bigotry is as encrusted as their dependable votes. In Trump's case, racism is the overriding allure, the buxom gravity center of his says-it-like-it-is charisma. His supporters deny it. They have to, like drunks who haven't yet owned up to 12-stepping. But take away the racism, the Mexican-bashing, the dehumanizing of immigrants, the insults to a world of Muslims, the ultra-nationalism, and there's not much left beside the Mussolini-like jabbing jaw and that hair, the only thing on Trump's body that defies gravity, his imagination included.
The second thing that struck me was that even as a few Republicans denounced Trump over his Curiel insult, it was only then that Trump was assailed for exhibiting textbook racism. But he's been exhibiting it in worse ways since the day he announced his candidacy, when he compared Mexicans to rapists and criminals, and since went on to propose closing the borders to all Muslims. I don't know how that's not the textbook definition not just of racism, but of fascism. As Robert Paxton, author of "The Anatomy of Fascism" put it in an interview about Trump in February, "the use of ethnic stereotypes and exploitation of fear of foreigners is directly out of a fascist's recipe book."
But even the media has betrayed a double-standard in its treatment of Trump in its handling the Curiel attacks as opposed to slurs on immigrants and Muslims. The difference is that Curiel is American. Trump's attacks on Mexicans and Muslims were directed at people either beyond the borders or beneath American citizenship. The racism, in other words, is not Trump's alone, or his supporters'. Even the media is playing into the caste of narratives, which shows to what extent the culture has become either inured to the unacceptable or willing to make its accommodations with it. Ryan did: he calls Trump's racism "unacceptable," yet he accepts it.
That's ultimately the danger of Trump's candidacy—not that he will win, but that even in losing, he is corroding that buffer against the unacceptable. He is making what Roth in "The Plot Against America" called "the unfolding of the unforeseen" possible.
Trump will fade. Trumpism may not. And the longer the Republican establishment is willing to appease him—to make its Munich with him—as a better alternative to Clinton, the more it legitimizes his racism as an acceptable American value at the very moment when white America is fading to minority status.
It can't happen here? My friends, Trump or no Trump, it is happening here.


Pierre Tristam is FlaglerLive's editor. Reach him by email here or follow him @PierreTristam. A version of this piece aired on WNZF.