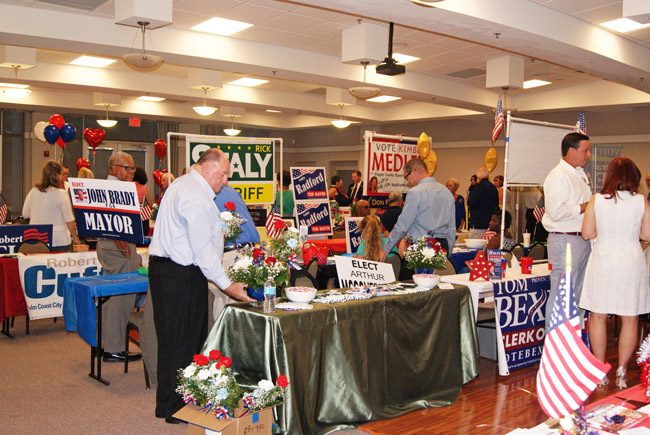 Non-scientific random polls are not very reliable, straw polls taken at a single event even less so. But they point to trends. And internal campaign polls aside–to which media generally have no access–Thursday evening's straw poll by the Flagler County Chamber of Commerce of some 250 participants at its candidate hob nob is the first and only indication of how local voters are leaning. And in several races, the results are decisive enough to at least suggest front-runners.
That's certainly the case with incumbent Sen. Travis Hutson and Rep. Paul Renner, Republicans who each face a Democrat in November (Hutson faces Palm Coast's Curtis Ceballos, Renner faces Adam Morley of St. Johns County), but whose incumbency and crushing treasure chests, combined with a voting district that leans strongly Republican despite its recent slight tilt left in the case of Hutson's district, are giving them almost insurmountable advantages.
Hutson and Renner were the evening's biggest winners, clearing 83 and 82 percent of the votes cast, the largest margins of any races other than Tom Bexley's 85 percent over Doug Courtney in the race for Flagler County Clerk of Court. But that's a race in name only.
The poll did not ask participants to vote as they would in primaries, but as if they were looking at a general election ballot. That turned the results into outright popularity contests between all candidates regardless of party. Poll participants, keep in mind, were in majority decidedly Republican, if only because many of them were part of the campaigns represented at the hob nob, and the overwhelming majority of those campaigns were for Republican candidates: Democrats continue to be under-represented in local races, chiefly because, other than long-time incumbents, they are unable to produce serious or well-funded candidates. The poll results often but not always reflected the partisan lean. A total of 249 voters participated, but many did not vote in every race, and there was no way to know how they broke down by party registration or even residency.
---
A poll that leans heavily Republican, but that suggests a few clear trends, too.
---
The evening's other biggest winners–those who cleared 50 percent of the vote or more–included Kaiti Lenhart for supervisor of elections, whose 60 percent was twice the total for Abra Seay's 29 percent, and miles ahead of Kimble Medley's 11 percent. In that case, all three candidates are Republican, so the leanings of the voters was irrelevant, and the result likely more indicative of reality.
Milissa Holland, the former county commissioner now running for Palm Coast mayor, appears to be the crushing favorite in a four-way race for mayor: she got 71 percent, with John Brady a very distant second at 16 percent, and Dennis McDonald and Ron Radford in single digits. That race is ostensibly non-partisan. If Holland can clear the 50 percent hurdle at the Aug. 30 primary, she will be the next mayor: no run-off will be necessary. At the moment, the straw poll's results would suggest that it's at least a fair possibility.
That may also be the case with the race for District 1 on the Palm Coast Council, with Bob Cuff getting 66 percent of the vote to second-pace finisher Sims Jones, at 19 percent, and–a surprise–invisible candidate Art McGovern getting 15 percent. (McGovern was a little less invisible Thursday: he showed up.) If Cuff's advantage converts to a clear victory on Aug. 30, beyond the 50 percent margin, that would be especially significant in that it would end the city's quest for a replacement for Bill McGuire, who just resigned: the council could appoint Cuff to the seat outright, at its first meeting in September.
The third race for council is closer. Nick Klufas is ahead of Pam Richardson, 47-41, with Anita Moeder in third place at 12 percent. That race is likely to end up in a run-off in the November election, with Moeder's voters then becoming a critical swing factor. So far Moeder has tended to align more closely with Klufas, who has himself strengthened over time.
In local races, the only other candidate to clear the 50 percent hurdle in the straw poll was Colleen Conklin, the incumbent school board member, who beat newcomer Jason Sands 56-44. No one else is running in the race, which makes Conklin's margin thinner than it looks, though at the same time she can take heart from winning a mostly Republican crowd's majority: Sands is the Republican in that race, Conklin is a Democrat.
There were other big winners, but not in exclusively local races: Stasia Warren is the clear favorite, with 72 percent of the vote, to win election to the bench in the 7th Judicial Circuit (she is beating Sebrina Slack), Scott DuPont polled 75 percent to keep his seat on the bench (he puts in frequent duty at the Flagler County courthouse), and David Hood is ahead of Linda Gaustatd, but by a slimmer margin, 57-43.
And then there's Donald Trump: he won the poll with 72 percent, to Hillary Clinton's 20 percent and Gary Johnson's 8. Flagler County is expected to lean Trump–like a beach-side tree during a hurricane–on Nov. 8: it went for Mitt Romney four years ago and has gone a bit redder since, though Thursday's results were more one-sided than even one of the poll organizers expected. Marco Rubio got 62 percent of the vote to keep his U.S. Senate seat, with Carlos Beruff second, at 18 percent, and Patrick Murphy, a Democrat, getting just 9 percent. That suggests an easy win for Rubio in Flagler at least. His numbers are not as decisive in the state, but still comfortably in his favor.
The local race most people have been following as an Olympic sport this season is that for sheriff, and there, the numbers broke out along expected patterns: Rick Staly is ahead with 30 percent, John Lamb is a close second at 27 percent, and Don Fleming third at 20 percent, with Manfre a distant fourth at 7 percent, and less than a point ahead of Larry Jones, his only Democratic opponent. That spells trouble for Manfre in the primary. But for the three front-runners–all Republicans–the numbers were not a surprise, in that all three were expected to be near the top in a field of six Republicans, with the bottom three splitting the remainder vote: Chris Yates got 4.4 percent. Jerry O'Gara, the noisiest candidate of the campaign–his shrilly decibels frequently rattle social media but not much else–got just 4 percent, while Mark Whisenant, one of whose supporters pulled one of the weirdest stunts of the campaign on Monday, polled just over 1 percent. Thomas Dougherty, the independent in the race, got zero.
Thursday's results will tell the Staly, Lamb and Fleming campaigns that all three are within reach of winning the Aug. 30 primary, likely redoubling the campaigns' hunts for elusive voters who actually cast ballots in primaries. They're fewer than most people assume.
The county commission races have not gotten as much attention. The straw poll results are also surprising, with both Democratic incumbents–George Hanns and Barbara Revels–getting beaten, though the heavily Republican vote in the straw poll plays a disproportionate role in those cases. David Sullivan polled ahead of Revels, 49-34, not the most impressive result for an establishment Republican drawing from the county's establishment voters, so Revels may not be panicking just yet. Jason France, the candidate Sullivan faces in the primary, got just 17 percent.
Republican Donald O'Brien's numbers were more decisive: he beats Republican contender Denise Calderwood 55-20. Calderwood was asked to not hand out campaign literature outside the building Thursday evening, as she had not paid the fee to participate in the hob nob, as all other candidates inside had. (She stopped, then walked around inside, agreeing not to pass out literature.) O'Brien also beats Democrat George Hanns, who got just 25 percent. That should worry Hanns, who has generally eschewed campaigning and relied on his record and longevity. He was not at the event Thursday evening, as he's facing a difficult family emergency.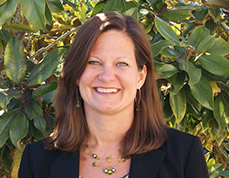 Finally, in the District 1 race for county commission, incumbent Republican Charlie Ericksen handily beats his Republican challengers, Ken Mazzie and Dan Potter, with 48 percent to Ericksen, 17 percent to Mazzie and 8 percent to Potter. Even Jason DeLorenzo, the eventual Democrat Ericksen would face in November (if the numbers hold), beat the two other Republicans, with 28 percent of the vote.
"Having an inaugural event you're always not sure whether anybody is going to show up or not, but at one point we had 50 candidates signed up, we were pretty sure they'd bring supporters, and boy did they bring supporters," said Gretchen Smith, the chamber's government affairs director and chief organizer of the event. "The participation and the attendance kind of exceeded our expectation, but that's a great problem to have. So the good news is, the next time we'll know."
What matters, of course, is the vote itself: that begins Monday (Aug. 15) with early voting in Flagler County at three locations, running through Aug. 27, with Election Day on Aug. 30. Voting has, in effect, begun, as voting by mail has already generated 3,155 ballots cast, according to the supervisor of elections.
The full results of the poll are below.


2016 Flagler Chamber Straw Poll
Click to access BallotResults_1777.pdf