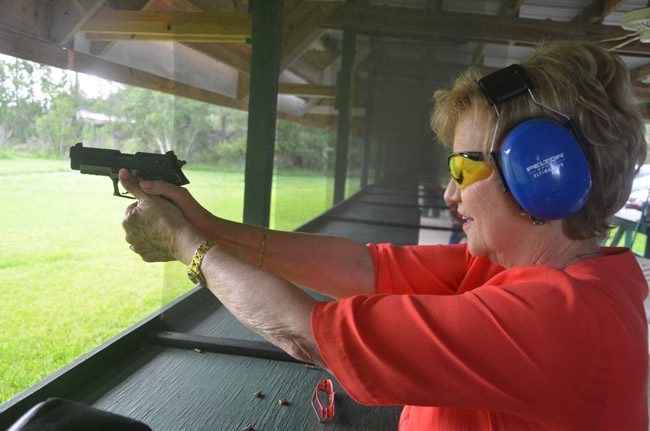 Suzanne Johnston, Flagler County's tax collector, had no way to know, as she was stepping in to take a three-hour class and shoot a few rounds at the range to get her concealed-weapon permit 11 days ago, that hours later Omar Mateen—who'd gone through the very process she was about to go through—would attack a gay club in Orlando, with a legally acquired assault weapon, and murder 49 people.
Not that it would have made a difference, except to underscore Floridians'—and local residents'—tendency to seek concealed-weapon permits in much larger numbers in the aftermath of a mass shooting anywhere in the country. It's certainly been the case this time around: permit applications spiked in the state in the aftermath of the Orlando massacre.
Florida has long had one of the easiest methods of acquiring a concealed-weapon permit, with the Department of Agriculture, which oversees weapons permitting, seeing its growing permit numbers—1.58 million on the eve of the Orlando massacre—as a point of pride. Adam Putnam, the agriculture secretary, regularly advertises the state's numbers and ease of permitting through the department's website.
Now, the spike is coinciding with the latest effort by the state to make the process even easier: starting today, residents can go to their the Flagler County Tax Collector's offices to apply and fast-track their concealed-weapon license, thus reducing the waiting period to get that license from months (if done by mail) to days. The other option until now, for a faster permit, was to go to one of the agriculture department's eight regional office across the state. For Flagler residents, that meant either Jacksonville or Orlando. That laborious step has now been eliminated. "Think about the time it's saving Flagler County residents," Johnston said. It's been a hit with local residents, nearly 10 percent of whom already have a permit.
---
"I don't have a concealed weapon license, I don't have a gun. I'm a girly-girl. Will I get one? I don't know."
---
"We've been busy. We had 14 yesterday afternoon for a friends and family day, and we've already done 33 today," Johnston said. That was as of 1 p.m. The county administration issued a PR release announcing that Nate McLaughlin, the county commissioner, was the first individual to get a concealed-weapon license at Johnston's office. She was the second.
"I haven't shot a gun in 45 years," she said on June 11, moments before the concealed-weapon class, "I don't have a concealed weapon license, I don't have a gun. I'm a girly-girl. Will I get one? I don't know. I'll get the license."
Johnson is running for re-election this year, but this had nothing to do with the sort of ploy that drew attention to state Sen. Greg Evers's crass raffle of an assault rifle, days after the Orlando massacre, as part of his campaign: Evers, desperate for votes and attention, is in a tight primary race for a congressional seat. Johnston, among the more popular elected officials in the county, has no opponent, and none would be likely to pose a challenge if she had one. Beyond mentioning her trip to the gun range on her Facebook page, she did not seek a reporter's attention: she was asked if a reporter could tag along, and accepted.
Johnson had decided to attend the class—offered weekly by Kirk Chong at Larry's Guns and Ammo in Bunnell—and to drag her entire staff of more than a dozen to attend it as well so they'd all be familiar and conversant with the process to better serve consumers. She sat through it mall, asked a few questions, and three hours later she was squeezing the trigger on a Glock, aiming for a target—and squeezing, and squeezing under Chong's remarkably patient supervision: it took her a while to fire. The trigger took more effort than she'd expected. But once she started, she kept going, shot after shot, first sitting down, then standing up.
It was "like I didn't know what I was doing," she said between high-fives from her staff afterward. She reminded her adulators (whose checks she signs) that she couldn't hit the target. She was, she said, "trying to remember everything, because remember they said your fingers will get pinched, burned or blown off if you had them in the wrong spot. Trying to remember where to look, and squeeze the trigger all at one time."
Asked if she liked sensation of firing the gun, she said: "Not particularly. I mean, it's not bad, but, oh, if it was a big moccasin there, I would definitely get him. Maybe. If I can hit him."
---
Watch Suzanne Johnston Take Her First Shots
Johnston said she'd decided to go through the whole process "because the public is better off the more we know about the concealed weapon permit application, the more we're able to help them. Going through the process of the gun-safety class, going through the process of filling out the application electronically, fingerprints, pictures, scanned documents—then, someone asks us a question, whether I'm in Publix grocery store or wherever I am, I'm better able to answer because I've been through it all." As has her staff. "They're all very interested. Part of those that were here will be actually doing the processing for concealed weapons." Some employees that following week went to Tallahassee for further training.
"So we're real excited about it," Johnston said, as members of her staff were taking turns shooting at the range. "Any time we can offer a new service, we're all for it. It's the same process, like the Department of Health, where we can print Florida birth certificates for our residents. Anything I can do to help the residents, I'm all for. Every time there's a service I can add, I do."
The process, in addition to the usual fees, costs an extra $22 for new permits, $12 for renewals. But Johnston says that includes pictures and fingerprints, which for some residents comes out to less than what they would pay elsewhere. The fee for an initial concealed weapon license is $112, which includes the $42 finger-printing processing fee. A renewal costs $60. Cops pay less, judges pay nothing. The Flagler office expects to get a rush from Volusia County residents, because Volusia is a charter county: it has no constitutional tax collector's office.
The application is a simple, two-page document (cover sheet and finger-print card aside), easier and quicker to fill out than a job application—name, address, sex, race, eye color, occupation, then 16 yes or no questions mostly asserting the legal residency of the applicant and his or her criminal and drug history, though state law is a generous chunk of Swiss cheese (or silence) when it comes to loopholes enabling almost all but felons to carry a gun (with Omar Mateen, who followed and cleared all legal steps, an example). Under Florida law, the information in the application is exempt from public record disclosure. See the full application below.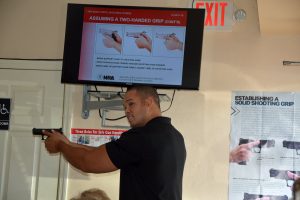 The gun-safety class is a requirement before securing the concealed-weapon permit. At Larry's, Chong, a charismatic gun enthusiast—and the gun store owner Larry Beighle's son-in-law—leads the weekly Saturday morning class with humor, confidence, and generous helpings of NRA theology: the course is the NRA's "Basic Shooting Course," which includes some of that theology thrown in. (One of the reasons to own a gun? "Exercise of a constitutional right.") Chong couldn't help one mention of Hillary Clinton "opening her mouth saying she's going to come after the guns," but it was an errant one, and he spent the bulk of the three hours stressing the importance of responsible gun ownership, safety, ignorance not ever being a defense, and how even among trained gun owners—and instructors—a single instant's lapse can be ruinous: he showed two videos featuring two instructors shooting themselves by accident, one of them while teaching a class the importance of the very safety measure he ignored at that moment (ensuring that the chamber of the gun, not just the magazine, is empty.)
Explaining the common instances of so-called misfires, or hang-fire (when the cartridge fails to fire when the trigger is pulled, but fires moments later) he showed the video of an individual taking his rifle and looking down the muzzle after just such an instance of hang-fire. You can imagine, sadly, what happened next. The gun went off.
"When you read in the paper about somebody accidentally being shot," Johnston asked Chong during the class, is it typically that type of gun?" She was referring to a particular kind of pistol.
Chong didn't hesitate: "No, typically it's somebody who's being an idiot, and they don't want to tell the truth, so they blame it on the gun when they were messing around. Normally the guns don't fire—very rarely guns fire by themselves, so people kind of make up stories. It's pretty much passing the buck." Accidents, he said, are the result of ignorance, carelessness, failure to observe proper procedure.
The class went into details about the variety of guns, ammunition knowledge, what guns are best for whom, what to do in active-shooter situations (escape, not confrontation, is the best policy, Chong said), range protocol and so on, before moving on to the range—the Flagler County Gun and Archery Club on County Road 90.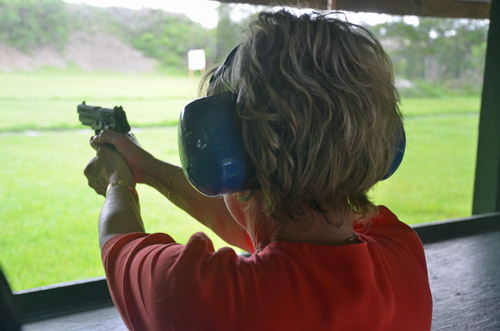 Florida Concealed Weapon License Application.
<![if !IE]><![endif]>