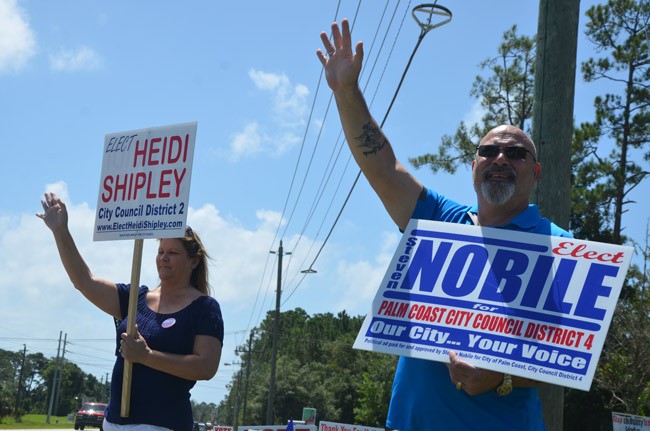 Palm Coast City Council members will very likely be voting for an increase in council members' salaries or other forms of compensation at a meeting in February.
They will be choosing between four options: raising their base annual pay (currently $11,400 for the mayor, $9,600 for council members), tying their pay to periodic raises indexed to inflation or the city's population or to city employees' pay, increasing their compensation for mileage and communication devices (they each get an extra $2,100 a year for that), or adding health benefits.
The council discussed the matter Tuesday morning without formally choosing one option over another, though the increase in base pay, tied to subsequent increases based on inflation, had support from four council members: Heidi Shipley, Steven Nobile, Bill McGuire and Jason DeLorenzo. Mayor Jon Netts is not as eager for a raise, and McGuire said he wasn't wedded to the idea one way or the other. Netts is leaving office (he is term-limited) and McGuire never took office looking to make money.
Even if the council approves a raise in any form, it would not apply until the next council is seated. That council may look significantly different than this one, with the certainty of a new mayor and at least one new council member, as DeLorenzo has filed to run for a county commission seat (where the pay is just over $50,000 a year). Bill McGuire's seat is also up. He has not declared for re-election, though today he hinted at it when he said, "I'm in it for the long haul." (Nevertheless, McGuire has told some friends that he would likely not be running.)
The council has been discussing a possible raise since May when Nobile and Shipley, the panel's rookies, brought up the issue, saying either that the pay is too low or too discouraging to candidates who may want to serve but are disinclined by the lower pay. Other than Ralph Lightfoot, the chairman of the Democratic Executive Committee, who has publicly asked for better pay for council members, they have yet to cite a single such example, especially as they exclude themselves from the claim.
The city's founders 16 years ago set council members' annual salaries at $1,200, and the mayor's at $1,800. It has increased 700 percent since for council members, and 533 percent for the mayor. Council salary increases have far exceeded both inflation and population increases. The salaries were raised in 2003 and again in 2007, both times with Netts voting in favor of the increases. (Inflation has increased 43 percent and the city's population 200 percent since Palm Coast's founding.)
---
"The other side of the coin, my friends," the mayor said, "is there are people that put 30 and 40 hours a week for Habitat for Humanity and get nothing."
---
In November, Nobile proposed a 324 percent salary increase, justifying it as indexing Palm Coast council members' salaries to 80 percent of county commissioners' salaries, since Palm Coast has 80 percent of the county's population. County commissioners make $51,000 a year. That would have netted a council salary of $40,700. Nobile since retreated from that proposal, and said again today that he was no longer favoring it.
Shipley was uncomfortable with asking for a raise, but found herself both proposing just such a raise while also asking to have the burden of asking for salary increases lifted from council members' shoulders. Indexing the annual salary to inflation or to whatever pay increases city employees receive would do just that.
"It is something that other it's kind of an uncomfortable thing to do that, so I think if we changed it so that it takes it out of our hands, and we just get whatever increase the city gets, we just get that same increase, that would be a better way of doing it,"  Shipley said. "I feel like the next group that are coming in here, I think that we owe it to them to speak up and say we need a little bit more, we deserve a little bit more, we should be getting what other cities our size are getting, and I think anyone that actually has been running is at a point—we did bring something to the table, and we deserve—not that we deserve it from the city, but we earned at least  twenty-something thousand dollars a year, we bring that much to the table for the citizens."
Email Your Council Members:
---
"I agree with you," McGuire said, "but keep in mind that a lot of us who came from other places in Florida, where I came from, the city aldermen don't get any money, the school board don't get any money. You run for office but you serve without compensation." Jim Guines, who formerly served on the Flagler County School Board for 11 years—a position whose salary of roughly $30,000 a year is also set by state law—often bemoaned the fact that some of his colleagues ran only for the money. He wanted the salaries abolished.
Nobile said people who serve should be compensated, especially considering the time commitment. "I hate for people to not try to get into the race because they can't put the time in, and I definitely don't want them getting in if they can't put the time in, and they just win an election and show up on Tuesdays,"  Nobile said. "I signed on for what it was with no intention of getting more," he said, citing constituents' pressure for better salaries.
McGuire said a public servant's pay should not be the motivation for service. "I know that there are people within 50 miles of here that ran for office for one reason only," he said, without citing names. "They needed the money, and their performance in my opinion reflects that more so than a desire to serve and help the community."
"There is some experience of that here actually in Flagler," DeLorenzo said before proceeding, by way of a cleverly repeated pun, to allude to Kimberle Weeks, the former supervisor of elections who resigned last year. He described her as "someone who stood on a street corner who didn't have a job and waved a sign all day, every day, for weeks and weeks and weeks, and got that job."
That didn't stop DeLorenzo for pushing for a pay increase with retroactive benefits. He favors going back to 2007, the last year the salary was raised, applying the inflation rate to the salary since as a way to increase today's pay, then have "annual adjustments" (politicians never say raise when it has to do with their own pay). Then he added that service "is for the love of the community, it's not for the money, that's for sure."
Applying the Bureau of Labor Statistics' inflation calculation, that means council members would see their base annual pay increase to $10,974 a year, a $1,374 increase, or 14 percent.
Netts said his 4,000 a year in mileage has never been properly compensated even with the monthly $100 auto allowance. "The other side of the coin, my friends," the mayor said, "is there are people that put 30 and 40 hours a week for Habitat for Humanity and get nothing. There are people that pout 20 and 30 hours every week at the Humane Society and get nothing. There are people throughout this county who contribute significant time and fund their efforts in a charitable fashion and get nothing in return other than a sense of satisfaction."
Netts wondered how candidates running for city council would weigh in on the issue–what their expectations of a salary would be.
"They won't say that," Shipley said.
Not so. Quickly queried in light of today's discussion, two mayoral candidates contacted–Milissa Holland and John Brady–readily addressed the issue. Brady opposes a raise, at least "with their duties as the duties are now," while Holland echoed McGuire's take: "My father instilled in me that community service is that, it is service," Holland said, referring to Jim Holland, who was among the original members of the Palm Coast council. "I am in a position where the set salary will not have an impact either way in my life."
McGuire put his preference succinctly: "I don't have a problem with the salary that I get now. What I would like to see is take the consumer price index each year and apply that to my base rate, and as far as compensating for expenses, if my expenses in the consummation of my duties to the city exceed a certain level, then I should be able to turn in an expense report, let it come before the council and get voted to compensate me for the expenses that I incurred that are not part of the normal remuneration for mileage and telephone. That's my suggestion. I don't feel really strongly about this, I've got to tell you. I signed up for this for $9,600 a year, and I'm here for the long haul."
The administration will prepare an ordinance for the council to do with as it pleases at a subsequent council meeting. Essentially, council members will fill in the ordinance's blanks with whatever preferred form of raise they can agree on. Voters will have no say: the city charter gives the council full authority to enact such raises by ordinance, provided the new compensation package doesn't apply until the next election.