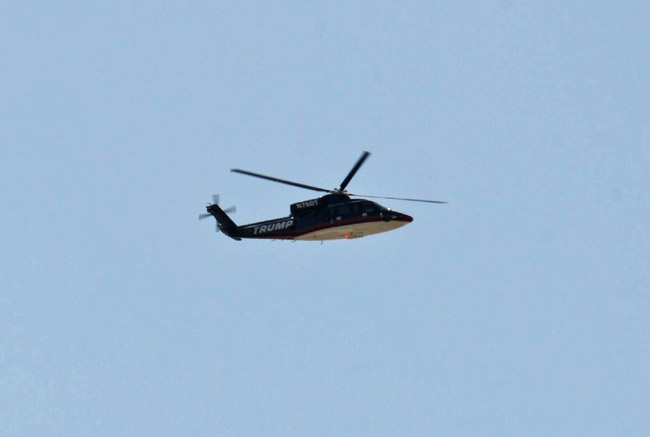 In theory, four of the 12 remaining Republican candidates for president can claim some form of residency status in Florida: Jeb Bush, Ben Carson, Marco Rubio and Donald Trump.
In reality, only two have paid their dues as more or less true Floridians, to the extent that such a credential attaches to politicians. Bush served two terms as governor, Rubio served eight years in the state House, two of them as Speaker, and has been a U.S. Senator since 2011. Trump is a New Yorker, Carson spent his professional life in Maryland. Carson and Trump both have mansions in Florida–Carson in West Palm Beach, Trump in Palm Beach–but neither has served a day in office.
For all that, Floridian voters are treating Bush and Rubio like aliens and barely recognize Carson's existence anymore while giving Trump the native-son treatment.
The latest poll of likely voters by the Florida Atlantic University Business and Economics Polling Initiative shows Trump surging to a 47.6 percent lead among Republican candidates. His nearest competitor is Ted Cruz, the Texas senator, more than 30 points behind (at 16.3) followed by Rubio and Bush, hobbling in at 11.1 and 9.1 percent. Bush's candidacy had all but vanished for months, but Rubio's is depending on a strong showing in Florida for viability. It's not there yet. Carson, meanwhile, who briefly led Trump last year (but not in Florida), has become a footnote, polling at just 3.3 percent.
"At this point, Donald Trump is simply crushing the opposition in the Florida Republican primary," Kevin Wagner, associate professor of political science at FAU and a research fellow of the Initiative, said in a release. "Not only has he increased his lead, Mr. Trump's favorability ratings among Republicans are now ahead of his competitors by a substantial margin."
Floridians begin to go to the polls for the presidential preference primary on March 5 with early voting, ending on March 12. By then, South Carolina, Washington and Nevada will have held their primaries, as will have, between March 1 and March 8, 22 states, Washington D.C., Guam and Puerto Rico. Trump, according to Real Clear Politics, the aggregator of national and state polls, still leads in new Hampshire by comfortable margins, including a 16-point lead in the latest Wall Street Journal-NBC Marist poll. He leads in Iowa by low single-digit margins, and in South Carolina by 14 points, according to the Augusta Chronicle. He generally loses in head-to-head contests against either Hillary Clinton or Bernie Sanders, and to Sanders by larger margins.
On the Democratic side in the FMU poll, Clinton has strengthened her position in head-to-head matchups against Republicans after weakening in the latter part of 2015. Clinton has turned a 3-point deficit against Cruz in November into a 5-point lead, while pulling even with Rubio after trailing him by seven points two months earlier. Clinton also closed the gap on Trump by six points and now trails the GOP frontrunner 47 to 44.3 percent. However, Bush leads Clinton in Florida 45 to 41.5 percent. Clinton also maintains a 36-point lead over Bernie Sanders (62.2 to 25.9 percent), despite losing seven points from her 43-point margin in November.
"Clinton continues to hold a solid lead on the Democratic side in Florida," said Monica Escaleras, director of the polling institute. "She's also performing much better against all the GOP frontrunners, including Trump."
The polling sample for the Democratic and the Republican primary consisted of 383 and 386 likely Florida voters, with a margin of error of +/-4.9 percent. The general election sample consisted of 1,008 registered voters with a +/-3 percent margin of error and a 95 percent confidence level.