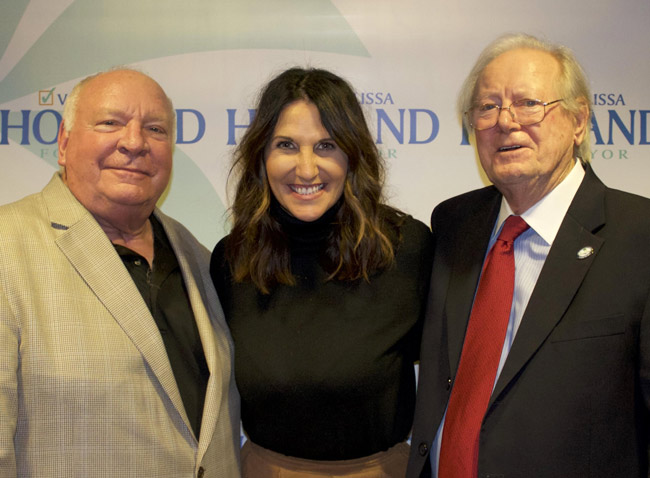 Today: Sunny, high in the low 60s, lows in upper 30s.Details here.
Today's fire danger is moderate. Flagler County's Drought Index is at 269.
Today's tides: at the beaches, at the Intracoastal Waterway.
Today's document from the National Archives.
The OED's Word of the Day: oniomania, n..
The Live Community Calendar
Today's jail bookings.
Today's Briefing: Quick Links


Note: all government meetings noticed below are free and open to the public unless otherwise indicated. Many can be heard or seen live through each agency's website.
Flagler County's Technical Review Committee meets at 9 a.m. at the first floor conference room of the Government Services Building. One item is on the agenda, a variance to a minimum side yard setback at a property on John Anderson Highway. The agenda and background materials are here.
Flagler County's Contractor Review Board meets at 5 p.m. at the Government Services Building in Bunnell. No agenda posted.
Lunch 'N Lecture Series: Understanding Fall Risk and Balance Disorders presented by CORA Rehabilitation Clinics. Guests are invited to a free presentation, followed by a free lunch. Palm Coast Community Center, 11 a.m.

Palm Coast's Planning Board will hold a meeting at 5:30 p.m. at which it will consider recommending approval of a site plan for a 100-bed assisted living facility at the Palm Harbor Parkway Extension and Forrest Grove Drive, followed by a workshop, at which it will hear a proposal laying out various options to regulate bottle clubs in Palm Coast. At City Hall in Town Center.
Ribbon Cutting: ViaPure Wellness, 4 p.m. at 31 Lupi Ct., Ste 140 Palm Coast. There will be giveaways, fresh organic food and wine, and free chair massages given by Hayley.
Ballroom With a Twist, at the Flagler Auditorium. Featuring Chris Soules from Dancing with the Stars and ABC's The Bachelor, and Mirror Ball Trophy-winner Whitney Carson from Dancing with the Stars in a rare reunion on stage. Watching the cha-cha rattle on the television screen is one thing, but getting up close and live beneath the fringe, sequins, and booming sounds of Rumba bass is a whole other ballgame. Ballroom With A Twist brings a frenzy of sizzling dance moves by professional international dancers spanning the hot moves of Samba, Waltz, Foxtrot, Quickstep, and Jive. Click here for tickets or call the box office at 386-437-7547.
Wrestling: Matanzas High School v. Flagler Palm Coast High School, at FPC, 6:30 p.m.
Smoking Note: Smoke may be visible Wednesday in the area of State Road 100 and Old Kings Road as the result of a planned, prescribed fire in Bulow Park. See details below.


Updated jail bookings and day and night shift incident summary reports are available here.
Two Pit Bulls Shot Dead After Attacking And Killing Pony; Duane Weeks Cited: The dogs were both in the care of Duane Weeks, 35, who lives nearby with his family. Weeks is the son of Kimberle Weeks, the former elections supervisor.
Ex-Cop Larry Jones Will Challenge Sheriff Manfre for Democratic Nomination: Jones, 55, notes that he served for over 30 years in law enforcement, including two years as second in command of the sheriff's Palm Coast precinct. The sniping between Manfre and Jones has already begun.
Stacy Culotta, Who'd Sought Suicide-by-Cop, Pleads to 36 Months' Probation: The judge withheld adjudication and sentenced Culotta to three years' probation. According to her probation order, She'll have to pay $374 spread over the next 36 months to cover the cost of her supervision. She'll have to forfeit all weapons and take a gun-safety course. She'll have to complete 100 hours of community service and submit to a mental health evaluation.
High Schools May Get Greater Autonomy From Florida Athletic Association Requirements: The proposals would allow schools to join the FHSAA on a per-sport basis and limit how much can be charged for some association-sponsored competitions. Currently, a school that joins the FHSAA in any sport has to be a member in every sport.
Kentucky community celebrates receiving Palm Coast fire truck: "The Palm Coast City Council voted Dec. 15 to donate the engine to the Lower Clover Fork Fire Department in Evarts, Kentucky after learning all of the station's engines had broken down and that fire officials there were borrowing a 50-year-old engine to fight fires," the News-Journal reports. (Story paywall-protected.)


Note: Most proceedings below can be followed live on the Florida Channel.

Numerous legislative meetings are scheduled for today, but no floor session.
The Florida Citrus Commission will meet in Polk County. (9 a.m., Florida Department of Citrus, 605 East Main St., Bartow.)
The Partnership for Florida's Tourism will host "Florida Tourism Day," with speakers expected to include Attorney General Pam Bondi, state Chief Financial Officer Jeff Atwater, Agriculture Commissioner Adam Putnam and Department of Business and Professional Regulation Secretary Ken Lawson. (9:30 a.m., Donald L. Tucker Civic Center, 505 West Pensacola St., Tallahassee.)
–Compiled by the News Service of Florida and FlaglerLive


In Coming Days in Palm Coast and Flagler:
Click on the links for more details:


Click on the link for more details.
Smoke may be visible from Bulow Park prescribed fire: Smoke may be visible Wednesday in the area of State Road 100 and Old Kings Road as the result of a planned, prescribed fire in Bulow Park. "The Flagler County Land Management Department will be working together with Flagler County Fire Rescue, Florida Forest Service and private consultants within a 77-acre area of Bulow Park," said Tim Telfer, public lands and natural resources manager. "Smoke may be visible in this area throughout the day." This prescribed fire, also referred to as a "controlled" fire, will remove the hazardous level of fuel on the property. Potential fires have a greater risk of being destructive the longer vegetation accumulates. "Excess fuel causes fires to burn hotter and move faster, which can cause unpredictable results," Telfer said. "Wildfires can cause immense economic damage and result in the loss of habitat for wildlife." Prescribed fire greatly reduces the potential for wildfire. It opens the forest floor and increases plant diversity for wildlife, including gopher tortoises. "Within a week of the fire, new plant life will start to grow," Telfer said. "This provides fresh new shoots for wildlife." The timing of the fire will be determined by the appropriate weather conditions, including wind direction and humidity. "Prescribed fire is important to protect our public lands," County Administrator Craig Coffey said. "But it is also important to ensure that the conditions are right."
Oyster and water quality task force update: Palm Coast city staff serves on the Oyster and Water Quality Task Force. The committee is administered by the Guana Tolomato Matanzas Estuarine Research Reserve staff. Staff attended a committee meeting that brought together regulatory agencies, scientists, educational institutions, non-governmental agencies, and general public interests. The mission is "recognizing the role that oyster habitat plays as an indicator of water quality, and the cultural importance of shellfish in our region, we seek to ensure the sustainability of oysters in Guana, Tolomato, and Matanzas rivers by working to understand and improve the health of our estuarine waters." To date, 21 projects are underway and were discussed during the meeting. On a local front, there are efforts to further evaluate the source of fecal hotspots within Guana and Pellicer Creek systems.


Suicide was rare among SEALs, unusual in a war zone deployment and unprecedented for a high-achieving SEAL officer https://t.co/xyzQJ0zXxd

— NYT Politics (@nytpolitics) January 19, 2016
Bernie Sanders's single-payer health plan is short on details. Why the details matter. https://t.co/nXpHRrOru1 pic.twitter.com/X6UcM3rA9e

— The Upshot (@UpshotNYT) January 19, 2016
#ISIS has had to cut fighters' salaries by 50%, according to documents https://t.co/wnrZf3e9DR via @CNNMoney pic.twitter.com/VmTlHMbOpL

— CNN International (@cnni) January 19, 2016
How climate change endangers microbes—and why that's not a good thing https://t.co/bbCAbI52kM pic.twitter.com/SdlAuJBUSZ

— Scientific American (@sciam) January 19, 2016
Almost 10% of college graduates believe that "Judge Judy" serves as a justice on the SCOTUS. https://t.co/3ogapwX16Y pic.twitter.com/917pDQE1n5

— The Daily Beast (@thedailybeast) January 19, 2016


Palm Coast Construction and Development Progress Reports
The following is an update of ongoing construction and development projects in Palm Coast, through Jan. 15:
Christ the King Evangelical Lutheran Church and School, 1 percent done: Located at 5625 North US Highway 1, the school received a Development Order for a new 13,794 sq. ft. early learning center to be located on the south side of their 8.6-acre site. The architecture of the new one-story building will be very similar to the existing church and school facilities that are located just north of the proposed new building.
Holland Park, 49 percent done: Grading and installation of sidewalks continues. Restroom permit issued. Plumbing and Electrical underground inspections. Electrical conduit installation continues. Pavilion lighting being installed. Stormwater installation begun in Playground area.
County's I-95 Interchange Matanzas Woods Reclaim Water, 76 percent done: Retention ponds are being excavated and fill continues for the ramps. (Not in the Dec. 15 update.)
Palm Harbor Parkway Roadway Extension, 38 percent done: The headwall for the double barrel stormwater pipe has been installed and tied in. The water main and reuse main have been extended towards Forest Grove Drive waiting on the
closure of the road next week to make the road crossing.
Colechester Bridge, 94 percent done: Sea walls have been completed and forming of the western abutment almost complete.
Palm Harbor Extension, 45 percent done: Met on site with contractor to discuss water and sewer testing and construction meter placement.
North Old Kings Road Extension to Matanzas Woods Parkway, 19 percent done: Asphalt was installed on the new section of roadway adjacent to the old roadway at the intersection of Old Kings Road and Forest Grove. (Not in the Dec. 4 update.)
Old Kings Road Force Main 90 percent done:: The contractor has tied the 8″ force main to the 16″ force main in front of the new Master Pump Station on South Old Kings Road. On January 13, 2016 the contractor installed a 16″ X 8″ wye and an 8″ valve in front of the existing lift station on Old Kings Road South. An 8″ wye and an 8″ 45 elbow fitting was installed to complete the connection from the existing 8″ force main to the new 16″ future force main.
Heartland Dental at 782 Belle Terre Pkwy, 99 percent done: Project nearing completion a utility substantial was scheduled for January 14.
Island Walk Shopping Center Phase 2, 11 percent done: Stormwater piping being placed and pond excavations
continue. Pressure test on new 8″ water main was completed January 12.


Road and Interstate Construction:
Forest Grove Drive connection to Palm Harbor Parkway to be closed starting Dec. 18: Effective Friday, Dec. 18, the City of Palm Coast will be closing the Forest Grove Drive connection to Palm Harbor Parkway. This road closure is required as part of construction operations for the Palm Harbor Parkway extension, which is currently under construction. Palm Harbor is being realigned and extended to connect directly with Matanzas Woods Parkway where it intersects with Old Kings Road. Message boards will be placed to advise motorists and other travelers of the upcoming change, and a public meeting has already been held for residents living in that area. Both the Palm Harbor extension and a separate extension of Old Kings Road are being built in preparation for the new Interstate 95 interchange to open next June at Matanzas Woods Parkway. As part of the projects, traffic patterns around Matanzas High School will be changing. One goal is to turn Forest Grove Drive back into a residential street as it was originally intended to be. The upcoming road closure of the Forest Grove Drive connection to Palm Harbor Parkway is part of that project. Forest Grove will be turned into a cul de sac on that end. Once the separate Old Kings Road extension is completed, in June 2016, the Forest Grove Drive access to the high school will be closed because it will no longer be needed. Instead, motorists and other travelers will get to Matanzas High School via the new signalized intersection at Matanzas Woods, Palm Harbor and Old Kings. For more information, please contact Palm Coast Communications Manager Cindi Lane at 386-986-3708 or [email protected]


Ludwig Thuille: Piano Concerto in D
Ludwig Thuille (1861-1907) was an Austrian composer of Savoyard ancestry who learned his art from his father. "Thuille's distinction as a composer rests partly on his cultivation of chamber music at a time when many of his contemporaries were ignoring the genre," the Grove Music Dictionary writes. "His early Sextet op.6 (1891), a rewarding vehicle for piano and wind ensemble with its expert instrumental balance and sweeping lyricism, was an immediate success; still more individual and intense is his mature Piano Quintet op.20 (1901). […] A judicious moderation marks Thuille's style and distinguishes it from the music of his more famous contemporaries. Although his use of harmony was often adventurous, Thuille's innate conservatism restrained him from attempting the extreme experiments of Reger, and in his imaginative, sometimes radiant orchestration he avoided the radical innovations of Mahler. Nor was he attracted by the symphonic poem, as were Strauss, von Schillings and other members of the Munich School; the most appealing traits of his music are its structural clarity and ingratiating melodic invention."
See Also: