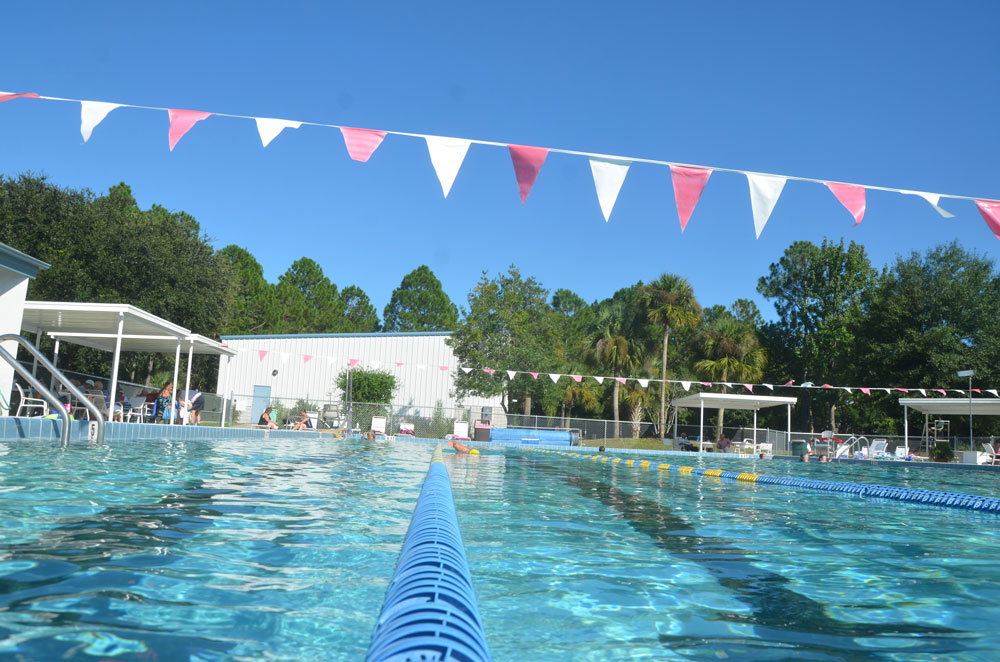 On paper, the Flagler County School Board's 3-2 vote Tuesday evening to keep the Belle Terre Swim and Racquet Club open to the public looks like a victory for its membership-supported component. But the vote was only another vague, undefined reprieve for a club whose fate remains very much in doubt, as it has been for years.
The vote did not specify for how long the club will remain open with the current membership-supported model. The board is still to decide that. Board members are all over the place regarding that timeline. So the vote really adds up to another one of the many delays on an actual decision, though board members discussed several options, with the most agreement on giving the club at least an entire fiscal year to prove itself.
After hearing pleas to keep the club open from throngs of supporters at both the 1 p.m. workshop and the 6 p.m. meeting Tuesday, Board member Colleen Conklin made the motion to keep the club open with the membership model. The motion was without a timeline, but with the implication–and the urging Conklin had verbalized repeatedly–that the district would earnestly support rather than undercut the club. She wants the club marketed and memberships solicited.
Board member Sally Hunt seconded the motion, but only for discussion. Christy Chong did not want an open-ended timeline. She was willing to give the club at least until the summer of 2024 to prove itself. Cheryl Massaro, the board chair, proposed December 2024 as a drop-dead deadline.
"We slow this down. Leave it as it is," Massaro said. "By that time we'll know whether there's going to be a Y or there's not going to be a Y. At this point there's a lot of talk about that. If the Y should open before December 2024 I think it'll pretty much take care of itself."
The Volusia-Flagler YMCA and Palm Coast Mayor David Alfin have said they are working intently to build a YMCA in Palm Coast. The Y had asked for a $3 million appropriation from the Legislature for capitol investment in the two counties, with $1 million of that to be appropriated to the Flagler project, according to Volusia-Flagler President and CEO Chris Seilkop. The Legislature appropriated $5 million. The governor has yet to sign the budget, so the appropriation has not cleared his veto hurdle. If it does, a Y in Palm Coast will be much closer to reality, though by December 2024 it might be under construction rather than completed. Either way, the district would know by then whether it will open.
At first Furry appeared supportive of that approach. "That's a great proposal," he said of Massaro's approach. "It's a compromise, right, at least from from where I've been, my position. I could possibly support that. But the only way I could is if I could see a light at the end of the tunnel because ultimately if we're going to do something I want it to succeed, right, so I just don't want to delay more losses."
Furry said he'd want the users who get to use the club on a day-by-day basis through their health insurance plans either to pay more or to no longer have access on the current model. He was willing to have the agreement with insurance companies cancelled.
But not much later in the discussion, he reversed course, saying he thought Massaro had proposed December 2023 as the deadline, not December 2024. Hunt wasn't supportive of the longer deadline, either, and though Chong had supported a summer 2024 deadline, it wasn't clear whether she'd be willing to push that to the end of the year. Hunt attempted to table the issue until January, when a new superintendent will presumably have been seated.
"Christie had a good idea and I think it was fair and reasonable to have a time certain to look at giving it a shot and working it out," Conklin said. "So I don't know why we would do something like that for six months. Because if we do that for six months, I can guarantee you all we're going to keep talking about is this." By which she meant the kind of talk the board has been holding about the club seemingly month in and month out, without a way out.
"We need, like, a whole fiscal year," Chong said.
The club was a gift from ITT to the district, which voted in October 1996 to accept the gift. Then-School Board member Jim Canfield, who would become Palm Coast's first mayor three years later, voted against, warning that the district was not in a position to carry the club's burden. He saw deficits ahead. He was right. As cut-rate fitness clubs have emerged and Belle Terre Swim Club's location, in the middle of a residential zone, has proved challenging, the membership model hasn't sustained the facility. Nor are school districts usually in the business of running fitness clubs. Covid didn't help.
The club is operated from within the district's Adult Education division, which also runs the extended-day program–the before and after school child care program at various schools. That program is profitable. Since the district is barred by law from using direct education dollars to subsidize the club, it has used surpluses from extended day revenue to close gaps, which the district says will add up to $146,000 this fiscal year. Conklin and club advocates say the figures are skewed. (See: "Belle Terre Swim Club's Finances Are Not as Dire as Projected, Club Advocate Says.")
The vote on Tuesday extended the club's days without resolving fundamental issues. "We will have further conversations on how that will look in the months to come," Massaro said, "because we're nowhere near. We have ideas. We gave you ideas too. So I thank you all for your help. And we'll move forward."