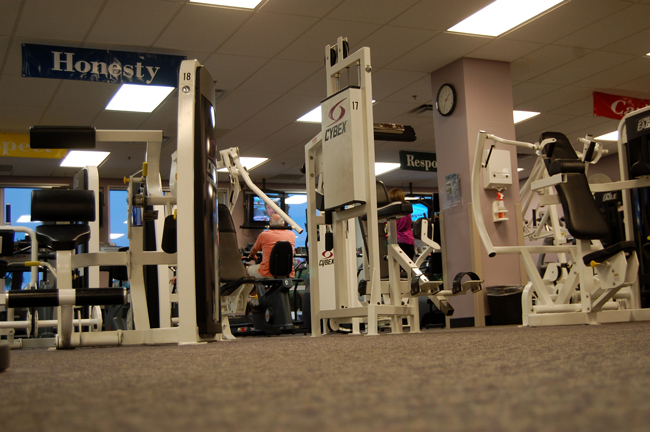 Palm Coast's YMCA, located at Florida Hospital Flagler since October 2002, is closing on May 31. While some YMCA-sponsored youth programs that don't depend on the facility will continue, the closure will affect some 900 memberships and approximately 1,200 people, as some of those memberships were for couples or families.
The Y was employing 30 people, though just one full-time.
Members are being encouraged to shift their memberships to one of six YMCA's in Volusia County, while the board of the Y is itself shifting its focus to a longer-range plan to open a stand-alone YMCA in Flagler, perhaps in partnership with local government. A group of 30 people formed under the banner of a Flagler Solutions Team is meeting in April to discuss those plans. The group includes John Meneough, president of Palm Coast Data and a past member of the Y's board, Bob Nocella, the director of the school district's adult education programs, and Luanne Santangelo, Palm Coast's parks and recreation director.
On Tuesday, the Palm Coast City Council briefly addressed the Y's future potential as a partner with the city. That took place in the context of a discussion about community centers. Council members were not aware that the Y was closing. Members were told on Tuesday, following a meeting of the Y board on Monday (March 28).
A stand-alone facility with a full gym and a swimming pool (or "aquatic center," as they're referred to these days) would cost about $6.5 million, according to Teresa Rogers, president and CEO of the Volusia Flagler Family YMCA.
While the number of members the local Y was serving seems high, it was not enough to sustain the operation, Rogers said. The Y is losing about $50,000 a year—it's lost that much each of the last three years—on a budget of about $200,000. "We've tried," Rogers said of various attempts to stay open. "We've been losing significant dollars for the last three years, which no one in this economy can sustain long term."
The location was constraining, too. The 6,500 square feet of space at the hospital lent themselves only to one fitness room, two smaller exercise rooms and locker facilities for about 45 people at a time in either the women's or men's locker room. The spinning room, for example, could accommodate eight to 12 people—less than half the number in normal-size classes of the sort. The fitness room has about 22 strength-related exercise machines, 20 cardiovascular exercise machines, and a few free-weight stations.
"It's also a matter of that facility being conducive mostly to individual membership, as opposed to family membership," Rogers said. To be more self-sustaining, the Y needed an additional 150 to 160 new members, though the sheer physical size of the Y at the hospital would have made that difficult. Being a non-profit, the Y also needed to have a balance between its various kinds of memberships—single, family oriented, elderly and also those who are on financial assistance: the Y provides for those unable to pay the full fare.
The Y has been meeting with local fitness and wellness centers to facilitate transitions for members, though prices at for-profit centers are typically steeper than those of the Y, which was charging $480 for an annual membership for a single person, and $660 for a family.
Several Y programs will continue. Youth basketball will continue through May, and the Y's usual soccer and summer camps will take place. The Y is taking registrations for both. The Y's annual, free water safety program will be held at Belle Terre Swim and Racquet Club April 18-22, and at Frieda Zamba pool April 25-29. Members can also transfer memberships to Volusia County locations—the closest one is in Ormond Beach, at 500 Sterthaus Drive—and can benefit from free membership in June and July.
The Y's equipment, jointly owned by the hospital and the Y, will not be sold to members or other individuals. Most likely, it will be dispersed among other existing Y facilities in Volusia. "Florida Hospital was pleased to have the Y as part of our facility in Flagler for many years," David Ottati, president and CEO of Florida Hospital Flagler, said in a release from the Y. "As community partners whose missions are closely aligned, we will miss the Y on the Florida Hospital Flagler campus and we will continue to support the Y's services in this community."