The odd thing about clarity is that it doesn't strike in the best of times. It's usually the reverse. Our judgment is most clouded at our happiest, when we tend to be more complacent or self-deluded. A bad marriage starts in the most exhilarating throes. Every losing bet is placed in the happy certainty of a jackpot. Wile E. Coyote cascaded down canyon walls on thermals of optimism. Conversely, trauma sharpens judgment. Soldiers speak of an unmatched command of their faculties during combat. Dostoevsky repeatedly emerged out of his epileptic fits primed to write masterpieces. Lincoln delivered America's most redemptive speech on the still-loamy graves of 50,000 men.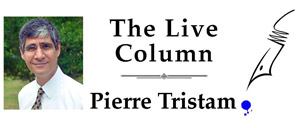 The problem with this morning is that it's more of a Dickensian best-of-times-worst-of-times sort of thing, depending on the vote you cast. That's assuming you don't follow that two-city classic to the end, when alternatives end and the guillotine drops. In my paralysis this morning I've come across a reference or two to the revolutionary nature of yesterday's vote. A circuit judge I know in Polk County even texted me at 2:58 a.m.: "Sire, the peasants have stormed the Bastille."
It feels less like 1789 than it does 1793, when the Jacobins unleashed their guillotines on the elites of the times. It's been good to hear the talk of conciliation and peaceful succession. But whatever has been said about Donald Trump, he wears his designs on his sleeves, and those sleeves are not monogramed with smiley faces. Heads are going to roll. Sixty million Americans, half of them wearing hard-hats, didn't elect him to play nice.
I remember the clarity of 9/11, moments after the second plane hit the towers and it was obvious by then the nation was under attack–the clarity of the months and years or wars to come, the nation's pivot against itself, its willingness to compromise civil liberties and constitutional rights in the name of an abstract security, its surrender of moral authority around the world, its further transformation into a police state where domestic surveillance would become routine, its blank-check to jingoism. I saw it all as if the billows from the towers were writing that future in the September sky. I'm not inventing 20-20 hindsight. I'm summarizing what I wrote the day after the attacks when I was an editorial writer at the News-Journal. It's not the sort of clarity to be proud of, but to dread. It took about six years for the nation to begin righting itself from those errors, but a lot of damage was done by then, some of it enshrined in law that even President Obama ratified.
There's dreadful clarity this morning, too. Trump doesn't need a 9/11 for his blank check. He just created a political one, with legislative and soon-to-be judicial unanimity on his coattails. So we'll see a period of merciless reaction, of demolition and repeals rather than rebuilding. He promises to end the Affordable Care Act, scrap global warming initiatives, scrap the nuclear weapons treaty with Iran, stop trade treaties, all in his first days. He won't mind bringing back torture, hounding Muslims or going to war on ISIS alongside Russia. And civil liberties? Journalists should not be the only ones panicking about press freedoms after a campaign that treated reporters as the enemy. His presidency, the Committee To Protect Journalists wrote, "represents a threat to press freedom unknown in modern history."
His promises to jail Clinton, build a wall, deport immigrants, retreat from NATO and be a  more aggressive nuke-toter can't be taken seriously because he can't get that done, but that's what was said of his primary run, then his presidential run. He does make things happen. That's his appeal. But what things. I am reminded of the curse: "May you live in interesting times." There'll be no let-up of interesting. I'm exhausted already. We all are, after the past year. I bought a bottle of champagne for last night. I felt a touch waterboarded instead.
I am not shocked so much as shell-shocked (mere shock would assume that I didn't see this coming, though I started seeing it in September and did as late as in yesterday's column). My confidence in the country, the closest thing I have to a faith outside my wife and children, is shattered. I'd like to say that I'm discouraged. That would be the easy way out, as are facile notions of hopping over to Canada or wishing to be in a deep-blue state. But nothing would bore me more nor would seem more false than to be in a self-segregated liberal enclave right now.
We're living the culmination of years of mass- and social-media atomizing into echo chambers, as if differences of opinion are the plague rather than the salve of a democratic society. Yesterday's electoral map mirrors the atomization. Trump won with echoes of his taunts more than with votes for any kind of coherent or communal nation-building. The local echo was a historic transformation of Flagler government into a one-party county, with just one token Democrat left in any of our major elected positions. Absent Republicans who'll put county ahead of party it'll make for poorer, more arrogant and self-indulgent government, not better government.
But it's still my government. As unreservedly as I voted for Hillary Clinton, Donald Trump is unreservedly, unquestionably my president. That he's a nut case doesn't make him less so. A government changed hands, but no one took anything back yesterday. There was nothing to take back, nor to give, unless some of us don't belong here while others do. I don't think that's the case, and if you do, I'm pretty sure you're the one who doesn't belong. That said, there are interesting times to cover. Dissidence is not dishonorable, and for some of us it's a more suited role than groupthink.
So I'm looking at the next four years with eyes wide open and keyboard primed, hopefully without epileptic fits, though I think I'll re-paste a line from Faulkner's "Absalom, Absalom!" on the rim of my computer screen for the duration, as I had immediately after 9/11. It sums up that unwanted clarity I've felt all day, "that dream state in which you run without moving from a terror in which you cannot believe, toward a safety in which you have no faith."


Pierre Tristam is FlaglerLive's editor. Reach him by email here or follow him @PierreTristam.