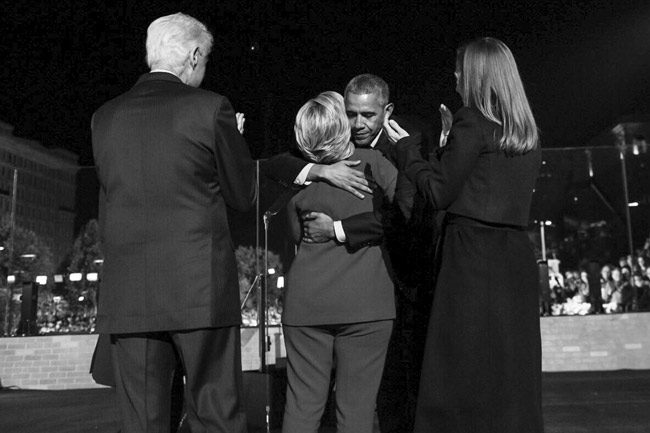 Later today, and still despairingly doubtful of her victory, I'll be voting for Clinton. It won't be a reluctant vote or a vote cast out of fear of a Trump presidency, though I am certainly fearful of that: it's possible to fear one while enthusiastically approving of the other. It'll be an eager, grateful vote. But not a blind one.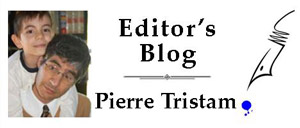 She has her flaws, as do her 43 predecessors: politics isn't a Rotary lunch. That's the difference. Clinton has flaws. Trump is a flaw. I'd rather the White House sat on top of a stretch of whitewater or even a teapot dome than on top of the San Andreas fault (or a missile silo in North Dakota). Comparisons explode the equivalence. There's never been equivalence between the two. They're not equally bad or distasteful except in the alt-right world of pre-Copernican conceptions of the universe, where facts are whatever the reigning mullahs of the times say they are. Like Trump's absurd transmigration into a voice of the working class, the dispossessed, the rust-belted and white-aggrieved. That's been the defensive if successful narrative of the Trump campaign, the recasting of Clinton's 35 years in the public eye as a gorgon-headed reign of furies, as if anyone fractionally guilty of the manufactured cases against her could have made it this far in what's amounted to inquisitorial gang-rapes. I'm not so sure most of her 43 predecessors, being of the weaker sex, would have. That she has tells me something. I didn't like Margaret Thatcher, but I envied her Hester Prynne-sized balls. Looks like Clinton has her beat by a dozen. No wonder she needs pants suits.
But here I am falling into the same trap the Trump campaign intended all along: focus on Clinton's manufactured character, not on her policies. If that's where the debate had been there'd have been no debate. Trump is a Gertrude Stein-era Oakland of coherence: there's no there there. In the end that's what I'm voting for–not against Trump, but unreservedly for Clinton. For her stack of white papers. For her dull lust for policy and governance. It's a long list of why. But here's a sample.
There's the self-serving part. She's going to ensure that I can send my son to college without either of us running up massive debt. She's going to lower my health premiums by introducing a public option, because she's not going to kill the only health insurance program–Obamacare–that kept me and my family, and countless others, from going bankrupt because of my minor pre-existing condition.
That's assuming she can get anything done with a Republican House or Senate, where the GOP has already declared its intentions to be as obstructionist of her as it was of Obama, at the nation's expense. It's not Trump's risk of not accepting the election we have to worry about. It's the GOP's avowed decision that it will not do so. And you call her criminal?
Beyond the self-serving, she's going to more appropriately tax the superich, whose massing of fortunes now matches the inequality of the Coolidge years. Inequality is as lethal to democracy as demagogues. She's going to institute paid family leave as in the rest of the civilized world. She's willing to invest in infrastructure at levels more like the 1960s than the 1980s. I'm voting for her because she's not in the pocket of the oil and coal lobby, because she doesn't think global warming is a hoax, because she won't start a reckless trade war that would hurt the working class most, because she has a humane citizenship driven plan for immigration, because she is a sound hand on the nuclear lever, and because she will appoint the sort of replacements on the Supreme Court who won't retreat from gay marriage or abortion rights or pretend that racism doesn't exist and cops are more infallible than Pope Benedict.
That's among many other reasons (among them, too, the very bile her name and defense of her elicit in comment sections, where the level of discourse is no more elevated than in Trump's pussy-grabbing bus). And yes, because she's a woman, and it's about damn time.


Pierre Tristam is FlaglerLive's editor. Reach him by email here or follow him @PierreTristam.