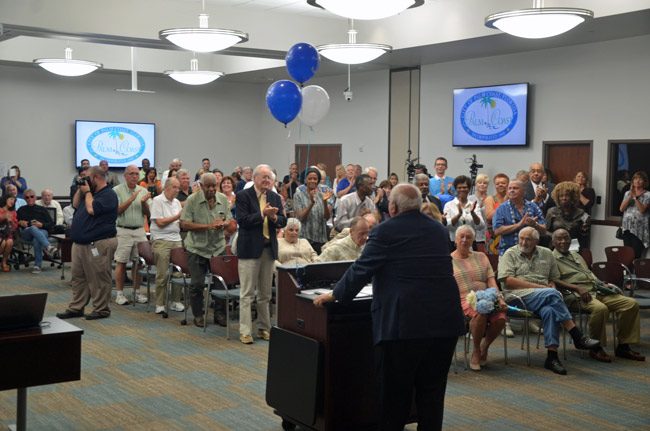 The most moving moments of the hour-long farewell Thursday to Jon Netts, Palm Coast's mayor for a few more days only, was when a woman almost a generation his senior—Regina Wilson is 90, Netts is an enduring 74—slowly walked to the podium to tell him how much it meant to her that he'd taken the time to write her a letter on her 90th birthday in September. A friend of Wilson's had arranged the wish on a lark, never thinking the mayor would come through. He not only did. He responded immediately.
"I know that my request was not at the top of his to-do list, I'm well aware of that Mr. Mayor, but you sure treated it as if it were," Wilson's friend told Netts, who sat next to his wife Priscilla in the front row this evening at City Hall. "You're more than Mr. Mayor, you're a man with a heart of gold," she told him. "You are more than Mr. Mayor. I say it boldly, I say it loud." She could have been speaking for the standing-room-only assembly of some 100 well-wishers, among them Wilson herself, whose presence was among the more touching surprises of the evening.
The farewell to Netts was long in the making—16 years, to be precise: that's the number of years he's been involved in Palm Coast government, starting with two years on the Code Enforcement Board before winning a seat to the council in 2001. The city had barely incorporated two years earlier. He wasn't a founding council member precisely, but it was in his tenure that the city, and particularly the city council, took on the dignity of a city far more established and grown up than it had a right to be for such an upstart. It's had only two mayors, and the first, Jim Canfield, was in the audience and spoke as well—to that "high degree of civility" Netts brought to his task and the "courtesy and dignity" he let all those who came before the council.
The evening's attention was on Netts himself, his service and how he made Palm Coast in his image, now that he's retiring—or rather, being forced to retire by term limits: he would not have done so had it been up to him. But Canfield's presence underscored the unspoken: Netts's departure means that for the first time when the new council is seated in mid-November, Palm Coast government will have no link to its original founders.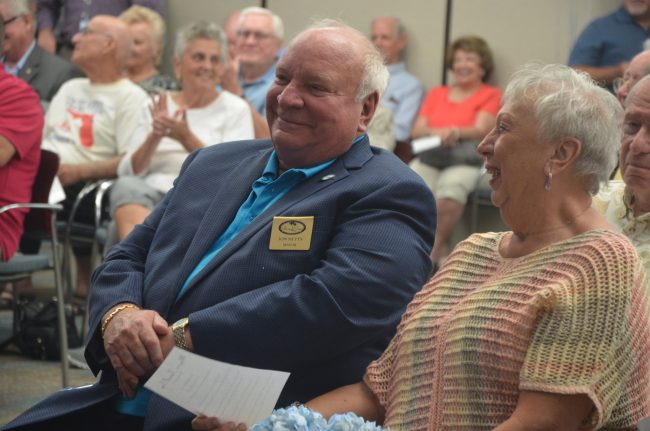 Three of the five seats will be occupied by newly-elected members, two of them rookies to the elected politics, and the two existing members, Steven Nobile and Heidi Shipley, are barely beyond the rookie stage themselves, having served just two years. They'll now be the council's senior members. The council's collective institutional history will go from 29 years to four at the stroke of an oath, though the new mayor, Milissa Holland, will not quite be a newcomer: as she told the assembly this evening, Netts took on the role of a father for her when her father, Jim Holland, who was among the founding council members, died in 2002.
"I had the privilege of getting to know him as a family member," Holland said. "He took over a very big role for me when I lost my father, and I can't thank him enough. So [these]  upcoming few years are not only big shoes to fill, but it's also very personal, very deep to me." She spoke of the vision and standards Netts and Canfield had set for the city. "I not only hope to continue that, but I hope to do you proud," she told the mayor.
"By golly," Netts soon reminded her before the hundred witnesses, "if she deviates from the path I'm going to stand up and say something." He said the words at the end of a tribute to the city, to two "superb city managers" (Dick Kelton, followed by Jim Landon, who was in attendance), and most especially the city's employees, to whom he gave the credit for his successes.
The entire city council was there—with Jason DeLorenzo delivering what went for the evening's keynote speech, a riff on the many ways his life and Netts's crisscrossed over the years, however dubiously, going back to their shared grounds in Bergen County, N.J.—as was the county commission (seated members and those running against them, with the exception of George Hanns), Beverly Beach Mayor Steve Emmett and council member Steven Nobile were among those who spoke, as was Charlie Ericksen, the county commissioner with a particular distinction in Nettsology.
"I made the mistake of running against him," Ericksen said, recalling the 2011 race for mayor. "Is there anybody else in the room that lost to Jon Netts?" There may have been at one point, but both have died: Jerry Full, who lost to him in 2001, and Joe Cunane, who also ran for mayor in 2011. Ericksen recalled being asked what the difference was between him and Netts at the time. "I thought and I thought, and then I said, I wear socks," Ericksen said, referring to the evening's running joke (Netts, for reasons yet to warrant a doctoral dissertation, does not wear socks). "And then I lost."
The two men shook hands, as they always had before and since.
Mike Beadle, the Palm Coast Fire Chief and another New Jersey transplant with a lot in common with Netts—they both like fire trucks—emceed the evening with his usual flares of wit and ended it with a surprise. No, not the singing of "New York New York," but the naming of Palm Coast's newest fire truck as "Mayor Jon Netts." Then it was Netts's own turn to say goodbye, which he did in fact, in a video clip featuring him as the DJ of a Princeton radio station back in the day (he's a graduate of Princeton University): "This is Jon Netts, signing off."