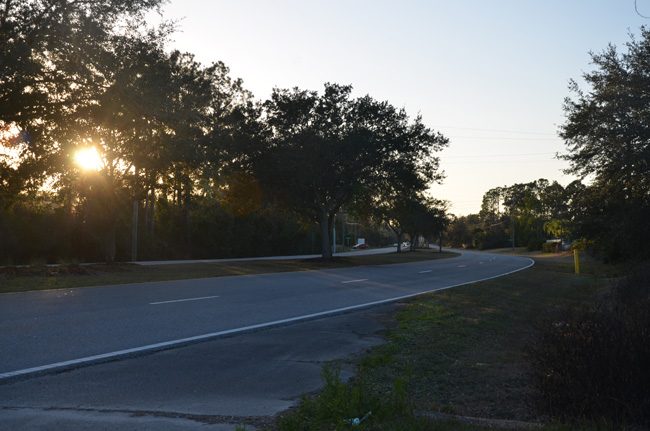 City government is planning to change the look, width and feel of Whiteview Parkway, one of Palm Coast's major east-west arteries.
The most visible change with the most consequences for traffic will be the reduction of the mile-long, four-lane segment at Whiteview's west end to two lanes, in contrast with ITT's original vision of wider east-west roads. The reduction will accommodate the addition of a foot- and bike-path, and possibly—depending on which concept is adopted—a linear park-like stretch instead of a mere path. Currently there is no path there. Some median cutthroughs would be eliminated. Some of the oak trees that line the roadway may be uprooted, but the city intends to do all it can to save the trees.
In addition, the 2.5-mile segment of Whiteview that ends at Pritchard Drive to the east will see many intersections re-engineered with the addition of turning lanes, including at Whiteview and Belle Terre Parkway.
The plan still has to be ratified by the city council, but that may be more of a formality. The design for the changes is planned to start in spring and take at least a year, according to Sean Castello, Palm Coast's traffic engineer. Construction would then follow. The city's capital improvement plan already has somewhere in the range of $1 million earmarked for the Whiteview project under various headings, what Carl Cote, the city's construction manager, described as "three separate projects that kind of blended into one."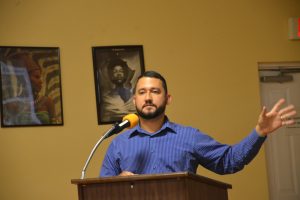 The changes were prompted by a city traffic analysis aimed at making the roadway safer and more foot- and bike-friendly: one of the main components of the redesign is to add that path where it doesn't exist at the moment. The other is to reduce crashes, injuries and fatalities on a road notorious for all three.
In 2015, 22-year-old Elisa Homen, mother to a young child, was killed as she waited to make a turn off Whiteview onto Ravenwood, only to be struck from behind and catapulted into the path of a school bus full of middle school children. In 2012, Pedro Riera, 48, was killed as he drove his motorcycle on Whiteview and struck a car pulling out of Rolling Sands Drive. The roadside memorials for both victims are still poignantly maintained. There are no memorials for the innumerable victims of injuries along the road—62 injured at Ravenwood Drive and Whiteview alone between 2014 and 2016, according to a city analysis, and 86 total injuries at the eight intersections with Whiteview during that stretch, from 60 documented crashes. Twenty-five crashes were rear-end collisions, 13 were left-turn collisions.
Castello and Cote presented the proposed changes to hear feedback at a public meeting this evening at the African American Cultural Society on U.S. 1, near Whiteview.
"I am a survivor of a near-fatal accident on my bicycle on the bike path in the middle of the Ravenwood intersection," a woman said at a public meeting on the proposed changes this evening. "I had a triple skull fracture, was totally unconscious. Two things I'd like to address. Number one, have you considered making the speed limit 45 mph from one end to the other? There's no reason why there has to be a 50 and then a 45, it's confusing to the drivers. Number two, I have observed that intersection ever since my accident three years ago, and I have seen numerous people not even stop at that intersection on Ravenwood and just drive right out onto Whiteview. Have you not considered a traffic light? Or do we have to have a few more fatal crashes there?"
The suggestion of a uniform speed limit drew support but that for a traffic light drew groans from the relatively small crowd: only 36 people attended. Several in attendance were critical of the city's notification procedure: only residents in close proximity to Whiteview were notified.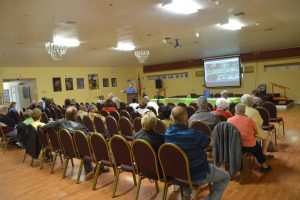 On the other hand, there was little opposition to the plan conceptually. The criticism, where there was any, was in the details—unhappiness with this or that particular turn lane or U-turn, more support for maintaining the existing median with two traffic lanes on either sides of it rather than going with a linear park at the south side of the median and the two traffic lanes at its north side, concern about traffic patterns from the two churches near that stretch of road, and so on. Castello and Cote may have feared that the narrowing of Whiteview to two lanes might have drawn the most objections ("this is the section that will generate a lot of questions," Castello said as he started discussing that segment) but it did not.
Castello had already made clear that traffic on the road is relatively light. Road capacity is 44,000 vehicles per day, for four lanes. "Right now that section of roadway probably sees 5,000 to 7,000 vehicles per day," he said, making it under-capacity even for a two-lane road. He said it is expected to remain under capacity well into the future.
Aside from the lane reduction, here are the changes and additions that would affect each intersection:
Whiteview Pkwy at Wood Ash Lane: Eastbound Left Turn Lane
Whiteview Pkwy at Wood Aspen Lane: EB Left Turn Lane
Whiteview Pkwy at Rolling Sands Drive: Westbound Left Turn Lane, EB Right Turn Lane
Whiteview Pkwy at Woodbury Lane: EB Left Turn Lane
Whiteview Pkwy at White Mill Drive: EB Left Turn Lane, WB Right Turn Lane, SB Right Turn Lane
Whiteview Pkwy at Whippoorwill Drive: EB Left Turn Lane
Whiteview Pkwy at Ravenwood Drive: WB Left Turn Lane, EB Right Turn Lane, NB Right Turn Lane
Whiteview Pkwy at Princess Rose Drive: EB Left Turn Lane.
Cote said another public meeting may take place during the design phase, though that meeting would not be likely to significantly impact the result of the design.
The full analysis is below.


The Whiteview Parkway Traffic Analysis (2018)