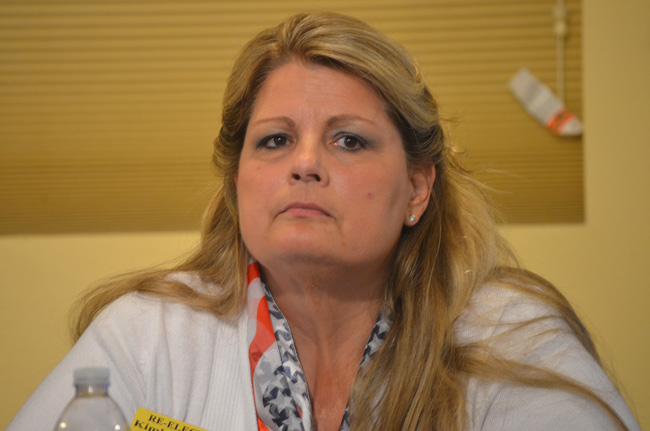 Kimberle Weeks isn't done with the last election. The Flagler County Supervisor of Elections teamed up with ex-county commission candidate Mark Richter to file ethics and elections complaints on four of the five county commissioners, who all got served this week starting Monday. The only commissioner spared was Barbara Revels, at least so far.
"It's all misdemeanor baloney, and it's all after the fact," Commissioner George Hanns said, calling the actions a witch hunt. Weeks was not at a county employees' Christmas breakfast this morning and was reportedly ill for the second day. "She's rehashing the same issues and that attorney she hired from Orlando is just reaping in the reward, and it's a shame because the county isn't going to give her extra money to pay for this." Rather, Hanns said, Weeks will have to cut other parts of her budget to pay her legal bills.
When asked in a public record request in early November for all documentation pertaining to her legal bills, Weeks, who had retained two attorneys at the time, replied with only one document, an engagement letter pertaining to one—Roberta Walton—even though the document itself stated that clients are billed on a monthly basis. Weeks had signed the document on Sept. 19. After a canvassing board on Nov. 19, Weeks said she had no other documents to give in response to the request.
"It's kind of a sad day in Flagler County that it's what we're known for in Tallahassee, these continual ethics complaints," said Revels, who faced an ethics complaint of her own earlier this year—unrelated to the elections, but filed by a member of the same group Richter is part of: the Ronald Reagan Republican Assemblies. "I hope the public understands that if it is uncalled for or unsubstantiated, it costs a lot of taxpayer money to get through these" as state and local officials and ad ministrations determine how to handle the complaints. "It takes time and effort away from you work whenever you have to go through the investigations and interviews, so it's a big chore, and if it's just witch hunt, I hope the public understands that it detracts from what we'd like to do."
In mid-afternoon, Carl Laundrie, the county's communications manager, provided the following statement: "We welcome an investigation by the proper authorities on ethics and the election process. It is one way to clear the air for the citizens of Flagler County. The accusations made by the Supervisor of Elections and others around her, are a rehash of groundless claims seeking to discredit the County Commission. Unfortunately this means a substantial expense of state and local tax dollars. We are confident that when all the facts are known we will be fine."
Interviewed separately Friday, the four commissioners confirmed that they each got served: Frank Meeker, who now chairs the commission, got an ethics and an elections complaint initiated by Richter. Nate McLaughlin got two elections complaints and one ethics complaint initiated by Richter, who was McLaughlin's opponent in the Republican primary for county commission. Hanns got an elections complaint initiated by Weeks. And Charlie Ericksen got an elections complaint and an ethics complaint, both initiated by Weeks. "There is nothing I see in these that's any different than we've talked about up to this particular point," Ericksen said.
Hanns and Ericksen had both served on the Flagler County Canvassing Board until Weeks, aided by Walton and Dennis McDonald, who had been Meeker's primary opponent, maneuvered to get both removed form canvassing board service—Ericksen because he'd made a $25 donation to the Meeker campaign at a fund-raising dinner, Hanns because of his perceived endorsement of Meeker on a  campaign flier (the mistaken endorsement, deleted and corrected by Meeker, was done without Hanns's knowledge, Hanns said). Revels ended up filling the county seat on the Canvassing Board.
The ethics complaints were filed with the Florida Commission on Ethics. The elections complaints went to the Florida Elections Commission. None of the commissioners discussed the details of the complaints, which are not subject to open record laws pending each commission's determination of whether there is probable cause to pursue them. The commissions will first decide whether to investigate (groundless complaints are often filed, or the agencies where they are filed have no jurisdiction to pursue the matter) before ruling whether there is cause to go further.
"This has turned personal, what's happening here, and they're grasping at whatever thy think they may find and whoever they may interpret the statutes, but it's costing the taxpayers," McLaughlin said. "Certainly if anybody sees something wrong they're certainly welcome to it, it's just suspicious in my mind that the supervisor of elections is involved in it across the board along with the group she's affiliated herself with." McLaughlin was referring to the Reagan assemblies.
Weeks has in the past several months been bitterly critical of County Attorney Al Hadeed and County Administrator Craig Coffey. As of Friday afternoon, Coffey had not been served, and it wasn't clear whether Hadeed had been, though Revels was aware that he had received certified mail similar to what other commissioners received.
Without going into the details of the complaints pending legal review, all commissioners spoke of the complaints as rehashes of matters Weeks had brought up previously, such as Hanns's perceived endorsement of Meeker, the correctness or incorrectness of a disclaimer on campaign literature by McLaughlin, and matters relating to a conversation Ericksen and Hadeed had, when they were outside a canvassing board meeting, but at the supervisor's office. The supervisor is herself under criminal investigation by the Florida Department of Law Enforcement as a result of having recorded the two officials without their knowledge, an act the county administration has termed illegal.
Ethics and elections complaints are civil, not criminal, and entail fines on conviction. But it isn't just the convictions that blemish reputations: those who file them often hope that the mere act of filing complaints will reverberate enough to damage reputations, even if the subject of the complaints are subsequently exonerated. Weeks over the past several months has made numerous claims of collusion between commissioners and the county administration, at times involving Palm Coast government, to allege that the local governments were "interfering" with the election process or aiming to affect it one way or another, though Weeks never provided evidence to that effect other than to make circumstantial allegations based on how the city or the county were enforcing their own rules or local ordinances. County and city attorneys would assert the justness of their respective governments' actions, to no avail in Weeks's estimation.
Previously, in a protracted conflict with Palm Coast, Weeks claimed that the city had inappropriately or illegally changed its charter and ordinances when it switched from odd-year to even-year elections, and she at one point made her willingness to conduct Palm Coast's 2014 municipal election contingent on her interpretation of the legalities surrounding the charter change. Several attorneys, including the one representing state association of supervisors of elections, sided with the city's interpretation of the legalities, clearing the city of any wrongdoing. But by then, merely by stretching the conflict over time, Weeks has stirred up impressions, however false—and proven false by attorney after attorney—that Palm Coast had been somehow in the wrong. She then dropped the matter entirely when she ran out of new angles from which to tackle the city.
A similar strategy may be in play in this case, with the imprint of state agencies giving the complaints at least a perception of weight they would have otherwise lacked.