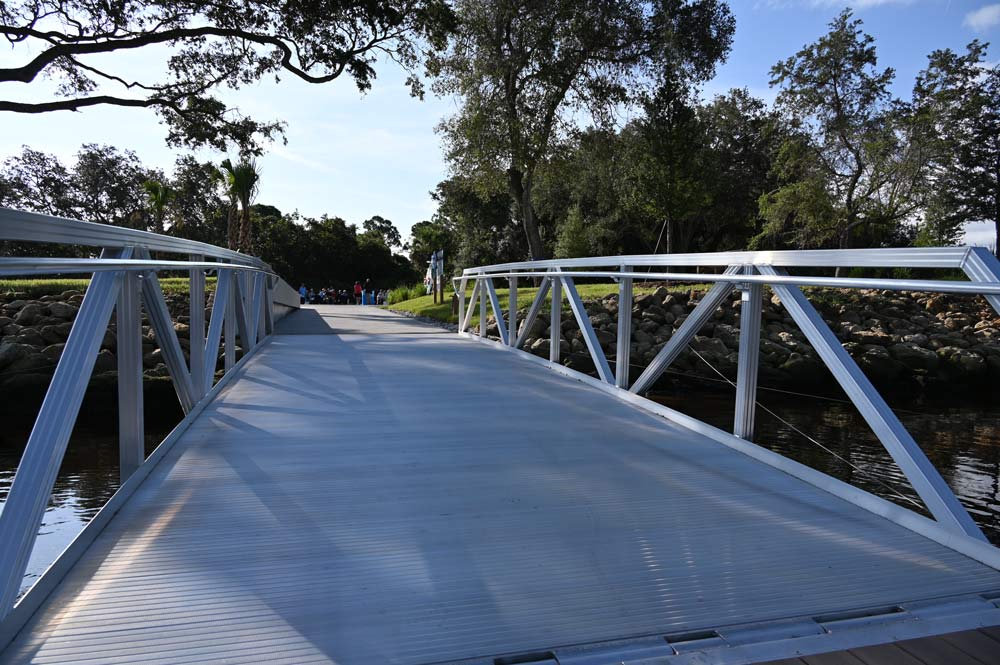 If you look at your tax bill, you'll notice that the smallest charge–usually in the $6 to $8 range for the year–is by an obscure authority called the Florida Inland Navigation District. Contrary to its eureka-like acronym (FIND) few people know about it. Fewer know what it does.




Aside from maintaining Florida's 12-county portion of the Intracoastal Waterway in cooperation with the federal government, the single-most important navigable highway on the East Coast, FIND also underwrites grants that enhance recreational access to the Intracoastal: it's big on public docks, boat ramps, piers and boardwalks, awarding $9.3 million for a few dozen such grants this year alone–$175,750 of that to Palm Coast.
If you're among the thousands of people who make Waterfront Park in Palm Coast part of your regular pilgrimages through nature, then you know, or at least see, what the navigation district is about, and where your taxes are going: It paid for nearly half the $1.2 million that paid for the addition of a floating dock, a 65-by-100 foot concrete pad, and access to non-motorized vessels like kayaks, paddleboards, canoes and row boats, an addition that the city and FIND celebrated today with a ceremonial opening after nine months of construction.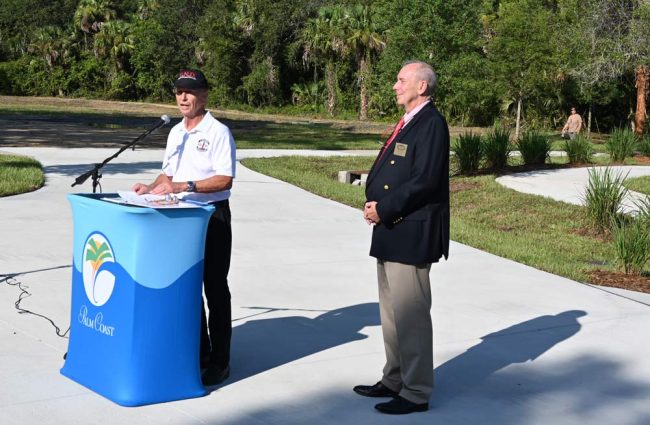 "You can now paddle straight to paradise," Mayor David Alfin told a sizeable crowd at this morning's ribbon-cutting, speaking only metaphorically of course, "by approaching the park in kayaks, canoes, rowboats. If you don't have a kayak or paddleboard, you can easily rent one right on site thanks to PADL kiosks installed right here." (PADL is a self-service kayak and paddle board rental company that offers its wares at $25 an hour.) "We've enhanced the park with a new concrete boat ramp and floating dock watching pad. We've included a beautiful patio area with endless opportunities for recreation. And we fortified the shoreline with coquina, coquina and upgraded landscaping and added updated QR stations throughout the trail so you can learn more about the park on your cell phone."
It was a succinct summation of the project's parameters. The mayor also noted the Children's Memorial Garden, created in 2010, as a sanctuary for local parents to remember the children they've lost. "It is one of the pure spots in Palm Coast," the mayor said, "to soften the sadness for visitors looking for a quiet place of peace. I personally enjoy that peace." (Alfin lost a son of his own.)




The city's own park impact fees–the one-time levies on new construction that defrays the impact of new residents on the city's parks–accounted for $462,000 of the project, the capital fund another $205,000, and FIND grants the remaining $533,000. Palm Coast and Flagler County were long represented by Jon Netts, the late mayor, on the FIND board: he was one of its 12 commissioners (one for each county represented) until his untimely death in 2021. But he was replaced by Randy Stapleford, a genial advocate for the county and the city who started his remarks with the right idea: "It is absolutely beautiful. I can't wait to come back here and drink a couple beers," he said, before his first legally required backtrack (drinking beer in public parks is, alas, not allowed, unless it's the beaches).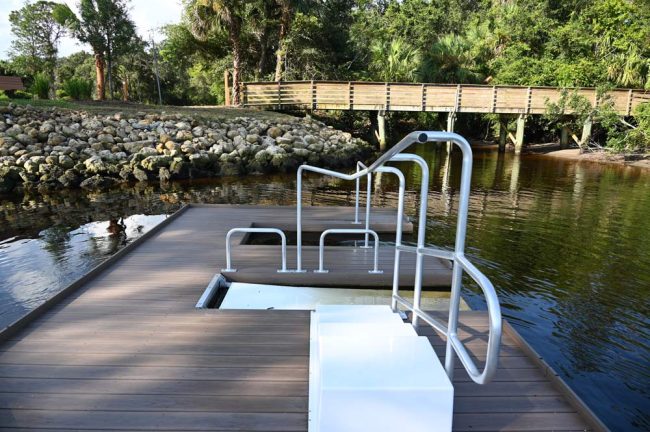 "When I took over this job, the first project I had to deal with was no other than right here at Waterfront Park," Stapleford said. He was "wowed," in his word, by the extent of the legalities and agencies involved, which City Manager Denise Bevan helped him navigate. "She's always in the background but always in the front," he said, describing her as an "expert in every detail of every job, and she made every job very easy." Quick on his feet, he backtracked a second time when he mistook City Parks Director James Hirst's accent for a British one, when it is, in fact, not nearly as imperious: Hirst is Australian. "I love a British accent, but I love his even more," Stapleford said.




The $533,000 check he presented today on behalf of FIND brings the organization's grant total to $790,000 for the park, apparently not including that additional $175,750 on its way–that share to be devoted to phase two of the Waterfront project: a $600,000 parking addition that cleared an area large enough for 80 cars, adjacent to the park, while preserving one or two trees.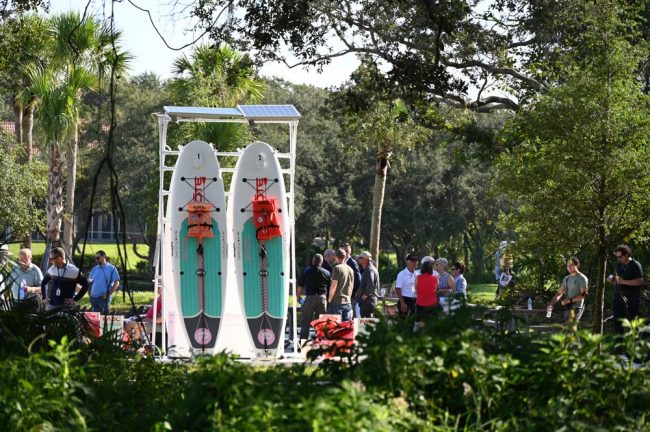 As for the dredging of the Intracoastal to accommodate aircraft carriers–a joke carried over from Stapleford's appearance at Waterfront Park for the groundbreaking less than a year ago–he updated that one with reminders that not only is the USS Gerald Ford a sister city of Palm Coast, but since Sheriff Rick Staly's visit to the USS Eisenhower, that carrier is now an honorary deputy vessel for Flagler. (For the record: The Gerald Ford draws 39 feet, the Eisenhower, 37, while the Intracoastal is usually about 12 feet deep.)
The mayor also recognized Mahmoud Saboungi and Saboungi Construction, the Ormond Beach-based company that built the project, apparently without a hitch–the latest of its many Palm Coast projects, including the Indian Trails Sports Complex and Ralph Carter Park–and that perhaps should look into getting in the splash pad business.