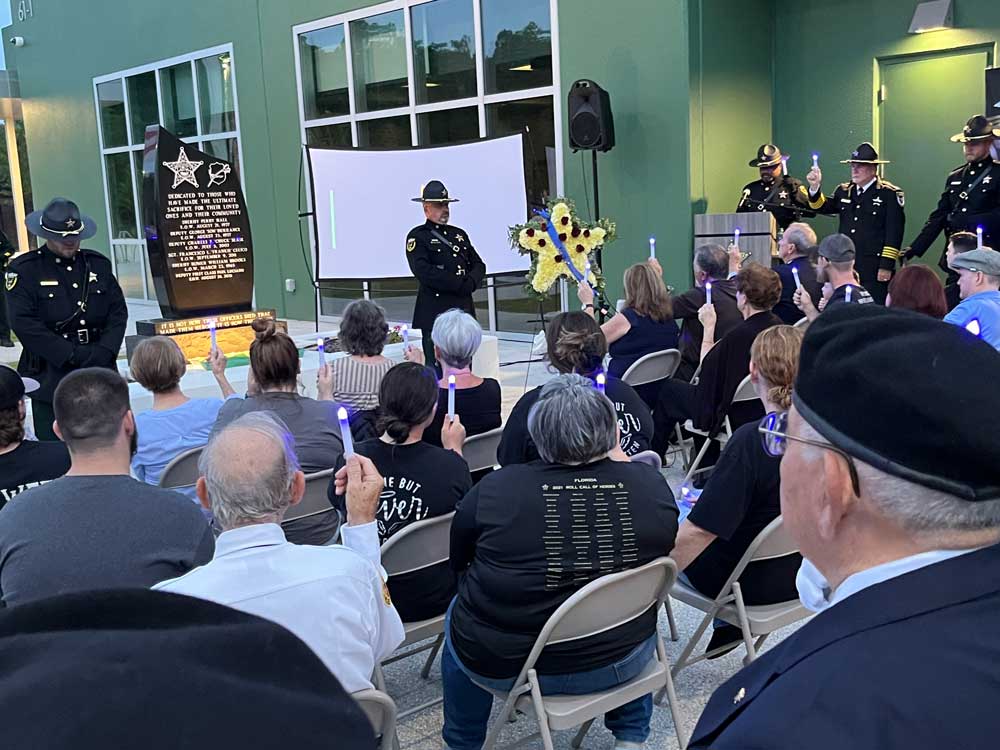 The Flagler County Sheriff's Office held the annual Fallen Heroes Memorial Candlelight Vigil Thursday evening, the first time the ceremony was held at the new Sheriff's Operations Center in Bunnell.
"Behind every fallen officer, there's a family who also bears the burden of their loss," Sheriff Rick Staly said. "We want to acknowledge and thank the families of our fallen heroes for their sacrifice. Many of the families are here to night. We know your pain is deep and lasting, and I want you to know: you are not alone in your grief. We grieve with you. Our community and nation grieve with you."




The sheriff spoke of the fallen law enforcement officers' legacies enduring through their families and friends, and through law enforcement continuing to uphold the values, integrity and principles they lived by, "cherishing their memories as a source of inspiration and motivation in our own daily lives." And he spoke of the daily risks police face every day, running toward danger.
In 2022, according to the Officer Down Memorial Page, 246 law enforcement officers lost their lives in the line of duty–66 of them (or 26 percent) by gunfire, 58 in vehicle-related crashes (24 percent), 114 for medical episodes (46 percent) and 10 for other reasons.
So far this year, 41 officers have lost their lives, two of them the day of the ceremony–Sgt. Joshua Clouse of the Cameron Police Department in Texas, who was shot and killed while serving a warrant to a man wanted for shooting his wife (the man was shot and killed in turn), and Alabama Port Authority Police officer Kimberly Sickafoose, who drowned after her patrol truck sank in the 40-ft.-deep Mobile River while she was on patrol early Thursday morning.
The ceremony honored all law enforcement officers who have lost their lives in the line of duty. The names of the six fallen law enforcement officers from the Flagler County Sheriff's Office were read aloud during the portion of the ceremony that is always its most solemn, as family members of the fallen placed a single rose in a five-point star flower arrangement by the memorial to the fallen.




The memorial rises near the entrance to the Operations center. The names of the fallen were read out loud one by one, with the date of their "end of watch," as first responders refer to one's last time on duty:
Sheriff Perry Hall, End of Watch August 21, 1927
Deputy George "Son" Durrance, End of Watch August 24, 1927
Sheriff Homer Brooks, End of Watch March 23, 1965
Deputy Charles "Chuck" Sease, End of Watch July 5, 2003
Sergeant Francesco "Frankie" Celico, End of Watch September 9, 2011
Deputy First Class Paul Luciano, End of Watch August 26, 2021
The Sheriff's Office and Bunnell Police Chief Brannon also recognized Bunnell Police Department Sgt. Dominic Guida, who died during a training exercise in 2021. Sheriff Staly also recognized fallen FBI Agent Daniel Alfin, son of Palm Coast Mayor David Alfin. Daniel Alfin was murdered, along with his partner, Special Agent Laura Schwartzenberger, while serving a warrant in Sunrise, in South Florida in 2021. FHP Trooper Darryl Haywood, Sr.'s memory was also commemorated.
The sheriff also read from an email that included a "letter to an officer" that has been circulating among law enforcement agencies, called "I See You," and that begins, "I want you to know that I see you. I see you choose the booth in the restaurant that allows you to have your back against the wall. I see you walking to your next traffic stop while you hope that it isn't your last. I see you pulled over, two hours past your shift, as you finish you reports under a street light. …"
The ceremony was emceed by Chief David Williams, who conducted the roll call of the fallen before the assembled held aloft the electric-blue candle they'd received as George Strait's "The Weight of the Badge" accompanied a video ("It's gonna be a long one, another graveyard shift/As he says goodbye to his wife and kids…) Then came the sounds of Taps, and Coastal Florida Police & Fire Pipes & Drums' "Amazing Grace."
Video of the full ceremony is below.