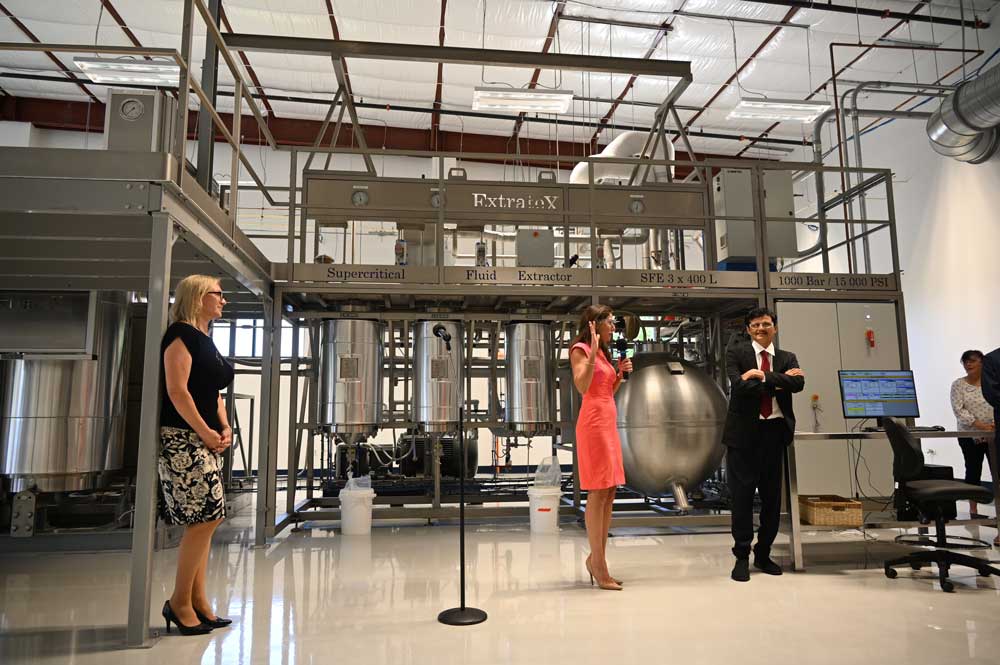 Vidya Herbs was founded in Bangalore, India, 24 years ago as a manufacturer of herbal extracts and other products. It's grown to 800 employees there, also becoming one of India's leading coffee exporters. It opened a pair of research and development arms in France in 2015 and 2019. And today, it launched its first American manufacturing plant–in Bunnell.
The company has nine employees locally as of today, among them Helga Van Eckert, until January 2020 the director of county government's economic development arm. Van Eckert is the vice president of Vidya Herbs USA's Florida Business Operations, where she intends to see an expansion expected to reach 100 local employees in the next four years, and possibly more after that.




Van Eckert had been introduced to Vidya Herbs in 2019 through Designs for Health, a company whose Palm Coast expansion van Eckert had shepherded in 2015. Vidya Herbs was interested in expanding overseas. Talks began about bringing the company to Florida, including a key dinner with Bunnell Mayor Catherine Robinson and City Manager Alvin Jackson.
In 2020 the company bought the 20,000 square foot building on U.S. 1 and Otis Hunter Road for $2.65 million. Beutlich Development had built it to great fanfare but less immediate success as a spec building in 2017, when it hoped to fill it with one or more businesses. That, too, had originally been in partnership with van Eckert's Economic Development Department.
Vidya Herbs looked set to launch in Bunnell back then, only for the Covid pandemic to temporarily derail the schedule. The building sat empty. "I would drive by on U.S. 1 and think, I don't know, are they going to come?" Robinson recalled.
"In spite of all that, in spite of not being able to come into the country, in spite of supply chain problems and shortages, they're here, and where are they? They're in Bunnell," Robinson continued, "Bunnell, Florida. Flagler County. I am so excited about this. What a wonderful opportunity for us to grow together. My background is nutrition. I'm a registered dietician. So herbals are very important to me. I take a few. I'm sure if they don't have a stress reduction they will. Saw palmetto is one of their key issues. You see those on the ground around the community where I work at Florida Health Care Plans. There's a tree out there there on the ground, I should start picking them up and bringing them to you."




The company worked out an economic-development incentive plan with Bunnell government, which is awarding a $276,000 property tax rebate stretched over seven years, pending Vidya Herbs meeting benchmarks: they are required to add 25 jobs a year over four years, and have average wages of $42,000. As long as they meet the benchmark, they get the rebate. "It's an international project," Jackson said. It "fits right in with our economy. It's an agribusiness, it's a manufacturing, and it's creating those sustainable jobs that we we want want to occur."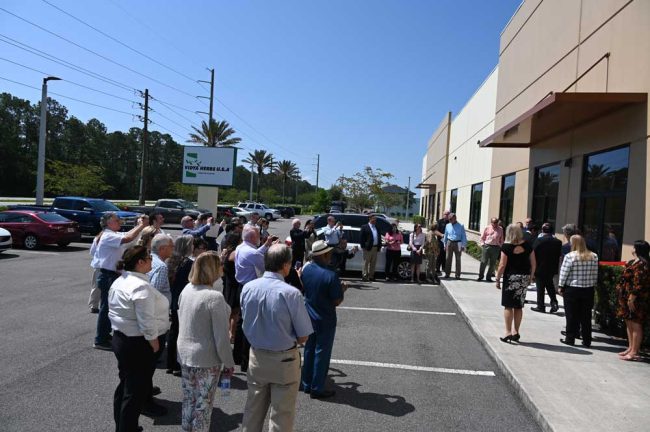 The company's founder, Kodimule Shyam Prasad–an inventor and holder of dozens of patents for the treatment of numerous conditions–cut the ribbon alongside Robinson and others, and showed off the company's prized manufacturing gem that'll turn those palmetto berries grown in Florida into herbal extracts used in numerous products.
The machine, manufactured in France and assembled here recently, frankly looks very similar to what you'd see in a brewery. But it's called a "supercritical carbon dioxide extract system," a very clean and ecological form of extraction that uses captured carbon dioxide that gets recycled to produce the oil extracts. What looks like beer-brewing vats are actually 400-liter extraction vessels that flush the ground-down palmetto berries with carbon dioxide, distilling the wanted extracts.
When it was turned on at the click of a mouse by one of Vidya Herbs's clients, the machine at first hissed, then hummed, and kept humming, with a bit of whistling a few minutes later. But nothing so loud as to impede a conversation in a normal tone of voice in the large room.




"We are only trading, importing from India and we wanted to be manufacturing," Prasad said, standing next to the machine. "It's a good place for agriculture, and we wanted to work on supplementals." And to be closer to the farmers locally. For now the palmetto is coming from Fort Pierce. But the hope is to develop relationships with local farmers to grow it in the county.
Vidya Herbs describes saw palmetto extract as "a patented, clinically studied urinary health ingredient" also used to treat prostate disorders. The company is also known for its turmeric extracts, plant-based vitamins and dietary supplements.
Prasad said the Bunnell facility is looking to get into freeze-drying fruit and vegetables and manufacturing probiotics: the 100-employee threshold is not the limit. To that end, plans are afoot to build a second, 20,000 square foot building on the same property, and look for a third building, either in Flagler or Volusia County, van Eckert, said. "We are already running out of space," she said–and adding possibilities for new products, whether with flaxseed or elderberry.




There are no other expansion plans in the United States.
Van Eckert drew on one of her long-time friends, Laura DiBella, to be part of the launch. Van Eckert and DiBella had gone through their respective economic development tracks over the years as DiBella rose to her recent appointment as the state's first female Commerce Secretary and the president and CEO of Enterprise Florida, the state's economic development arm.
"We deal with a lot of projects here in the state of Florida," DiBella said. You love them all but there's some that really hit home and you're just like, this is good in so many ways." DiBella, a marathoner, spoke of Vidya Herbs in those terms. "I'm all not for pills. I'm all for any healthy way and a natural way to calm nerves and do other supporting functions to help you deliver your good health. It's really where my heart is and I try to live and practice it each and every day."