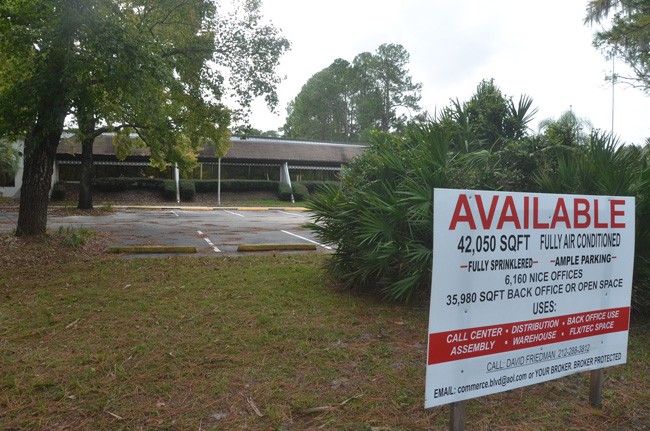 Designs for Health, a nutritional supplement and vitamins company, has been around for some 25 years, starting out in in Connecticut and Massachusetts.  It's been growing steadily, stacking up patent after patent for its products, acquiring other companies and finding itself outgrowing its facilities with regularity. Five years ago it moved into a new corporate headquarters in Suffield, Conn.
Two years later it opened an office in Palm Coast's Hargrove Grade industrial park as the hub of its southeast distribution center. It was the first company then   then-newly created Flagler County Department of Economic Opportunity had recruited to the county. A year later, it had 17 jobs at the facility. But it's been outgrowing that one, too, and faster than the company expected.
In mid-October, the company paid $2 million for the 42,000-square-foot complex of three buildings at 6 Commerce Boulevard in palm Coast, one of the buildings formerly owned by Palm Coast Data along that stretch. Palm Coast Data is still there, but it's been scaling back somewhat. Designs for Health is scaling up, essentially doubling its local operation in three years.
Thursday morning, Helga van Eckert, director of the county's economic development department, announced that what she'd been referring to as "Project Protein" in the county's habit of veiling economic development initiatives in the works was really Designs for Health's plans to expand on Commerce Boulevard, bringing some 50 jobs over the next five years.
"They have been doing phenomenally well," van Eckert told the economic development council, "they've outgrown their existing location where they were leasing, and were looking for a facility that could accommodate their long-term growth needs." There aren't many large buildings in the county, so the company had also been allegedly considering moving the operation elsewhere, compelling the county to counter with subsidies to convince the company to stay put.
As van Eckert put it, "It was necessary to try to put a package for them so they could continue to grow here as well as make it financially feasible for them." Palm Coast government will also likely follow suit with tax breaks, van Eckert said.
But what the county is providing is modest: $25,000 over eight years if Designs for Health makes good on the 50 jobs it promises to bring over the next five years, with Flagler County paying out the incentive in small, quarterly increments, and only if the jobs are retained. The jobs will average around $33,000, though the average includes executive wages, so the actual new jobs' pay will be lower. They are a mixture of office and warehouse-type jobs expected to be filled by local residents. "Based on skill set, we've got the workforce here," van Eckert said. To qualify for the incentive, employees must be recruited from within 40 miles of the facility.
The incentive amounts to an incentive of $500 per new job, so in the first year, if Designs for Health adds 10 jobs, it'll be paid $1,250. The following year, it would get $2,500, assuming it added another 10 jobs, and so on. Van Eckert said the projection of first-year wages are around $330,000, with additional economic benefits from secondary jobs created thanks to the new jobs (though such projections are notoriously exaggerated.)
"It's kind of a no-brainer," van Eckert said of the incentive package, which the economic council readily recommended should be approved by the Flagler County Commission. That's expected to take place next month.
"The hope is that as the company continues to grow," van Eckert said, "because they're in a facility that now gives them some kind of leg room where they can move around a little bit, that we'll be able to get them to bring some of their research and production facilities here as well."
Margaret Sheehan-Jones, the real estate broker who worked on the building's acquisition, said Designs for Health will move into the office portion of the building complex (about 6,000 square feet) in December.
The next phase is 16,000 square feet of warehouse or industrial space, and the newest building is 20,000 square feet of warehouse space, Sheehan-Jones said. The office portion, where they will immediately expand, will get the first batch of investments. The company may lease the larger building to a related tenant for a few years. "They have very focused plans for strong growth in this county and honestly, they never thought when we structured their original lease on Hargrove, we never thought they'd be moving as quickly as they did," Sheehan-Jones said. "They've exceeded their growth expectations. They've actually doubled what they thought they would do in the first two years here."
"What's really exciting," Barbara Revels, the county commissioner who chairs the economic development council, said, "is to have a business that we were part of having start here while this board was in the beginning of being seated and now have it double in size in that period in time. That's really, really exciting."