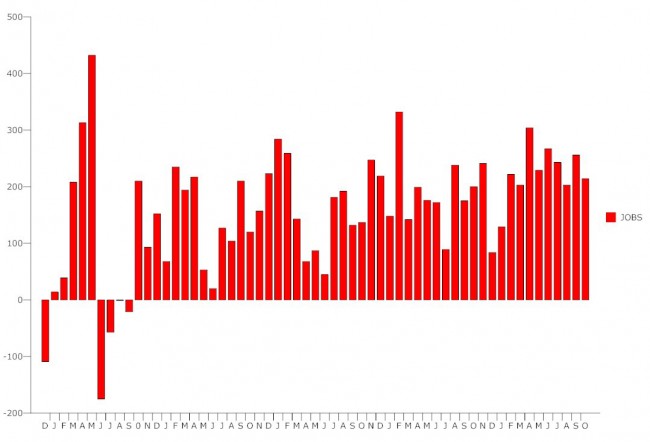 The nation's unemployment rate dropped to 5.8 percent in October, a level last seen in July 2008, when the rate was rapidly rising, and the economy added 214,000 jobs, continuing a steady if somewhat slow recovery. There are still 9 million unemployed Americans.
Job creation figures for August and September were revised upward, adding 31,000 jobs to previous tallies, for a total of 673,000 net new jobs in the last three months. The economy has maintained the same rough average of some 225,000 jobs a month for most of the last two years.
The economy has added jobs for four straight years, or 48 consecutive months, 56 consecutive months when the loss in government jobs is excluded. What would normally be cause for some comfort has not translated at the polls, where 78 percent of voters surveyed on Nov. 4 said they were worried about the direction of the economy. A third said the economy was getting worse–the same proportion as 2012.
It's not really a disconnect. While the economy has been growing and jobs have been created month after month, the expansion has had none of the momentum and quality of previous expansions after recessions, when the economy would grow at 2, 3 or 4 percent a year and job creation also meant improved quality of life. That trend stopped around 2000. The last long expansion, under George W. Bush, lasted 73 months, but annual economic growth, at 1.4 percent, was the lowest of any post-war recovery. And jobs created were of lesser quality than in previous recoveries, with part-time jobs accounting for a growing share.
"All that purported statistical strength disappears when people look in their wallet and see the same three singles and a five," Michael Casey wrote in the Wall Street Journal. "You cannot possibly have a broadly strong economy if that strength isn't translating into the proverbial wallet. What more important metric is there?"
It only takes one hour of work at a job for a person to be considered employed during the month. Part-time jobs still account for a large share of the workforce, especially among workers seeking to work full time, the so-called involuntary part-time workers: there were still 7 million such workers whose hours were either cut back or who could not find full time work, down just slightly from the 7.7 million last October.
Another dissatisfaction among workers: average hourly earnings have barely moved up, rising just 2 percent over the past year–not enough to overcome the effects of inflation and the rising costs of health insurance.
The unemployment rate for whites was 4.8 percent, 5.1 percent for adult men, 5.4 percent for adult women, 18.6 percent for teens, 10.9 percent for blacks, 6.8 percent for Hispanics and 5 percent for Asians. The civilian labor force participation rate went up a decimal point to 62.8 percent, but remains well below its level of was little changed at 62.8 percent