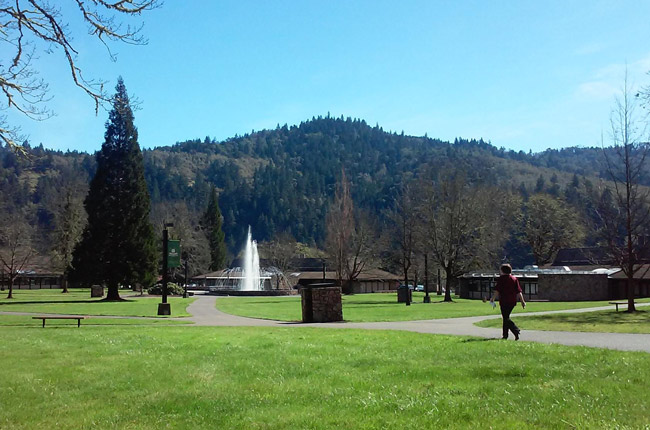 Last Updated: 8:23 p.m.
A 26-year-old gunman killed at least 10 people and wounded at least 20 Thursday morning at Umpqua Community College in Southwest Oregon, a school of some 5,000 mostly part-time students.
It is the latest is a series of high-profile, mass-casualty shootings in the United States, though lesser-profile shootings, while almost a daily occurrence, have been gaining less attention: in 274 days so far this year, there have been 294 mass shootings–that is, shootings that result in four or more people killed or wounded–according to the Mass Shooting Tracker, which documents every incident.
Twelve incidents of mass killing, involving the death of five or more people at one time, have taken place so far this year, among them Dylann Roof's racist-motivated murder of nine people attending Bible class in Charleston on June 17. The last mass-casualty killing before today's took place on Sept. 17 when Scott Westerhuis murdered his wife and four children before apparently setting the family house on fire and killing himself. A shotgun was discovered in the house. His company had lost a lucrative contract the day before.
The Times reports that the Oregon shooting is "one of over 40 school shootings this year. One of the first occurred in Milwaukee in January. There had not been a major mass casualty incident at a school this year — until Thursday."
Umpqua Community College, like all colleges in Oregon, allows students to carry guns on campus, according to the Oregonian. Oregon is one of seven states to allow students to carry weapons on campus. A National Rifle Association-led push to allow guns on campus failed at the Florida Legislature last year, but the NRA is renewing its push in the coming session that starts in January. The mass killing in Oregon is likely to fuel arguments among opponents of guns on campus that more arms don't necessarily prevent mass killings. John Thrasher, the former state senator who represented Flagler County, and now the president of Florida State University, is among those opponents.
An Oregon court of appeals in September 2011 ruled that the university system, which sought to ban guns on campus, had exceeded its authority by imposing the rule. The university system opted not to challenge the decision further.
In 2012 the state Legislature tried and failed to ban guns on college campuses in Oregon. But the state Board of Education passed a policy that restricts–but does not ban–guns on campuses. People with concealed weapons permits are still allowed to carry their weapons on campus. But they may be prohibited from entering buildings with their weapon. Students who violate the policy are not subject to criminal prosecution, but to disciplinary action under the code of conduct.
Florida's Jeb Bush, who is running for the presidency, was among the first candidates to weigh in, tweeting at 2:51 p.m., "Praying for Umpqua Community College, the victims, and families impacted by this senseless tragedy." (The tweet immediately drew rebukes, such as "Do you support gun control reform, or are you just talking?" and "Saying prayers doesn't stop people from senselessly pulling the trigger, Jeb. Do better," and a few more, saltier responses). The murders took place in the college's Snyder Hall.
The suspect in the Oregon shooting was in custody in mid-afternoon Eastern time.
Follow The Times's live blog here, and The Oregonian here.