When I was very young and living in Beirut one of my favorite times of year was Independence Day, when the Lebanese Army, such as it was, would parade down Damascus Road in all its pitiful glory. We lived on a fourth floor off that road so it was like watching the Cubs from just beyond Wrigley Field, back when the Cubs were perennial losers.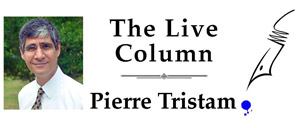 Then as now the Lebanese military was cobbled from surplus equipment donated by the French, British and American militaries. But to a little boy still a few billion brain cells short of the age of reason the display looked awesome, a Buzz Lightyear-like miracle of toy soldiers come to life. The president's motorcade would appear at one point, his gleaming black Mercedes 600 sandwiched between troop transports and whatever artillery hand-me-downs the military could show off. That Independence Day fell on Nov. 22, the day after my birthday, when I'd still be drunk from inhaled sugar, explains how easily I could be taken in by soldiers made to parade like circus peacocks and mistaking delusion for pride.
For us the delusion was right around the corner, on that same Damascus Road, which for 15 years became the longest, deadliest trench of Lebanon's civil war, our own apartment building turning into a different kind of luxury box for assassins more glamorously referred to, in societies that don't know better, as snipers. Like military parades, every instrument of death has its PR office. Our prideful military was of course incapable of stopping the war. Not because Lebanon's military was small or poorly equipped, though it was both. But because it was surrounded by militias and paramilitaries in an age when, since World War II, regular armed forces have been pretty much sidelined by the boils of insurgency.
The United States military hasn't done much better. It's not as if, the farce of Grenada aside, we've managed to win a single war since 1945. Even the first Gulf War, that most massive of military parades, was prelude to the debacle of Iraq. Aside from devastating countries like Cambodia, Vietnam, Laos, Iraq, and now Yemen, Somalia, Afghanistan and wherever else the war on whatever is dumping its lead, the best we've done is engage in perpetual war for perpetual peace, as George Orwell and Gore Vidal put it in their own way. Of course we should have a parade. But as Joyce Carol Oates wrote this week, "most of the parade should be veterans. Stretching on & on for blocks. & photographs of those who'd died in battle. Who could possibly object?"
Ah. Every writer's dumbest question. Why, a man whose only knowledge of war is what he sees on TV. Or on a parade ground.
Our Dear Leader was in Paris for Bastille Day last July, when the French, who have yet to get over their defeat at Sedan in 1870, put on a therapeutic military parade as impressive as their Maginot Line. Dear Leader clapped like we used to on Damascus Road. After he got home he ordered the military to do what France does. I can understand the Californian impulse to replicate the finesse of a Bordeaux wine or the New York impulse to outstyle Yves Saint Laurent. But this is the first time in the history of the Republic that the American military would seek to emulate the designers of Dunkirk.
Dear Leader says he wants to show the military appreciation. But we are not a nation lacking in appreciation for its military. We are a nation drowning in appreciation of the military. The appreciation is blind, bombastic, extreme, even prurient. There's something fetishistic in the way we salivate at uniforms as if anything military were not only a self-evident virtue but an object to be revered and lusted after: the sight of masses at sports events, palms on hearts, eyes raised to screeching fighter jets or gazing at fatigues and boots on the field is mass delirium only a few steps removed from the outstretched right arm of that gesture's more sinister context.
Children have become as objectified as soldiers in that routine of the past few wars when a returning veteran and mom or dad "surprises" the child in her classroom, cameras and reporters whirring. Local government meetings wed prayers and appreciation for the military at meetings' beginnings, thanking those deployed (and in the process making the officials look more virtuous than they are). And never once through it all does the question arise: two decades of war, deployments and body bags, for what? More prayers and more praise.
The accepted, unquestioned assumption is that soldiers are defending the homeland. You'd think we were in an existential struggle for our survival. If only. Maybe those based on U.S. soil are filling that role. But those fighting in the Middle East demonstrably are not. Through no fault of their own and every fault of the last several commanders in chief, they have been deployed in wars that have demolished American prestige, diminished American influence, plundered our financial soundness (not that deficits matter anymore), decimated families at home and abroad, and done nothing to stop the rise of extremism, whether it's Iranian-backed Shiitism, which now controls Iraq, Syria, Lebanon and parts of Yemen or Saudi-backed and financed Sunni extremism, whether it's ISIS or al-Qaeda, which may wane here and there but only to mutate and reconfigure itself elsewhere. There has been no victory to speak of, only losses, and more losses ahead. That's not opinion. Endless deployments with no talk of victory, let alone talk of exits, proves it. As these wars linger, our power drains, our empire shrinks. Only our pride grows, strangely and absurdly divorced from reality. Every display of sexed up militarism is a surrender to decline.
---
The military doesn't need parades. It needs to come home.
---
How much of these orgies of appreciation are masking the futility, enabling the waste of lives, making virtue of gratuitous and pointless bloodletting? There is nothing more moving than honoring Gold Star mothers and fathers. There is nothing more galling than creating more Gold Star families by doing the same thing over and over, pretending that the outcome will one day be different but knowing, as we well knew in Vietnam, as we knew in Iraq, as we have always known in Afghanistan, that there is not going to be a difference, there will never be a victory, there will only be more killing, more futility, more Gold Star parents. Yet we continue to appreciate and reinforce the engine of futility. The routine ceremony of it all has become oil to cannon fodder and salve to our stupefied consciences. We don't need parades. We need to bring soldiers home.
There was something inevitable in Trump's desire for a military parade, one of his own, one to go along with his America-First delusions of grandeur even as our image continues to shrink in proportion to our growing ridicule. He's the man to long for that lifted right arm. Military parades are for small minds and insignificant nations, for authoritarians and sycophants with an inferiority complex. They're costly, embarrassing and juvenile. Putting aside the untimeliness of a military parade these days–as untimely as George W. Bush's Mission Accomplished theater on the U.S.S. Lincoln in 2003–we've done well to avoid them all these years. The president would do better to remember that the Pentagon is not his toy store, and if it's the military he wants to honor, he could start with those who return from deployments in pieces, those who never return, and the 20 veterans who'll kill themselves the day of his parade, and every day this year. Applaud that, Monsieur Président.

Pierre Tristam is FlaglerLive's editor. Reach him by email here or follow him @PierreTristam. A version of this piece aired on WNZF.