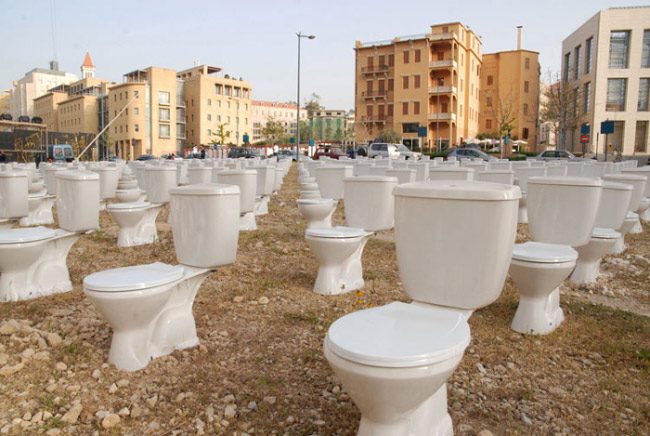 What passes for conservatism in America has taken an oddly smutty turn since the Reagan years, when that obsession with men and women's private parts started shaping national policy: Abortion, homosexuality (in and out of uniform), contraception, even urine tests, for god's sake. Usually white, ostensibly male, oddly Christian lawmakers can't keep their head from other people's most private business.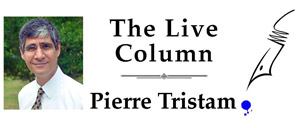 Now they want to police our bathrooms.
I suppose if as recently as 1986 a Supreme Court majority could call homosexuality "a disgrace to human nature" and "a crime not fit to be named" (though it had to rear back to the pre-Revolutionary era to find the quotes from William Blackstone) it shouldn't be a surprise that some people using one bathroom over another might be seen as a threat to western civilization, the American way of life, the family and, of course–let's not forget the children–every child from here to Neverland.
We probably shouldn't make too much of this, and for many years, we didn't. The recent history of this country has been one of rights gained, not lost. Justice Antonin Scalia's Blackstonian dissent aside, that 1986 decision was overturned in 2003, and  a decade later the court declared same-sex marriage legal. We have a black president. Aside from the usual bastions of Catholic indecency and the odd hobby store, access to contraception–which the same court only legalized in 1965–is not an issue. It's even free under Obamacare. Urine tests are still the rage, but that's because while we may growl about police powers at the swipe of an iphone, we limply submit to the corporate police state, two-ply in hand, especially in Florida, where Rick Scott in one stall and Pam Bondi in the other have had our 'hood boys and girls surrounded for six years.
Which brings us back to that other bathroom outrage. It wasn't an outrage, or a political issue, until lawmakers decided to make it one. I'm not referring to President Obama's order to schools across the nation to allow transgender students to use the bathroom of their choice. I'll even concede–for argument's sake–that the order was overreach. But I am referring to those bills that have been foaming out of legislators' mouths in one-party states such as Florida, Texas, Oklahoma and North Carolina to make bathroom use contingent on showing your papers at the door: if your birth certificate declares you of one sex, that's the bathroom you use regardless of how you identify or where you are in your transition to another sex.
---
In public bathrooms, lawmakers are predators to fear most.
---
Those laws emerged because, to use Ted Cruz's creepy phrase, "men should not be going to the bathroom with little girls." (I wonder where Ted Cruz's outrage was when the Catholic Church was revealed to have been enacting William Blackstone's quotes on little boys all these years. But anyway.) Cruz is making the obscene comparison between transgender people and pedophiles, which is really an update of the old and finally discredited comparison between gays and pedophiles, or the more idiotic assumption that gays and transgender people have anything whatsoever to do with each other.
Ignorant prejudice aside, there is zero evidence that making access to bathrooms more just to all puts anyone in danger. Some 200 cities and 18 states have non-discrimination laws that protect transgender people. None has seen a spike in sex crime. None.
But there is evidence, and plenty of it, that discriminating against transgender people is deadly. As it is, 41 percent of transgender people attempt suicide at one point in their lives. The proportion rises above 50 percent when it comes to more aggressive discrimination, including denying them the right to use the bathroom of their choice.
The Cruz-like image of predators set loose on our little girls is powerful and visceral, however baseless. What parent won't respond with outrage to the first hint that an adult–or anyone, for that matter–could harm one's child in a bathroom? But here's what we all know at one level or another: making bathrooms justly accessible to transgender people isn't going to change the fact that public bathrooms have always posed at least a minor danger to safety–not just to children, but to anyone, and not because of people whose sexuality gives you instant PTSD, but because of good old-fashioned pervs (from Larry Craig to Mark Foley to Dennis Hastert, for example: lawmakers all) who prowl the wrong places for their jollies. But that's also true of churches, schools, libraries, and of course senate cloak rooms. It's not by putting on a wig and a skirt that a predator will gain access to prey. It's by being a predator. So sex crimes will continue. But don't get excited. They won't go up. At least not by ending the crime of dehumanizing transgender people in the name of trumped-up fears.
Let's also not get too googly-eyed over the kind of public bathrooms we do have in our binary tyranny. They're not exactly the sort of thing you'd want highlighted on a Voyager-like interstellar Golden Record (I'm not making up the name) for other civilizations to know us by. When I go into a public bathroom, whether it's at Magic Kingdom or at the Government Services Building, it's not pervs I'm worried about. It's the guy next-stall and the catalog of sensory depravation I have to endure (or inflict on others) as if suddenly we were all in the same foxhole. What deviant designs these places and why can't rest-rooms be a little more like rooms and a little less like rush-hour subway cars with urinals? So if transgender people end up being the catalyst for greater privacy–and, ultimately, unisex bathrooms that restore the civil in engineering for all–then call me transgender.
As for that until then part: For several years cities and schools, including Palm Coast and the Flagler school system, have taken a pragmatic, enlightened approach to non-discrimination, either by making private bathrooms available or making decent arrangements on a case-by-case basis. It's not perfect. Universal acceptance is best. But we're not there yet. We were getting there–until those lawmakers decided to invent a crisis where there wasn't one, mostly for political reasons. That's why Obama felt compelled to issue an order that was, until then, unnecessary.
Now we have an ugly controversy where previously we had common-sense pragmatism. Now we have again demonized transgender people by comparing them to freaks and criminals where before we were at least slowly learning that a human being's sex is not as simple as "boy parts" or "girl parts," in the embarrassingly juvenile phrases of people who call themselves adults.
The result is smutty politics at its slimiest. The problem isn't predators in our bathrooms. It's legislators. The solution isn't new prohibitions. It's less bullying and bigotry crossdressing as law.

Pierre Tristam is FlaglerLive's editor. Reach him by email here or follow him @PierreTristam.