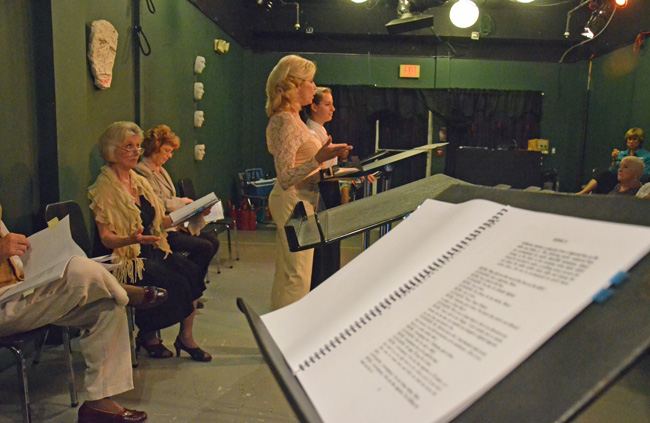 Cannibalism, homosexuality, greed, jealousy, sacrilege, persecution, the quest for God, the delusions of youth. It goes on.
For a one-act play that takes place entirely in a mansion's "well-groomed jungle" of a garden in New Orleans, and that features a principal character by never featuring him (he's dead), Tennessee Williams's "Suddenly last Summer" manages to load up on themes, tension, tragedy and poetry with the force of an epic, all in the 70 minutes of its one act. When it's over, you're exhausted. You're also exhilarated, a bit shocked, and quite a bit moved. You've witnessed the self-destruction of one character without his ever appearing once, and the attempted demolition of another by her aunt. And you're left wondering what really happened to that principal, dead character, Sebastian Venable, whose reputation has just been the battlefield of his rich, bitchy mother and his victimized but not quite innocent niece, Catharine Holly.
City Repertory Theatre will stage "Scapino!" at 7:30 p.m. Friday and Saturday March 17-18 and March 24-25, and at 3 p.m. Sunday March 19 and 26. Performances will be in CRT's black box theater at City Marketplace, 160 Cypress Point Parkway, Suite B207, Palm Coast. Tickets are $20 adults and $15 students, available online at crtpalmcoast.com or by calling 386-585-9415. Tickets also will be available at the venue just before curtain time.
Click On:
---
That the actors of City Repertory Theatre accomplish this by way of a staged reading rather than a full-blown play is just as remarkable, the dueling principals especially: Annie Gaybis as Catharine, and Ann Kraft as the horrid Mrs. Venable.
"You bitch," the News-Journal's Rick de Yampert, the region's most astute culture critic, said to Kraft immediately after a preview performance last week, perfectly if humorously capturing the character she'd just created. "Truer words haven't been spoken," Kraft replied, perhaps an allusion to the lush deceptions that hung over the well-groomed jungle of Williams's play. Kraft's Mrs. Venable literally attempts to lobotomize the truth.
On Saturday, Aug. 16, Gaybis, Kraft and five other actors will put on their staged reading of "Suddenly last Summer" for one performance only at Lohman Auditorium in Marineland, under the direction of City Repertory Theatre's John Sbordone. The performance is a fund-raiser for the Palm Coast Arts Foundation, with proceeds to help match a $150,000 grant the foundation just got from the state to start building its facilities—most likely, a pavilion at its new Town Center location.
"It's a little edgy for Flagler County, but Flagler County needs it," says Sam Perkovich, president of the foundation.
"Annie Gaybis has always wanted to do 'Suddenly Last Summer,'" Sbordone recalls, "and after we finished I think 'Pygmalion,' a couple of years ago, she said, let's do 'Suddenly Last Summer.' I said I'm not sure that's going to fit in our scheme of things with the season we were picking. I think we need something like 'Venus in Fu,' something upbeat, funny, edgy, you know, and Tennessee Williams is brilliant, always has been. But…"
But. "Suddenly Last Summer" can be demanding and unsettling in a way that even City Repertory's demanding and unsettling plays have not been. The slow-motion demolition of character doesn't let up, even if, in the end, truth appears to win out. And this year there's a distinctly lighter flavor to CRT's fare, with more hoots than holocausts.
Gaybis wouldn't give up. She'd learned of the Palm Coast Arts Foundation. She called up Perkovitch. She told her she wanted to do a fund-raiser for the organization. And that she wanted to do "Suddenly last Summer." Perkovich was all for it. Sbordone was the only choice for a director, a choice even Pat Love, who heads the Flagler Playhouse—Sbordone's old haunt—endorsed, Perkovich said. The staging would take place at Marineland's Lohman Auditorium—in the Marine Studies Building of the Whitney labs—because there was no large enough but intimate enough a venue closer to Palm Coast, and that way Gaybis's St. Augustine supporters can also attend easily.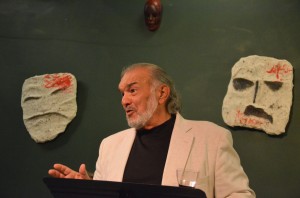 The staged reading idea was Sbordone's. "It's just a different form entirely, and when it's done well," he says, "it's very riveting. Some actors don't like doing it, other actors love it. You're doing all the acting, you're just doing it in a—it's like a sonnet."
Williams first staged the play the first week of 1958, when so many of the themes he took on could only be alluded to, not made explicit on stage. You never hear that Sebastian, ostensibly a poet, was gay, though Catharine eventually reveals that she and his mother had "procured" for him. What's explicit is that for years Sebastian had spent his summers traveling with his mother, who doesn't seem to have minded being mistaken for his lover (neither women does) as he made her feel young ("Both of us were young, and stayed young"), until the summer of 1936, when he dropped his mother in favor of his cousin Catharine.
Violet wasn't going to forgive her hated niece. Even less that Sebastian died, or was killed, when the two were in Cabeza de Lobo, in the shattering climax of the play. It's the reason Violet wants Catharine lobotomized. She doesn't want her son's memory defined by Catharine's revelations. But Catharine alone knows what happened to Sebastian. (Somehow all the witnesses have disappeared, the police report is vague and there never was an autopsy.) Violet goes so far as to incarcerate her niece in an asylum and dangle a bribe in the guise of a grant in front of a doctor (Peter Guttierez in the CRT production) to force the lobotomy, which she thinks will end Catharine's credibility: "After the operation, who would believe her, Doctor?"
By 1958 Williams's plays had won the Pulitzer Prize twice and Broadway producers courted him zealously, but Williams liked to help off-Broadway producers. He decided to stage "Suddenly Last Summer" as one of two plays under the title of "Garden District" at the York Playhouse, a cinema converted into an intimate 299-seat theater quite a distance from Broadway—on First Avenue and 64th Street. But the sinister subject matter of the play had a lot to do with his decision.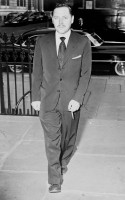 "Now that I've heard it read," he told a Times reporter three weeks before the play opened, "I find it isn't as shocking as I thought at first it would be. The total effect I feel is not distasteful but it does involve material that will arouse some controversy." Without giving it away, Williams described the play as having "a shockingly violent occurrence" with a "symbolic" significance. Williams's last play, "Orpheus Descending," a slow-boil, erotic work that touches on Southern racism and conventions, had opened on Broadway but ran for just 89 performances. After that, audiences gave Williams the feeling "that I had become a homicidal maniac, if not worse. Possibly I exaggerated the reaction; however I became a little frightened. I've always been startled by people who are antagonized by plays for reasons other than the quality of the work. Some of my plays, I think, have suffered from a reaction fo ethical bias and an imposed and conventional morality."
Unwilling to risk the stress and financial uncertainty of Broadway with another controversial play, he took "Suddenly Last Summer" a good distance away. Something similar is at work in the production of "Suddenly last Summer" in Flagler: staging it in Marineland, outside of CRT's regular season—which opens on Sept. 12 with "Avenue Q"—could skirt a few pressures, though Perkovich very much hopes to pack the Lohman Auditorium for the fund-raiser: she wants to raise $10,000.
"We were a little concerned about the timeframe being August," Perkovich said, "because a lot of the people that would be coming and a lot of the people she knows from the Hammock are gone, but it was her schedule and that's what we had to work with, so we did it, we jumped in with both feet."