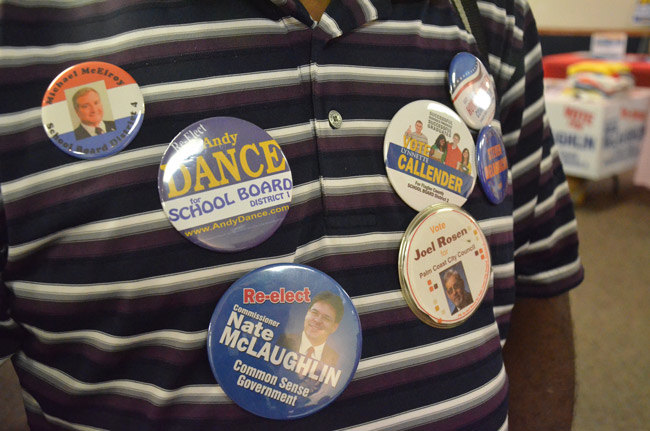 It was a different atmosphere from two years ago at the Flagler County Tea Party Group's candidate night Monday. The Tea Party's event is still the liveliest and best attended of all such events, few though they are, but this time there wasn't much need for the volunteer cop outside to direct overflow parking, several candidates were no-shows, and the Knights of Columbus hall seemed filled more with candidates, supporters or friends and family than with actual voters trying to figure out what ovals to blacken come August.
Vince Liguori, a tea party standard bearer whose candor can sometimes peel the paint off old monuments, and who'd seen the hall more jammed than a fire marshal would approve two years ago, summed up the attendance picture:
"I made a mistake and drove into the Italian-American club, where I used to be a member," Liguori said, "and I said holly molly, look at this crowd. It was packed to the gills—for bingo. There were more people there than the tea party had at its event. Again, we're going to see apathy, people aren't getting involved, and they don't know who their candidates are, and what they're going to do."
That left a ratio of many more candidates-to-voters at the tea party event, leaving one prominent member of the community, who requested anonymity for obvious reasons, summing up the swarms of candidate solicitations this way: "Walking around here I feel like a piece of meat."
It's an off-year election, which always brings out fewer interested voters, particularly when it comes time to vote: turnout in Flagler County at the last off-year primary election, in 2010, was the lowest in at least 14 years, with just 22 percent of registered voters casting a ballot. The 2006 primary had drawn 23 percent. It's not a specifically Flagler-borne illness: primary turnout in the state was also 22 percent in 2010 and 20 percent in 2006.
There's another reason this election is drawing less interest: the Democrats are virtual no-shows.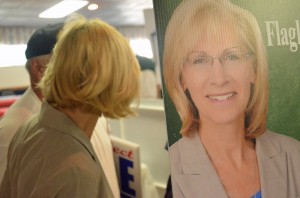 There are Democrats running for Palm Coast City Council, including incumbent Bill Lewis (a no-show Monday). But the council race is ostensibly non-partisan (a pretense no one believes but everyone pretends to abide by), as is the school board race. There are two Flagler County Commission races. Those are partisan. But no Democrats are running for either. Since Florida is a closed primary state, those races will be closed to all but 25,000 voters. And since only about 22 percent of voters turn out, those races will be decided by all of about 5,500 voters in the Aug. 26 primary. That tends to reduce interest in candidate nights.
The two county commission races will have general contests, with each race featuring a yet another Republican who chose to run as an independent for fear of being clobbered in the primary contest (Howard Holley in one race, Denise Calderwood in the other). All registered voters will get to cast a ballot in those races in the general election on Nov. 4.
Critical Voter Information:
---
Holley will be challenging the winner of the Dennis McDonald-Frank Meeker race in District 2. Meeker is the incumbent, McDonald is a Ronald Reagan Assemblies candidate. For those two, it's a rematch of the primary two years ago, which Meeker won by a thin margin. Calderwood will challenge the winner of the Nate McLaughlin-Mark Richter race in District 4. McLaughlin is the first-term incumbent, Richter is a Ronald Reagan Assemblies candidate.
Reached by phone Monday evening, Merrill Shapiro, one of the few Democratic leaders left in the county, said he recognized the strength of Republicans fielding candidates in almost every race and the absence of Democrats in too many races, though he pointed out a few notable exceptions. "We're not well organized and we're not doing a good job of developing candidates," he said. Like the local Republican Party, which has been riven by dissention, Democrats have been contending with divisions as well, but unlike the Republicans, they have not managed to keep active with registrations and fielding candidates. Shapiro said that will be changing.
As of July 23, there were 70,867 registered voters in Flagler County—25,831 of them Republicans, 24,049 Democrats, and 20,987 independents or members of minor parties.
It isn't just the lack of interest that bothered Liguori, who's observed and been involved in Palm Coast politics since before the city's incorporation in 1999, but the quality of candidates.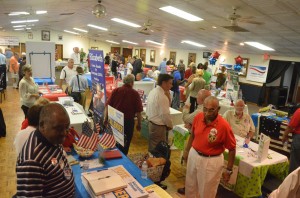 "Unimpressed," Liguori said. "There were some candidates there who are running for city council who don't know what the hell is happening, don't know what the issues are, were, have been, didn't even know about the battle we've had over the utility tax, to try to suppress that over two administrations." He added: "The only thing I can say really is that I was disappointed that the people running for council had no idea of the battles. I was even going to ask them about the most important question—what is your vision for Palm Coast?"
The Palm Coast City Council is running its elections in even years for the first time in hopes of improving turnout. Two seats are up this year, including an open seat, as Dave Ferguson, appointed to fill the seat vacated by Frank Meeker when Meeker was elected to the County Commission, chose not to run. Lewis is defending his seat against three challengers—Woody Douge, Steven Nobile and Norman Weiskopf. (Only Nobile, a Ronald Reagan Assemblies candidate, showed up Monday.) Three candidates are running for the open seat: Heidi Shipley (who didn't show Monday), Anne-Marie Shaffer (a Ronald Reagan Assemblies candidate) and Rosen, alone among the challengers to have previously won an election in Flagler.
Alan Peterson, a former Palm Coast council member and county commission member—Charlie Ericksen defeated him in a primary two years ago—turned out to get educated about the candidates because he'd had difficulties finding much about them elsewhere, in part due to the candidates' own fault.
"Up to this point," Peterson said, "it's been somewhat of a disappointment because so many people are running but there's been so little publicity, so little published, and some of the candidates don't have websites. So if you're not familiar with them it's very difficult to find out what they stand for. That's why tonight was so important. It gave me a chance to find out more. We need more candidate  nights.
(The Flagler County Chamber of Commerce, the Flagler County Association of Realtors and the Flagler Home Builders Association are hosting a candidate forum, with questions to candidates, on Aug. 4 at the Hilton Garden Inn. The forum is open to the public.)
David Sullivan, who leads the local Republican Executive Committee, gave this analysis at the beginning of the evening: "There's a basic feeling in the population, Republican or Democrat, not to trust the government that's in right now. Therefore it's an exceptionally good time for challengers to break through. But in Flagler County it's essentially going to be Republican against Republican. I think that President Obama was so dominant when he ran, he had a lot of organization, but it wasn't grass roots. It was top down, and when he's not running, there isn't much strength for Democrats."
The Republican-Republican races are especially pronounced in county commission races.
No independent has ever won a seat on the county commission, but Holley is banking on bi-partisan support, as illustrated by two men he had with him Monday evening: Ralph Lightfoot, a Democratic Party activist and frequent campaign manager (he's handling Holley's campaign), and Jim O'Connell, the former Republican county commissioner and tea party member.
"You know and I know that the issues locally are not party related," O'Connell said, just then overhearing his candidate commit a verbal slip-up. "He just made the mistake I did. 'If I get elected.' It's 'when I get elected.'" O'Connell then sought to illustrate Holley's thinking by describing how, after a visit by Rep. Ron DeSantis at a chamber lunch in January, Holley called O'Connell to discuss the lunch. Holley was especially incensed by a question someone had posed DeSantis—what DeSantis was going to do to bring jobs and lower the unemployment rate.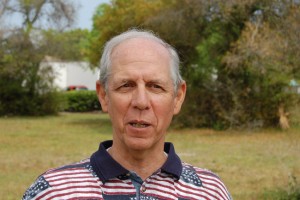 "Can you believe what a stupid question that was?" Holley said, according to O'Connell. "You don't ask him what he's going to do. You take out a list and tell him what he's going to do for you."
What O'Connell didn't mention was the identity of the person asking the allegedly stupid question: Meeker, Holley's potential opponent: Holley, who announced his candidacy only three months later, was already campaigning assiduously. (Meanwhile at his table, Meeker spoke with potential voters while using a one-inch binder thick with campaign documentation, indexed to the letter and rich in the sort of expansive analyses Meeker likes to write on issues.)
Three seats are up for school board, each defended by an incumbent: John Fischer is being challenged by Toni Baker, Lynette Callender and Janet McDonald (all four were present Monday, but at tables quite distant from each other.) Andy Dance is being challenged by Maria Barbosa, who was absent only because of a family emergency out of the country. And Trevor Tucker, who was absent, is being challenged by Michael McElroy, who was not there in person but had campaign volunteers waving his flag. The hall was also busy with most of the seven candidates running for three circuit judgeships.
Toward the end of the evening, Bob Hamby, the leader of the Ronald Reagan Assemblies, stood at the front of the hall, looking at the goings-on like the by-stander that he very much is not: his group's impact was clearly strong that evening, and made the contrast with the Democrats' absence that much sharper. He, too, echoed the complaints about apathy. "It's getting people out that's been my frustration with the whole  political process. So many people don't want to pay attention," Hamby said, cautioning that "we get the government we deserve." He then added: "I don't know why the Democrats have gone into hiding, have gone into a shell and are not putting their candidates out. I'm not pleased with that, either."