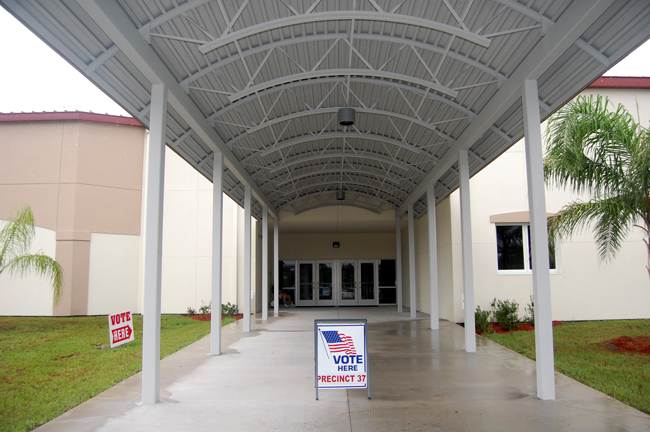 Supervisor of Elections Kimberle Weeks sustained severe criticism in the past year over budget issues and her clashes with the Flagler County Commission. But Commission Chairman George Hanns, who is also one of the three members of the county canvassing board (Weeks and Circuit Judge Sharon Atack are the others) had only praise for her after Tuesday's primary. "The operation went very smooth as far as Ms. Weeks' office went," Hanns said, "her employees were on the move constantly and seemed to be well organized, and the election in my opinion went off like a well-oiled machine."
The first release of numbers shortly after 7 p.m. was slightly confusing as tallies pointed to all 35 precincts being counted, when in fact just over half the ballots had been counted. But all ballots were tallied and the results posted at 8:34 p.m., even after several thousand had to be re-counted.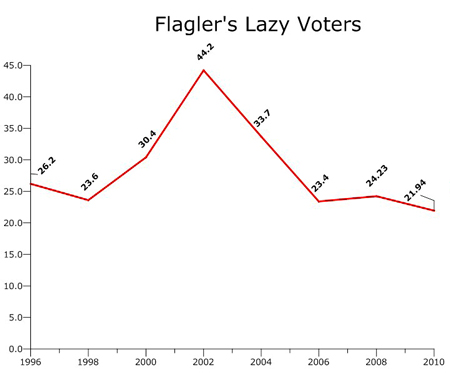 One factor helping the rapid count: a dismally low turnout. Just 14,100 voters out of Flagler County's 64,277 registered voters cast a ballot, for a turnout of 21.94 percent. That's the lowest turn-out since computer records have been kept, beginning in 1996. The 2006 primary, also an off-year election, had produced the lowest turn-out until yesterday, at 23.4 percent.
A precinct-by-precinct analysis shows that voters were likeliest to vote in whiter or richer precincts. They were least likely to vote in poor and black neighborhoods.
That's the usual trend in elections. White, older and richer voters go to the polls in larger proportions across the country. There was reason to think this primary would buck the trend at least a little, because three black, high-profile candidates were in local races–Sid Nowell and Marc Dwyer in the circuit judge race for Kim Hammond's circuit court seat, and Raven Sword in the District 5 race for school board. If any of those candidates were counting on a heavier black turnout, they didn't get it.
The top five precincts by turn-out, which got between 32 percent and 34 percent, were the Haw Creek Community Center in the western part of the county, Grand Haven Village, Beverly Beach, the Palm Coast Yacht Club and the Portuguese American Club.
The precincts that drew the lowest turnout were Rymfire Elementary School, Central Baptist Church, Buddy Taylor Middle School, the St. Johns Park Fire Station in Bunnell, Wadsworth Elementary, and the African American Cultural Center.
In sum, whiter, richer precincts turned out at nearly double the rate of precincts where voters tend to be poorer, and black populations larger.
Overall, Fischer won 26 precincts to Sword's seven. They tied in one precinct. Generally, where Fischer won, he won with comfortable leads. For example, he won with more than 50 percent of the vote in six of those precincts, including 58 percent at the Haw Creek Community Center in western Bunnell, 56 percent at the Flagler Beach Community Center, and 57 percent at Santa Maria Del Mar in Flagler Beach. (Fischer, a Catholic, drew heavily on Catholic congregations.)
Sword in comparison did not win a single precinct with 50 percent or more. Her best result was 46 percent at the Indian Trails precinct, and 45 percent at the St. Thomas Episcopal Church precinct. St. Thomas Episcopal happens to be the church former school Board member Jim Guines attends. Guines is Sword's campaign manager. Sword also won the African American Cultural Center precinct, but not by much: 42 percent, to Fischer's 38 percent. She won at the Belle Terre Elementary precinct, adjacent to Indian Trails. The two candidates tied at the Buddy Taylor Middle School precinct, which takes in neighborhoods east of Belle Terre and north of State Road 100.
The third candidate in that race, Peter Peligian, did not win a single precinct, though he tied with Sword at the Rima Ridge polling station, with 34 percent there. That polling station drew the second-lowest number of votes in that school board race, out of the 35 precincts, with just 56 votes cast. Peligian and Sword got 19 each, Fischer got 18.
In the race for the Flagler County-based 7th Circuit Court judge seat held by Kim Hammond, Marc Dwyer won 19 precincts. He tied one, with Sid Nowell, who won five precincts. Dennis Craig won eight precincts, Joe Horrox won just one. In the end, Craig and Horrox, on the strength of their votes in Volusia, St. Jons and Putnam counties, eliminated the four other candidates in the race. Their race will be decided in a run-off on Nov. 2. So will the race between circuit court candidates Don Holmes and Scott DuPont. In the third 7th circuit race relevant to Flagler residents, Matt Foxman beat George Pappas outright.


Election Turnout: Who Voted Most and Least
| Precinct # and name | Number of registered voters | Votes cast | Turnout percentage | Percentage of votes cast early |
| --- | --- | --- | --- | --- |
| Precinct 3 - Haw Creek Community Center | 315 | 108 | 34.29% | 9% |
| Precinct 31 - Grand Haven Village | 2181 | 727 | 33.33% | 13% |
| Precinct 11 - Beverly Beach Town | 505 | 168 | 33.27% | 10% |
| Precinct 8 - Palm Coast Yacht Club | 1686 | 544 | 32.27% | 16% |
| Precinct 34 - Portuguese American Club | 1343 | 429 | 31.94% | 17% |
| Precinct 15 - St. Mary's Catholic Church | 1427 | 425 | 29.78% | 16% |
| Precinct 27 - Hammock First Baptist Church | 1833 | 524 | 28.59% | 14% |
| Precinct 22 - Shepherd Coast Lutheran Church | 2274 | 647 | 28.45% | 25% |
| Precinct 10 - Hammock Community Building | 1656 | 470 | 28.38% | 14% |
| Precinct 20 - Flagler Beach Fire | 1425 | 394 | 27.65% | 23% |
| Precinct 12 - Flagler Beach Methodist Church | 1531 | 408 | 26.65% | 24% |
| Precinct 9 - Temple Beth Shalom | 1987 | 528 | 26.57% | 23% |
| Precinct 30 - Old Kings Elementary School | 1240 | 325 | 26.21% | 24% |
| Precinct 18 - Rima Ridge Fire | 290 | 75 | 25.86% | 3% |
| Precinct 2 - Flagler Beach Community Building | 1284 | 328 | 25.55% | 23% |
| Precinct 13 - Palm Coast Community Center | 1976 | 490 | 24.80% | 18% |
| Precinct 32 - Flagler Schools | 3705 | 857 | 23.13% | 33% |
| Precinct 5 - Espanola Community Center | 243 | 55 | 22.63% | 4% |
| Precinct 7 - VFW Post 8696 | 3085 | 691 | 22.40% | 16% |
| Precinct 14 - Parkview Baptist Church | 1729 | 378 | 21.86% | 26% |
| Precinct 23 - Hancock Bank | 1580 | 342 | 21.65% | 15% |
| Precinct 25 - Flagler County Library | 1668 | 356 | 21.34% | 31% |
| Precinct 19 - St. Thomas Episcopal Church | 2128 | 447 | 21.01% | 23% |
| Precinct 16 - Belle Terre Swim and Racquet Club | 2958 | 618 | 20.89% | 24% |
| Precinct 21 - First AME Church | 2164 | 441 | 20.38% | 24% |
| Precinct 1 - Bunnell City Hall | 1279 | 236 | 18.45% | 14% |
| Precinct 26 - Palm Coast Bible Church | 2450 | 413 | 16.86% | 28% |
| Precinct 36 - Belle Terre Elementary | 2037 | 340 | 16.69% | 29% |
| Precinct 29 - Indian Trails Middle School | 2079 | 342 | 16.45% | 28% |
| Precinct 28 - African American Cultural Center | 2372 | 363 | 15.30% | 28% |
| Precinct 33 - Wadsworth Elementary School | 1846 | 271 | 14.68% | 34% |
| Precinct 4 - St. Johns Park Fire | 2062 | 295 | 14.31% | 19% |
| Precinct 37- Buddy Taylor Middle School | 2450 | 345 | 14.08% | 30% |
| Precinct 35 - Central Baptist Church | 3166 | 442 | 13.96% | 19% |
| Precinct 38 - Rymfire Elementary School | 2323 | 278 | 11.97% | 29% |