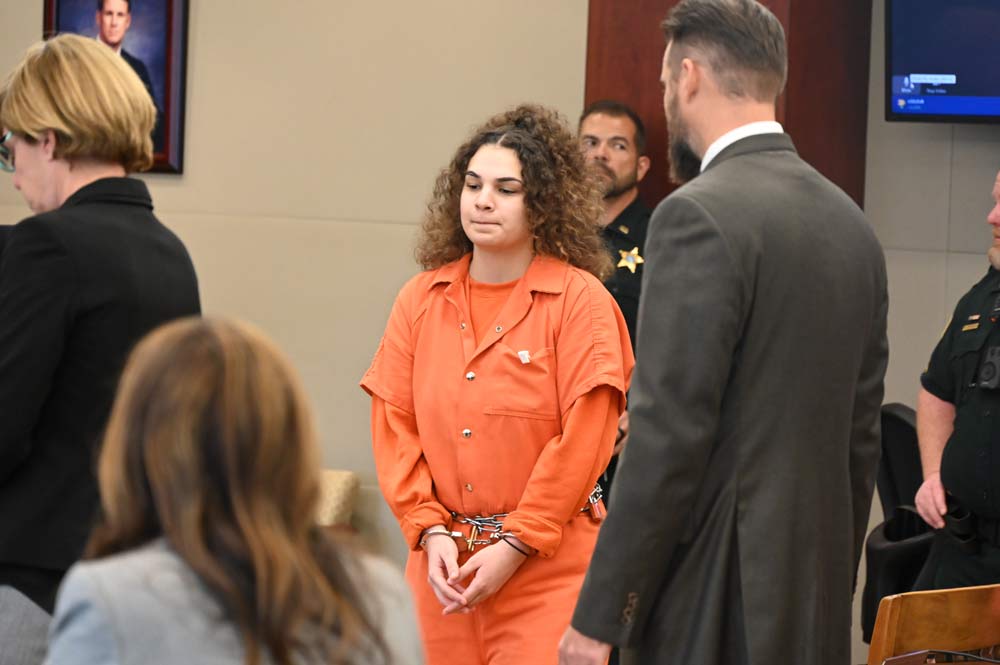 Circuit Judge Terence Perkins sentenced Taylor Renee Manjarres, 20, to 12 years in prison for her role in the armed home invasion that resulted in the shooting death of 23-year-old Zaire Roberts at an R-Section house in Palm Coast in December 2021. Her co-conspirator, Kwentel Moultrie, got 35 years in addition to 10 years for a separate charge.
Manjarres had faced two counts–second degree murder and armed burglary–each of which carries a maximum life term penalty. But she pleaded out, turning state's witness against Moultrie. Moultrie was sentenced in a plea earlier this month, the very day jury selection was to start in his trial. He is serving a total of 45 years in prison, when combined with another conviction.




Moultrie was dating Manjarres at the time of the R-Section crime. He, Manjarres and Roberts had planned a drug deal with Danial Marashi at Marashi's parents' house. Marashi faces numerous weapons and drug charges in Flagler and Volusia counties.
Earlier that day Marashi had flashed a bundle of cash to Manjarres. So Moultrie and Manjarres changed their mind and decided to rob him, picking up Roberts along the way to help them.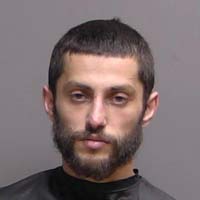 Moultrie in previous court appearances, testimony and interviews with detectives revealed himself to be brutally contemptuous of others, women and girls especially (he has children of his own). He had texted Marashi before the home invasion to let him know he was sending in his girlfriend to carry out the drug deal.
Manjarres did in fact go into the house to meet Marashi, but Roberts later walked in, as did Moultrie. According to Marashi's account, Roberts was on the attack, pointing a gun at him and shooting Marashi in the hip and thigh. Marashi shot Roberts in the chest, killing him. It's not clear where Manjarres was during the confrontation.




Immediately after the guns fired, Moultrie ran out, fired a shot at the house, and drove away–leaving Manjarres behind. She ran off on Regent Lane.
Since Roberts was killed in the commission of a felony, those committing the felony–Moultrie and Manjarres–were charged with second degree murder.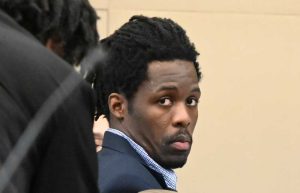 Moultrie was out on bond at the time, on a charge of statutory rape of a 16-year-old girl. His bond was revoked after his arrest in the home invasion case. He was previously tried twice on the rape charge (the first time ended in a hung jury), found guilty, and sentenced to 10 years.
Roberts, also known as Deuce, had been released from state prison only weeks earlier. He'd been sentenced in 2016, when he was 17, for shooting Philip Haire in a Palm Coast incident a year earlier. Haire spoke on Roberts's behalf at Roberts's sentencing, asking the court not to give Roberts 25 years–that it would be too much. His mother also testified at the time. (Haire was himself sentenced to 25 years in prison only two years later for shooting at his father and at a cop.)




Roberts's mother was back in court today, letting the judge know she had agreed to Manjarres plea deal. She declined to make a statement to the court.
The plea deal, tendered in May, was generous, as were additional parameters the court appended to the sentence. Manjarres was sentenced to 12 years, but she has 579 days' credit for time already served at the Flagler County and St. Johns County jails since her arrest on Feb. 25, 2022, knocking off more than a year and a half from the sentence. She has been held at the St. Johns jail for her protection, since she had turned State's witness.
Manjarres, Assistant State Attorney Jennifer Dunton, who prosecuted the case, told the court, also does not qualify as a 10-20-life felon, so there is no mandatory minimum sentence she has to serve. That clears the way for gain time to apply, enabling her release after she has served 85 percent of her sentence, assuming she does not break prison rules. That means she would serve a little over 10 years. But with the time already served, it potentially reduces her effective sentence to eight years and eight months. She would be out of prison before her 30th birthday.
The judge was indulgent in one more regard. Dunton asked that Manjarres be house din prison with youthful offenders. She was 17 when she committed the crime. She was charged as an adult. She is not being sentenced as a youthful offender. But, Dunton said, there are instances when the court may request from the Department of Corrections that, because of the offender's age, he or she be housed with younger offenders until later in adulthood.




"It's not a guarantee," Dunton said. "Sometimes DOC will take it into a consideration."
Perkins agreed, "due to her age and lack of criminal record," he said–all told, a remarkable contrast with the severity of the sentence for Moultrie, who is not much older: he's 24, though his record is amply more problematic.
The sentencing was brief: five minutes, all told. Manjarres was represented by defense attorney Jessica Damoth. Four Manjarres friends or family members were present for the sentencing. They did not address the court. Manjarres acknowledged them as she was ushered out of the courtroom, after she was finger-printed, likely her last appearance in court before her transfer out of jail and into the state prison system.
The Flagler County Sheriff's Major Case Unit lead the investigation that resulted in the Moultrie and Manjarres convictions and sentencings, which now, absent appeals–more likely in the Moultrie cases than in Manjarres's–appear to have brought a convoluted chapter of youthful violence to a close.