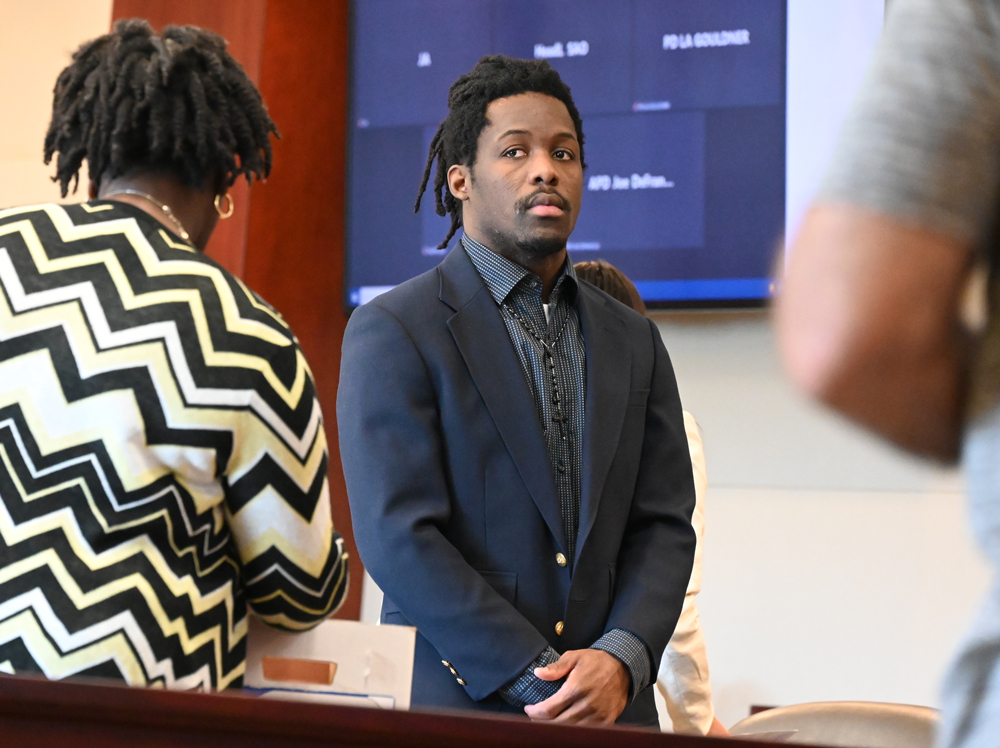 Kwentel Moultrie will not go on trial next week for what would have been his third trial in 17 months. Instead, he will be transferred out of the Flagler County jail to begin a 45-year prison sentence for a series of convictions.
Moultrie, the 24-year-old former Palm Coast resident convicted last year of raping a 16-year-old girl, this morning pleaded guilty to a second degree murder charge and was sentenced to 35 years in prison. He will serve that sentence consecutively to the 10-year sentence for the rape charge.




Moultrie was due to go on trial on the murder charge on Friday, with jury selection scheduled for that day and the actual trial beginning on Monday. He could have faced up to life in prison if convicted.
Instead, Moultrie pleaded before Circuit Judge Terence Perkins this morning, with his attorney, Assistant Public Defender Brian Smith. He may have had little choice, considering the way the case's evidence and Moultrie's past had encircled him.
The murder charge stems from an incident on Dec. 21, 2021 at 8 Regent Lane in Palm Coast. The house is owned by the parents of Danial Marashi, 28.
Marashi is currently in jail in Volusia County on charges of drug trafficking and possession. He was long known to law enforcement in Volusia and Flagler County as an alleged drug dealer, and in fact the incident involving Moultrie in the R-Section originated as a planned drug deal.




Marashi also faces felony charges in Flagler County of aggravated battery with a deadly weapon, leaving the scene of a crash with injury, carrying a concealed firearm, and three felony drug charges. Those charges are unrelated to the incident in December 2021.
Moultrie, Taylor Manjarres, 19 at the time, and Zaire Roberts, 23, together planned the drug deal with Marashi. By the time the trio got to the R-Section house, according to the Flagler County Sheriff's Office's investigation, they decided to rob Marashi of cash he had flashed to them earlier that day.
Instead, Marashi shot and killed Roberts. Authorities, based on their investigation, categorized the killing as self-defense. Because the killing took place while Moultrie, Manjarres and Roberts were in the act of committing a felony, Moultrie and Manjarres, not Marashi, got charged with second degree murder.
At the time, Moultrie was out on bond on the rape charge. His bond was revoked, and he never left jail after his re-incarceration at the end of 2021. He was first tried on the rape charge in April 2022. A mistrial was declared. He was re-tried in August, convicted, and sentenced last January to 10 years in prison.
Meanwhile, Manjarres pleaded out last May. She is to be sentenced later this month. But the sentence will be between 10 and 20 years in prison, a more lenient term than Moultrie, as she had agreed to be a state's witness. That made Moultrie's defense far more difficult, likely leading to his own plea today.
The plea was squeezed onto Perkins's docket this morning before the resumption of another trial that has been ongoing since Monday, that of Brenan Hill, on an unrelated second degree murder charge.




Moultrie will begin his sentence with 16 months' credit for time served at the local jail. He must serve the first 25 years day for day. He may have "gain time," or accumulate credit for early release, after that, though he is not likely to serve fewer than 40 years or so. He would be released when he is 65.
It is a striking turn-around from how Moultrie could have avoided prison altogether but for a series of self-destructive choices: before the R-Section incident, Moultrie had been offered a plea that would have reduced the rape charge to child abuse, and to serve just five years on probation. No prison, though he would have been designated a sex offender. He turned down the offer, saying he did not want to be away from his young children. That offer disappeared after the R-Section killing and his violation of his pre-trial release terms.
Manjarres has been held at the St. Johns County jail for her protection. She is to be sentenced on Sept. 26.