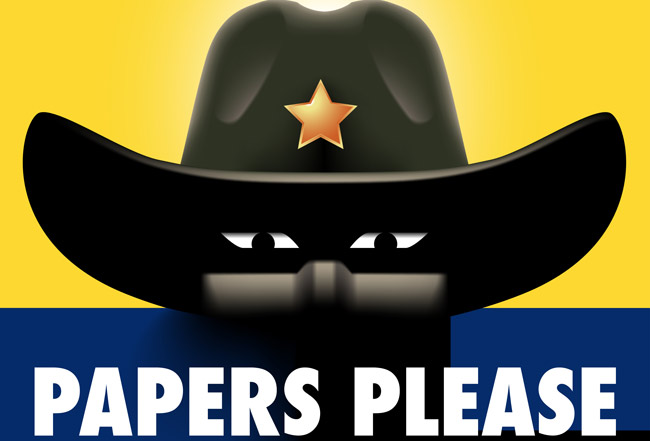 The United States Supreme Court today agreed to rule on Arizona's immigration law, the toughest in the country after Alabama's. The outcome of the case will have vast implications in Florida.
Arizona and Alabama passed laws empowering local police to question people about their immigration status, including asking for individuals' papers, and arresting those who fail to produce them. In other states, unless an individual is driving, and is therefore required to carry a driver's license, people are required neither to carry identification nor to produce it to law enforcement officials if they choose not to, absent probable cause of criminal acts.
The Arizona and Alabama laws override those protections, though police are not allowed to simply stop someone for an immigration check. The immigration status has to be part of, say, a traffic stop or a DUI checkpoint. But immigration status can by itself become a reason for jail: "Any person who is arrested shall have the person's immigration status determined before the person is released," the Arizona law states.
The Obama administration considers such provisions illegal because they clash with federal law, which reserves immigration policing to the federal government. Arizona argues that its law is a supplement to federal law, not a conflict with it. The administration forced a stay on portions of Arizona's law pending court rulings, and won its case in trial court and on appeal to the 9th Circuit Court of Appeals in April.
The Alabama law has not been stayed, and it's only one of many that have been tailored after Arizona's, which was due to go in effect last July. Georgia, Utah, Indiana and South Carolina have all passed restrictive immigration laws. Florida came close but its attempt fell apart in the last legislative session. Gov. Rick Scott wants to try again in the coming session next year. Alabama's crackdown goes the farthest because it forbids undocumented immigrants from being educated in public schools, a provision that clashes with a 1982 Supreme Court decision (see below).
The Supreme Court's ruling on Arizona's law is due by the end of June, at the same time as its ruling on Obama's health care reform law, making this court term one of the most consequential in eight years, when a series of rulings narrowed presidential power in wartime. The ruling on immigration law will potentially redefine local policing powers, either vastly expanding those powers to include immigration matters or narrowing them, at a time when close to 13 percent of the population of the United States is foreign born. In Florida, the proportion is 18.7 percent, or close to one in five, with 22.5 percent of the state's population having Latino or Hispanic dissent. (In Arizona by comparison, 14 percent of the population is foreign-born.) Immigration advocacy organizations reject local policing of immigration status because it significantly heightens the potential for racial profiling.
The ruling will also go a long way to defining the reach–and limits–of federal powers in relation to state powers, placing the court in a position to rewrite the law on states' rights. The court has been friendly to states' rights, but it has been even friendlier to–or more adamant about–the separation of powers, and giving each branch of government its due, particularly the executive.
There are actually four provisions that the Obama administration is opposing in Arizona's law. Aside from enabling local police to question any individual on his or her immigration status, Arizona's law also criminalizes the failure of aliens to register with federal authorities. It criminalizes the act of working, or even looking for work, by undocumented immigrants, reversing the application of federal law, which forbids businesses from hiring undocumented workers but limits punishment for workers themselves to civil penalties. Finally, the Arizona law also allows police to execute arrests without warrants if police merely suspect that individuals have done something that could, under federal law, get them deported.
The Ninth Circuit declared all four provisions illegal, saying the Constitution reserves those powers to Congress alone. "We simply are not persuaded that Arizona has the authority to unilaterally transform state and local law-enforcement officers into a state-controlled (Department of Homeland Security) force to carry out its declared policy of attrition," Judge Richard Paez wrote for a 2-1 majority.
The Supreme Court under Chief Justice John Roberts and his predecessor, William Rehnquist, has consistently expanded police powers, at times with the consent of one of the more liberal members of the court, Justice Stephen Breyer. But it has rarely ventured into immigration matters since the 1950s.
In 1982, a 5-4 decision overturned a Texas law forbidding state tax dollars from being spent on educating undocumented immigrants. The court found the prohibition repugnant to the 14th Amendment's equal protection clause. The court specified that equal protection extends to individuals regardless of citizenship or immigration status. That decision is still debated, and would very likely been decided differently with today's court.
The Ninth Circuit's ruling is below.

Ninth Circuit Court of Appeals Ruling on Arizona Immigration Law