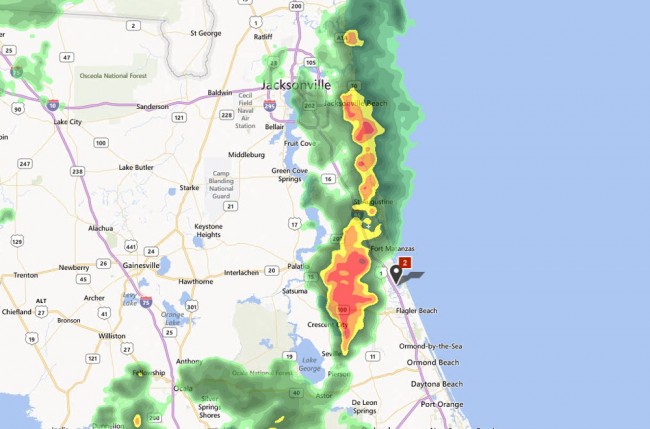 The National Weather Service in Jacksonville issued a severe thunderstorm warning shortly after 6 p.m. Tuesday for Flagler County and Palm Coast, among other areas in Northeast Florida, effective until 7 p.m.
The warning means that storm cells capable of producing dangerous lightning, large hail, high winds and other damaging conditions are in the area. Residents must seek shelter immediately.
The warning is also in effect for southeastern Putnam County and southeastern St. Johns County.
At 6 p.m., National Weather Service meterologists were tracking a severe thunderstorm capable of producing quarter-size hail and triggering winds in excess of 60 miles per hour. The storm was 6 miles north of Andalusia–between Bunnell and Palatka–moving northeast at 20 miles per hour.
Bunnell, Crescent Beach, Saint Augustine Shore, Butler Beach And Saint Augustine Beach are included in the warning zone.
Past the warning window, storms and rain are expected to continue in Flagler through late evening, with some storms packing more severity than average late-afternoon storms, especially around 8 p.m. Temperatures will be in the mid-70s. Storms will give way to mostly cloudy skies for the rest of the night. But a pattern of afternoon and scattered thunderstorm will take hold of the area for the next several days.
Authorities ask that you report severe weather or damage to your nearest law enforcement agency or to county emergency management.