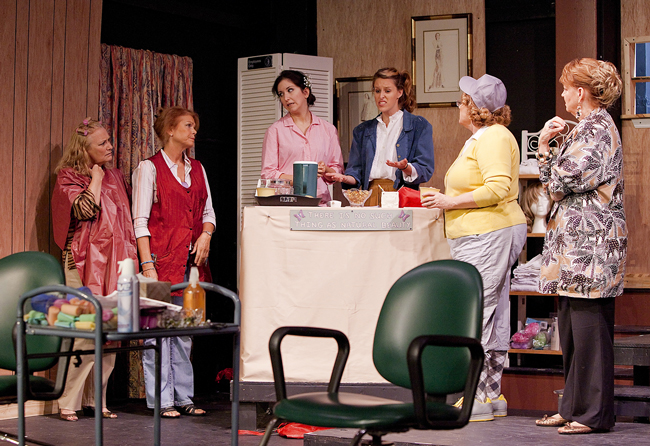 Every theater company has its duds once in a while. Unfortunately for the Flagler Playhouse, its production of "Steel Magnolias," which opened on Nov. 4 and runs through Nov. 20, is one of those.
Let's be clear about whose original sin this is. Robert Harling's play was awful when it was first staged off Broadway in 1987. The greeting-card writing was dated then. Age hasn't done it any favors. The thing was sling-shot into the community theater repertoire thanks to Herbert Ross's 1989 movie adaptation with a superstar cast, and because the chick-flick genre was condescendingly indulged in a way that its male-bonding equivalent would not be: whining adults too self-absorbed to recognize their dullness are a deplorable sight whatever the gender. But even then, Sally Field, Shirley MacLaine, Julia Roberts and the rest of them could only do so much to inject a little life into a story about as interesting as the biology of hair follicles. So the movie turned into an interminable dud, too.
If even a cast of Oscar winners can't salvage this thing, imagine what it's like in the hands of earnest newcomers (all but one of the six actresses on the Playhouse stage had never performed there, and it's not clear from the program how many have actually performed anywhere else) and the by-the-book direction of Stephen Pigman, also a Playhouse newcomer. He's a "recent theater arts graduate of Flagler College," the program tells us. We'd have been grateful if he'd applied the defibrillator to the script a few times, but there's only so much you can do with a hair salon.
All the action takes place in Truvy Jones's salon in the fictional and presumably small Louisiana town of Natchitoches. Pigman and his crew went to heroic lengths to recreate an authentic set, which could easily have been used as a Bunnell beauty parlor for those three weeks, though you might need shades from the lighting's monochromatic brightness. Doubtless some of the women in the audience will wish they're the ones being pampered in one of the three immovable center-stage chairs.
Truvy (convincingly played by Laureen Faulkner throughout) has just hired a young woman out of beauty school, Annelle Dupuy (Sarah Rogers). She "prays at the drop of a hat" and is supposed to come across as a doe-eyed simpleton in all things—hair, faith, emotions—and does. "She left on a Friday a well-adjusted young lady," Truvy says, "she returned Sunday a Christian." Her avid Christianity is supposed to be funny, and in 1987, when the evangelicals' cultish invasion of civil society still had more in common with alien abductions than earthbound realities, it was. These days lines like that are just sad, the joke being on those who deliver them, though nutty Christians or not, you're often unsure what's supposed to be a laugh line in this play.
Truvy has a total clientele of four. The script has them schematically paired up as two odd couples. There's  the caustic and grumpy Ouiser Boudreaux (Cynthia Frederickson) and her punching bag Clairee Belcher (Debbie Petty), a couple basically plagiarized from Neil Simon's male versions of the same. Picture Walter Matthau growling as a woman, and you get Ouiser, minus the wit. Frederickson's Ouiser is much more effective in her grumpy stage during the first act than during the character's insufferable transformation into a slightly kinder and gentler lout in the second. Clairee is just there, in and out, a sort of sixth wheel on a wobbly coach that Petty keeps trying to steer back to relevance.
What center there is to this play is built around M'Lynn Eatenton and her daughter Shelby (Pat Love and Ivy Nacol). M'Lynn is the domineering mother—to the extent that a southerner can pull off the Jewish mother stereotype. This again is basically Harling's transparent and unsuccessful transplant of Simon going South (the guy couldn't create an original character if he'd been in the cast of Genesis), though Love does her best to make the character her own: She's certainly more bearable than Sally Field's hysterical verion.
Nacol's Shelby is the only character that appears to be a little less one-dimensional than her posse. She has diabetes. She is a newlywed. She wants a child. She can't have a child, by doctors' orders. She gets pregnant anyway. You can guess the rest, "Steel Magnolias" being the sort of story that abides with dogmatic strictness to the arc of Lifetime Television's tragicomedies, where something aorta-tearing sad has to happen for the characters to have that great final group-hug catharsis just before the last commercial break (minus the obligatory sacrificial cast member). At least Nacol's Shelby is, despite her pink obsession, appropriately understated. (Gloria Leyden, a founder of the Little Theatre, which gave birth to the Flagler Playhouse, was in the audience for the second-night performance and twice said of Nacol, audibly enough that the actress should have heard her: "She's cute.")
The story stretches over a few seasons as the women swap tales and recipes and one-liners, and eventually bathe in each other's grief. Men never appear on stage. They're only talked about as distant flops. It's no loss, particularly since the movie's insertion of Tom Skerritt and Sam Shepard only made matters worse. The M'Lynn-Shelby relationship provides what little tension this play musters, on and off, and the two at least tread the occasional psychological shallows. But it doesn't last, and even though the warmth of the characters grows on you a little, the production is just too drafty—the stumbled lines and ill timing too frequent, the chemistry too synthetic, the damn writing too uninspired—to make it stick. From time to time sheriff's deputies are called out to use their Glock on injured opossums and deer. For the sake of community theaters everywhere, "Steel Magnolias" could use that kind of mercy.