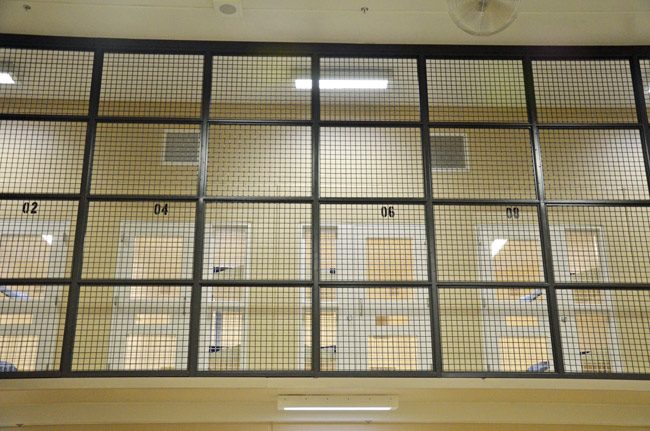 After a three-month search prompted by the firing of its previous jail health provider following the death of an inmate, the Flagler County Sheriff's Office selected Southern Correctional Medicine, a relatively new, modest-sized faith-based operation serving jails in Georgia and Florida counties, to be its inmates' health provider.
Waycross, Ga.-based Southern Correctional Medicine replaces Armor Correctional Health, the provider Sheriff Rick Staly fired in late February over dissatisfaction with communications between the company and the sheriff's office, following the death of inmate Anthony Fennick, 23, weeks earlier.
Fennick had been getting progressively sicker over several days, with fevers, rashes, disorientation and loss of appetite, his requests to see a physician unheeded (a physician was due to make a regularly scheduled visit at the jail, but not in the time-frame Fennick was requesting the visit). Fennick eventually had a seizure, was taken to AdventHealth, and fell into a coma. Fennick died February 9. Had he remained healthy, he was due to be released from the jail last week. He was in jail on a probation violation tied to a burglary.
Southern Correctional will finish out four months of the current fiscal year and will be paid $636,000 for the year beginning Oct. 1, or $17,000 more than what the sheriff would have paid the previous provider this year. Armor has continued to provide inmate health care since the Fennick incident, and will do so until May 31, according to a sheriff's spokesperson, since severing the contract requires a 90-day notice. The sheriff's investigation into the death of Fennick is continuing, with the medical examiner still not having determined a cause of death.
Bids for the new contract were due by March 29 and were evaluated by Chief Steve Cole, Chief Mark Strobridge, Jail Director Becky Quintieri, General Counsel Kayla Hathaway, and two other managers.
Southern Correctional initially submitted a bid that would have provided care for $554,332 in its first full year as the health provider at the jail, a reduction of $65,000 from what Armor would have been paid. It was by far the lowest bid among five. Others were from Correctional medical Care ($773,356 in the year starting Oct. 1), WellPath ($950,000), Corizon ($719) and MTC Medical ($608,000). In its bid., Southern Correctional said its profit margin would amount to $81,800 under its original bid number, higher than all but one of the other providers, though while every other provider included a "corporate support," or management fee, Southern did not. Southern also did not list a cost for medical supplies. In its original bid, Southern had listed a staffing-hours total of 180, compared to 220 hours for the other five providers. In negotiations, Southern's total was raised to 220 hours. (See how the five companies' initial bids compared.)
The Armor contract provided for a total of 178 work hours of service from its combined personnel at the jail, including two hours by its medical director, eight by its advance practice registered nurse or physician assistant, 40 by a registered nurse, and three full-time licensed practical nurses.
In comparison, the Southern contract calls for a total of 220 hours of coverage–a 24 percent increase–with a licensed practical nurse on duty at all times, netting 208 hours a week of LPN coverage, compared with 128 hours of coverage under the previous contract. A "health service administrator" provides 40 hours, as in the old contract (which specified that the HSA would be a registered nurse).
The previous contract called for a physician or medical director to be on site on Tuesdays for just two hours. The Southern contract doubles that to four hours, also on Tuesdays. The new contract, as with the previous one, includes eight hours to be logged by a "mid-level provider," presumably an ARNP or a physician's assistant.
"This staffing plan will now have a mid-level provider on site 2 days a week," Cole wrote the sheriff in a memo. "This will result in a doctor or mid-level provider being at the facility 3 days a week, significantly enhancing coverage. In addition there will now be a RN at the facility 7 days a week with 2 RN's working Mon-Fri.
The Armor contract was in its second year, costing the sheriff $619,000 (and was due to go up to $641,000 in 2020), assuming an average daily jail population not exceeding 228, when averaged out over a month.
Before Armor, the jail employed county paramedics and county-based services to provide health care to inmates. According to a 2016 inspection report–conducted, ironically, by Jennifer Owens of Armor Correctional Services (she worked in a St. Johns County jail), those included a part-time physician, a part-time advanced practice registered nurse or a physician assistant, a part-time registered nurse, and four emergency medical technicians, also part-time.
The Southern contract calls for the company to itself subcontract with "certain" health care providers "as independent contractors rather than as employees." Those may include physicians, nurses and dentists.
Southern Correctional was founded in 2009 by family physician Peter Worbel (the company's About page states that it has "over 20 years of correctional experience"). The company in its bid said it provides inmate care in 30 prisons or jails in Georgia and two in Florida (in Jefferson and Madison counties). It has a total of 175 employees. Its services include medical and dental care, suicide risk reduction, special needs and chronic care, diet programs and medication management, among others. (Worbel has owned a condominium at Yacht Harbor Village in Palm Coast since 2007, though he bought it at the tail end of the housing boom, for $619,000, only to see it lose most of its value, which has stagnated just above $200,000 since 2014).
Southern Correctional frames its "core values" in an explicitly Christian message: "We are a company grounded in Christian values of honesty, integrity, kindness, and a sense of social responsibility. We strive to honor God in all we do. This is reflected in how we conduct our business and how we care for our employees."