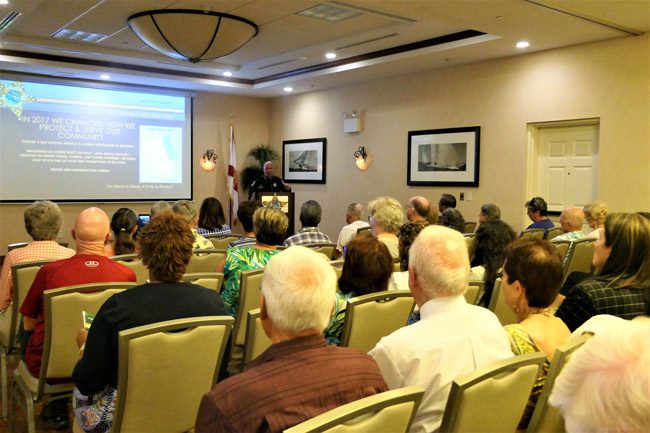 Sheriff Rick Staly held a public meeting on "Addressing Crime Together" at the Hilton Garden Inn in Palm Coast on Thursday afternoon to discuss crime trends, past and future initiatives, highlighting a 22 percent drop in crime in the sheriff's jurisdiction, which includes Palm Coast and unincorporated Flagler.
The crime rate is at its lowest in 14 years, the sheriff's office reports in a release issued after the meeting. Murder, Rape, Robbery, and Aggravated Assault are down 16.3 percent, Property Crime (Burglary, Larceny, and Motor Vehicle Theft) is down 24.7 percent. Arrests are up 15 percent. Clearances of reported crime is up more than 32 percent from 2017. "We have a terrific, motivated team serving the community and I attribute the reduction in crime and the increase in arrests to their proactive police work, engaging and partnering with the community, and the new initiatives that we have implemented since I became Sheriff," Staly said.
The Sheriff highlighted the "See Something, Say Something" campaign and said many crimes can be prevented by taking basic security measures such as locking your doors, removing valuables from plain view, installing motion sensor lighting outside your home, and adding a video security system: most local property crimes are crimes of opportunity, permitted by doors left unlocked.
The sheriff also spoke of his Stride initiative at the county jail, the inmate work crew, which was put to work, among other places, cleaning up the homeless grounds behind the Flagler County Public Library, the recent addition of license place readers (and soon other video surveillance technology) as means of tracking down stolen cars or other wanted individuals: the technology, the sheriff said, helped recover 14 stolen vehicles, recover a missing and endangered elderly adult, and arrest 21 alleged offenders. Staly said the weekly sheriff's video series called "Fugitive Friday Bingo" has netted a 55 percent apprehension rate with fugitives featured on the series.
The sheriff gave an update on the Domestic Violence Task Force the Sheriff began in 2017 and spoke of the Citizens on Patrol (COP), who provided a total of 38,790 hours of service to Flagler County. These services include Traffic Crash Investigation, Parade and Special Event Security, Traffic Control, vacation house watches, Court House Security and Funeral Escorts. The total value for all volunteer services for 2018 was $870,692.85.
The Sheriff's Office has launched a full-time Marine/Beach Unit to ensure greater safety on our beaches and waterways. A COP Marine Unit will launch in June staffed fully by volunteers. In 2019, FCSO became a four-diamond accredited law enforcement agency with accreditations now in Law Enforcement, Corrections, Communications, and the National Institute of Ethics. A full video of the presentation is available here.