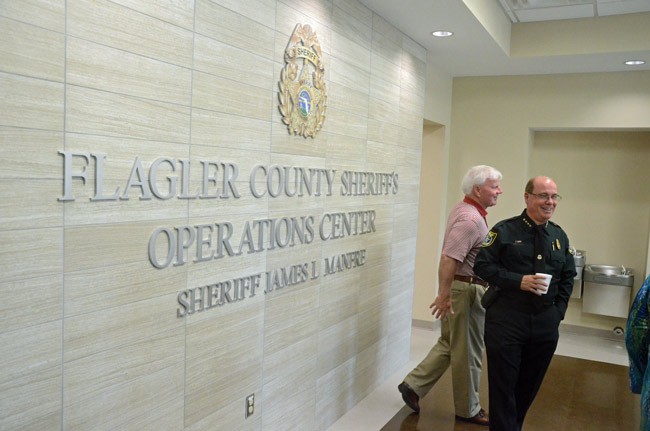 No certificate of occupancy has been issued yet and there's no firm move-in date, but the sheriff wanted the public to have a look at his new digs before many areas of the new operations center are to be off limits. So Flagler County Sheriff Jim Manfre himself—along with at least four senior members of his staff—each led several groups of a dozen or more through the 34,000 square foot facility for a couple of hours Wednesday afternoon.
There was nothing to look at and plenty to look at: the nothing comes from what amounts to a squeaky-clean, freshly painted but empty office building with barely some basic furniture blocked in, the sort of furniture that could have made the place look like a prospective insurance or real estate office.
The plenty came from the tour guides' invitations to imagine what will soon be there, and the signs by the doors to each area: the cell-like interview rooms where suspects will spend some of their most uncomfortable moments with an interrogator; the elaborate evidence rooms that now have space for regular evidence, narcotics—which have their own, well-ventilated room—and biological evidence, as in blood samples, in a room with two immense industrial refrigerators; the 14 work stations in the detective bureau, which will finally be able to return from exile in a $100,000-a-year rental off Belle Terre Parkway; the training rooms and conference spaces, immense compared to their equivalents at the current operations center at the end of Justice Lane; and of course near-palatial offices for the sheriff himself and his administrative staff, in a suite of windowed offices giving onto the Washingtonian Palm-lined mini-avenue that leads to the operations center off of State Road 100. The sheriff's chair, incidentally, still had its foam wrappers around its arms.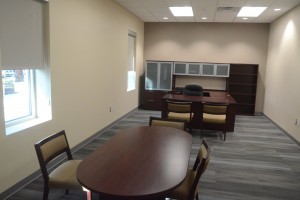 For a price tag exceeding $5 million—not including the $1.23 million cost of buying what used to be the old Memorial hospital—the place was expected to be big, roomy, functional, considerably on the lee side of luxurious. "It seems to be modest, institutional," is how Jason DeLorenzo, the Palm Coast City commissioner, described it after his tour. He was the only elected official from Palm Coast to see the building, though a couple of senior Palm Coast staffers were also there, taking notes in light of their own upcoming grand opening of Palm Coast City Hall in Town Center.
Among Bunnell's elected officials, only Mayor Catherine Robinson showed up. And there was another notable absence Wednesday evening. Four of the five Flagler County commissioners—all four who'd voted for the acquisition of the old memorial hospital, back when it was gauzed in controversy—were absent. So was Craig Coffey, the county administrator under whose supervision the contractors have been working. The exception was Charlie Ericksen, who toured the building more than once. He'd voted against the acquisition. "It's still a 30-year-old building with a new front on it," Ericksen said. "I mean, I think they did a great job doing what they did." (He would have preferred demolishing the whole structure and building anew.) .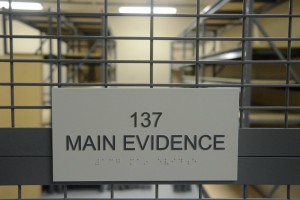 The other four commissioners had all gotten the invitation. But they each had a different reason for not being there. Barbara Revels said she might have made it had a client of hers—she owns Coquina Real Estate and Construction in Flagler Beach—not kept her longer than expected. But she also noted that it was too soon for a visit, with the building's punch-list not yet completed.
"The sheriff planned that date on his own," Revels said, even though the county is overseeing the work. "The county had asked the sheriff to delay the open house," at least until the punch list was gone through. But Manfre was "anxious" to get going and give the public its look. "Craig Coffey had said he would schedule another public tour, but definitely one for the county commission when it was punched out. So they didn't put it on our calendar as a notice to attend."
Commissioner George Hanns, himself a builder, said he'd been with out-of-town company much of the week and that he'd have plenty of occasions to visit the sheriff's office. But he wasn't sure the event required his presence. "I made a notation on my calendar that it's an open house for the public and I did not necessarily get a formal invitation to go there," Hanns said. "I just assume it was a soft opening for the public if you will, and that we'll get a formal invitation for a ribbon cutting sometime in the future."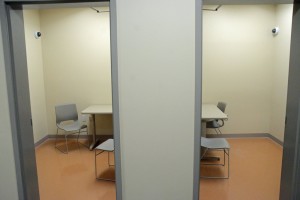 Commissioners Frank Meeker and Nate McLaughlin were more blunt about the building essentially not yet being ready for prime time. "I kind of wish it had got put off until it was completely finished," McLaughlin, who was home sick Wednesday anyway, said. He'd walked through the building a few weeks ago. "It's a diff thing to show of a building that isn't finished. That's the way I feel about it. The sheriff can do whatever he wants about it. We could have had the punch list completed before we did this, I think. I know he's anxious, certainly I know that he's anxious to get moved in, but until it's done, it's not done, it's not ready."
McLaughlin noted the irony of holding an open house before a certificate of occupation is issued. (The county, not Bunnell, is in charge of that.) Meeker also noted the missing certificate. "I've already been through it," Meeker said. "The construction was looking real good, the color choices are very pleasing, I like the layout, I'm just waiting for when we do a ribbon cutting, grand opening kind of thing."
Meeker added—in a faint echo of some tensions between the county administration and the sheriff—that the open house "was set up by the sheriff, it wasn't an item set up by our administration or for us to attend."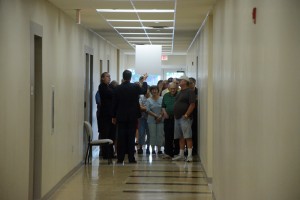 For some of the visitors at the open house, like long-time Bunnell resident Thea Mathen, the walk-through had its own layers of meaning because she'd once known the building as a hospital. She'd been in it many times as a patient. She'd been in it when her father died there. What has become the human resources department used to be the hospital gift shop, which she remembers. What's become the executive suite used to be the emergency room. "I've come through these doors many times," Mathen said, "either on my own or with an ambulance."
Near the end of the touring hours Jeff Hoffman, the chief deputy who'd led several tours himself, was catching his breath in the lobby area. "I was very impressed with the turnout," he said, just as Carmichael McMillan, who handles marketing for Bunnell's Chicken Pantry (among other duties) brought in the latest vat of donated fried chicken: if at least five sheriff staffers (including the sheriff) had led at least three tours of more than a dozen people each, the turnout could be estimated at between 200 and 250.
Manfre had reappeared for a while but only to take in another group, as his wife Cornelia continued to welcome people in the lobby, as she'd done the entire afternoon. Hoffman too had many people in his groups who remembered the old hospital, but many, too, who asked police-related questions. The feedback, he said, was very positive.