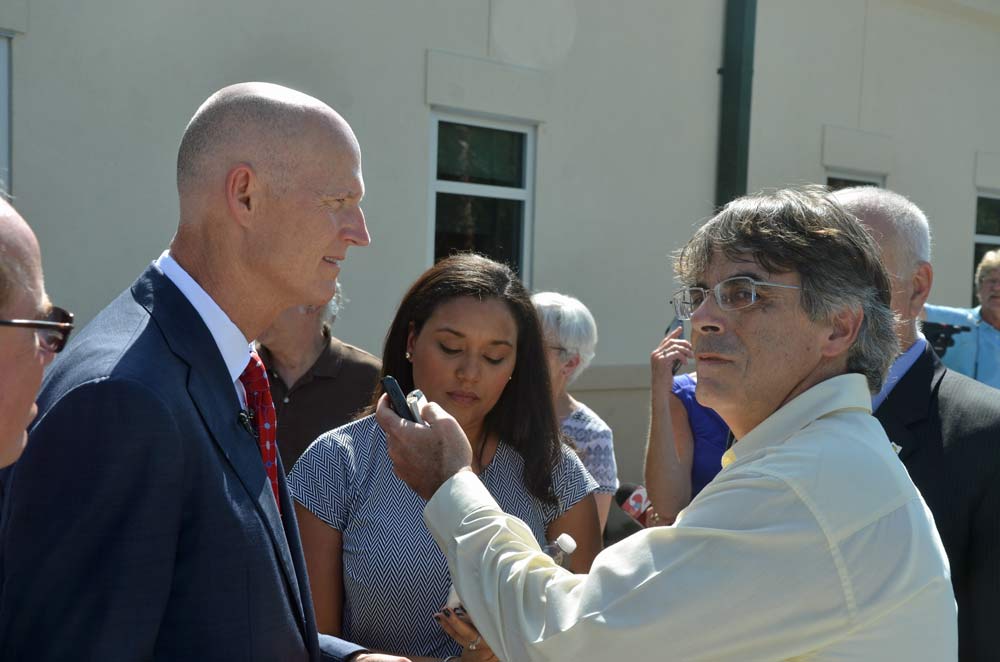 At least Volusia County Sheriff Mike Chitwood hasn't gone as far as raiding the offices of the News-Journal and reporter Frank Fernandez's home, the way that now-twice-disgraced police chief in Kansas did with a small county newspaper there in August, the way New Delhi police did earlier this week against an online newspaper critical of the right-wing prime minister, the way thuggish authorities do anywhere power and personality cults bulldoze accountability.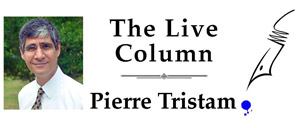 But it's Chitwood and it's Florida, where some sheriffs seem to be competing for Most Obnoxious Self-Promoter at the expense of public treasuries and trust–Carmine Marceno in Lee County, Wayne Ivey in Brevard, Grady Judd in Polk, Bob Johnson in Santa Rosa, and of course Chitwood. (Our own Rick Staly in Flagler is certainly media-savvy, but "fugitive bingo" and "green roof inn" signatures aside, he doesn't go where these guys do, and there's no selective barbed wire around his PIOs.) 
We never know what Chitwood will do next. He's won plaudits for denouncing neo-Nazis and antisemitism, though frankly that's participation-trophy territory. Chitwood only stands out in that regard because we live in a state where even the governor seems incapable of unequivocally denouncing neo-Nazis. 




And his anti-discrimination crusade loses credibility as he irresponsibly and dangerously inflames his social media base in targeted attacks against the News-Journal at a time when reporters' safety is nothing to take lightly–the more so when a law enforcement chief who should know better is stoking the flames. 
Chitwood has vilified Frank for doing nothing more than what he always does: an excellent job reporting news and detecting original angles against the grain. Some officials, the shallow and insecure ones anyway, prefer panderers. Thankfully, Frank is too socially clumsy to know pandering.
He's a digger. He knows his job. I think he's been at the News-Journal since 2006 (we were colleagues until 2010) and is the current reigning byline champion at that diminished crinkle, with 4,500. In this particular case he didn't even do much digging. It was more like basic reporting. Last month a jury found Othal Wallace guilty of manslaughter in the killing of Daytona Beach Police Officer Jayson Raynor in 2021. He had been charged with first degree murder, so the verdict took the death penalty off the table, but not life in prison. Suzerain Capital Defense, the nonprofit that represents defendants facing the death penalty–and represented Wallace–posted a brief, neutral summary of the verdict on Facebook. 




Chitwood posts on Facebook compulsively. He didn't like the law firm making that one post. "They're really bragging on Facebook about picking a jury that let a cop killer off on a lesser charge," he posted. Frank interviewed the defense lawyer who was part of that jury's selection, and got this quote: "Sheriff Chitwood is certainly free to disagree with the jury's verdict, but to disparage the work of the jurors and the jurors themselves, frankly, to me, is un-American."
She's right, and she shouldn't be the only one saying so. Where's the voice of Leah Case, the chief judge for our Seventh Judicial Circuit? Justice Arthur F. Engoron in Donald Trump's ongoing civil trial on Tuesday imposed a gag order on the former president after Trump disparaged the judge's law clerk. It is no less repugnant for a sheriff to disparage jurors: no judge in this circuit would tolerate it if there was so much as a hint of it during a trial. But that's what we're dealing with here: a sheriff taking his cues, as so many public officials now do, from the kind of vulgar trolling Trump has normalized.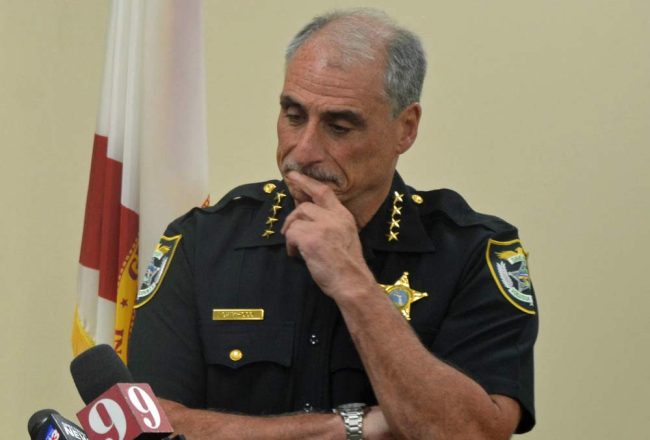 Chitwood has been going after Frank since early August. It wins him cheap applause from the Facebook bleachers, where media-bashing is politicos' and candidates' go-to fillers when they crave an attention fix but don't have anything interesting to say. After John Dunbar, the News-Journal's executive editor, took to his reporter's defense in a column more bewildered than combative, Chitwood disinvited Frank and the News-Journal from his press events and said he will no longer speak with the paper's reporters. So there!




Reporters are quick to jump on the First Amendment bandwagon when their access is denied. But this has nothing to do with the First Amendment. (If anything, it's more about the 14th than the First). It barely has anything to do with access. Chitwood has every right not to act his age, not to grant interviews to anyone he doesn't want to speak to, or not to answer questions at press conferences from anyone he doesn't like. The law is on his side. So should reporters be: any reporter who thinks we're owed anyone's attention should seek a different career. So should any reporter who depends on anyone's quotes or access to get the job done. 
He doesn't want to talk? His loss, not ours, and the way he so often goes, the less Chitwood chatter, the better–especially at these "pseudo-events," to borrow the phrase the historian Daniel Boorstin applied to the contrivance of press conferences, which (from Washington to the lowliest school board) are more about massaging information than about  informing. Since most reporters are lazy transcribers and suck-ups who like nothing better than to be massaged, it's a perfect fit for them, and everyone gets a happy ending but the truth. True reporting is elsewhere, which is why I doubt Frank couldn't care less if he is excluded from these events. 
Accessing documents is a different story. Florida's Sunshine law guarantees that access in most cases, to reporters like everyone else (we're not special). That's not at issue here, though more serious legal problems could emerge if the sheriff continues to single out the News-Journal from email blasts, denying records, blocking access across the agency, allowing some media in but not the News-Journal at crime scenes or in other newsworthy places with restricted access. Then it's a form of content discrimination, which current law forbids. 




But gone are the days when the late Tippen Davidson's late News-Journal could sic attorney Jon Kaney on anyone challenging the paper's reporting mission. Chitwood knows it. Everyone knows it. That's why it's so easy, and so unaccountably reckless for so many, to treat media like scum now, especially when media more often than not take it lying down (the News-Journal couldn't afford Kaney even then; it can afford legal advocacy much less now.) 
Frank is responding the best way: with more reporting, and with his editor at his back. It's not enough. Frank, Dunbar and the News-Journal shouldn't be left dangling at the mercy of Chitwood's churlish populism. If that's the kind of games Chitwood plays, it's every news organization's responsibility, television stations especially, to shun Chitwood's "events" in turn, in solidarity with the News-Journal, until he drops the bombast. Public officials need reporters way, way more than we need them to do our job. When public officials are disrespectful, let's act accordingly and deny them our time and respect in return. 
Most of the local mic-slingers may not have those kinds of principles. They have their own Facebook beasts to feed and sometimes have trouble knowing solidarity from Gdansk, which explains the pitiful state of contemporary media. But appeasement doesn't work, and acting as if Chitwood's prancing doesn't affect other news organizations–or, more critically, the fabric of an open, accountable community–makes those organizations complicit in their own and their community's dissection, if and when Chitwood denies them his favoritism. 
No need to wait. Volusia media should politely, firmly, collectively deny him theirs. 

Pierre Tristam is FlaglerLive's editor. A version of this piece airs on WNZF.