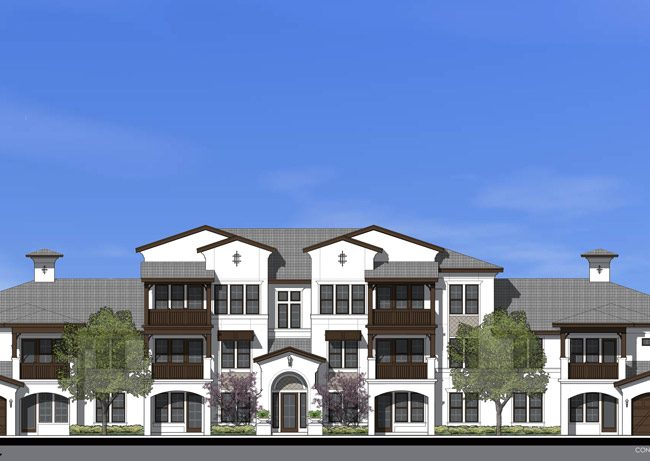 When it comes to flexibility regarding apartment buildings and complexes, Bunnell is showing Palm Coast how it's done. And developers are taking notice.
At a lengthy public discussion on apartments and affordable housing at the Hilton Garden Inn last November, two recurring themes were Palm Coast residents' resistance to apartment complexes, a resistance not reflected by the City Council, but also Palm Coast government's resistance to more flexible rules allowing apartment buildings to go up.
One of those rules is the city's height limit: 50 feet for apartment buildings in most zones, though the city also has a few areas zoned for 60-foot apartment buildings. Developers want those heights to be less restrictive, seeing them as factors that discourage investors from constructing apartment buildings in the city, since they wouldn't have enough space to cram the needed number of units to make a profit.
To that end, Bunnell is showing the way. Last month the city's Planning Board quietly and with relatively little controversy approved an exception to the city's 35-foot building height limit, voting unanimously to approve a developer's request to add a third floor to a dozen apartment buildings going up on the rim of Palm Coast, abutting the E-Section's Egret Trail in Cypress Knoll. The unanimous vote allows the 12 building to rise to just over 42 feet instead of the previously allowed 35 feet.
There's no mystery was to why the buildings were located on State Road 100, grazing the Palm Coast city limits: the buildings will appeal primarily to the Palm Coast housing market. Still, there's no connection between the development and the E-Section—indeed, no connection between Bunnell and Palm Coast anywhere in that area except through Belle Terre Parkway, reflecting Palm Coast's historic prejudice against the smaller city (and, to a lesser extent, vice versa). That won't change with the arrival of the apartment complex, as Bunnell officials repeatedly told Palm Coast residents during a hearing on the height limits in December.
The hearing reflected where the two cities' populations stand with regards to apartment cpomplexes. Though it was the Bunnell Planning Board, it hardly drew any Bunnell residents. The audience was made up of Palm Coast residents, and specifically, E-Section residents. They were much better behaved than they had been when the same apartment complex was first before the planning board, last March, when they got rude and shouted down a board member/ Board Chairperson Thea Mathen finally cleared the room.
That was the hearing that gave initial approval to an apartment complex on the 30-acre property. But at the time Safety Harbor, Fla.-based SR100 LLC had the property up for sale, and it wasn't at all clear that an actual apartment building was on the way.
Now it is, with its designs submitted to Bunnell and site plans to be submitted soon. The complex will be called Shadetree at Bunnell. There will be 12 apartment buildings, each with 20 apartments–eight on the ground floor, eight on the second, four on the third. Bottom-floor apartments will have private garage access. Philip Smith, president of the Tampa-based Framework Group and the developer of the property, said the apartments will range from 760 to 1,350 square feet and the average rent will be $1,300 a month—not exactly the most affordable rents in the area, as Planning Board member Jan Reeger noted.
"We're talking a situation that may be more upscale. It's not necessarily in my mind a more affordable" rent by comparison, Reeger said. "We don't have very many apartment complexes, much of the rent in Palm Coast are this or exceed it, and I think there's a need." Reeger was the one who'd been shouted down by Palm Coast residents in March when she spoke about the need for affordable housing. They let her speak this time, likely because of Mathen's opening warning.
"There will be no toleration of any outbursts from the crowd," Mathen had said at the opening bell, reminding the crowd of the March meeting. "I'm just letting you knowing in advance. I have no problem with clearing the room, OK? Thank you."
The crowd was so well behaved that Rob Merrell, the Cobb Cole attorney representing the developer, was surprised. "You don't always get that kind of treatment in these situations," he said.
He explained the request to exceed the height limit in architectural terms. "What you have here before you is a request to bring some character to the architecture which relates to the multiple rooflines," he said, to add character. "A simple request to have some portion of the building a little taller. The key here is," he noted, "nobody is asking for additional units."
"So we're only talking about a change basically in architecture, that's it?" Reeger said.
"That's it," Merrell said.
Merrell may have been anticipating resistance to the request to go higher, prompting the veiling of the request under the guise of an architectural rather than economic necessity. Of course, the request is based on economic necessity: the developer needs to fit his units in the allotted space, and he couldn't do it with two floors. Apartment-complex architects are not in the habit of adding that much cost to designs purely for aesthetic reasons. The additional floor will allow for 48 more apartments. Merrell's caution may have been unnecessary: the only thing the board members were worried about was the 250-unit limit they'd imposed in March, and didn't want to see exceeded. It won't be. The complex will be 10 units short of that.
Merrell said the plans won't change substantially between now and site-plan submission. "A lot of times when I'm handling zoning cases like this people say well, you're going to hoodwink me and show me a pretty picture and when I come back and see it it's not going to look like that," the attorney said. "I can tell you that as part of both of these processes, you guys have the legal right–and Charlie can tell you–to condition these things such that that's what you get. So we've already designed these, that's what we're going to come in, ask for building permits for, so you can condition your approval, if you're willing, on that basis."
When Mathen opened the floor to the public, some of the same people who spoke in March spoke again, raising some of the same concerns, at times openly suggesting they wanted more segregation from the development.
"Those who are on eagle Trail, which is what's next to these buildings, will then have people looking down on them and it's not compatible with single-family homes that already exist," resident Carol Gunthorp said.
Lucy Davis, Cypress Knoll, "by allowing increased height, more apartments may be constructed,
"Having a huge number of low-income apartments tends to diminish the value of individual homes nearby," Lucy Davis, another resident of Egret Trail, said. Then, using terms surprising for someone who's lived through the segregation era (Davis, who once ran for the school board, is 78, and black) said: "A small separation area does nothing to eliminate others from coming into this area." She agreed that Palm Coast needs low-rent housing (which the apartments will not quite be, however), "but," she said, "this location is not in the best interest of those living in Cypress Knoll. My street, Egret Trail, backs up to this property, and I'm greatly concerned as to what may likely occur in the future." She did not specify what she feared, nor where she thought apartment buildings should go.
Only a few others spoke, far fewer than in March. The developers assured E-Section residents that the apartment complex will, in fact, be gated.
"To the extent that you'll be able to see this property from anywhere really, because it's surrounded by wetlands," Merrell said, "I think it's going to be gorgeous and I think you'll like it and you guys will be proud of having it in the city of Bunnell. And I think there's certainly a market for apartments. That's why they're here. So bringing quality apartments to you guys in Bunnell–these guys have done it all over the country successfully, people like their product, that's why they're able to bring the rents they were talking about."
The vote was unanimous, and won;t have to be ratified by the city commission.

Shadetree at Bunnell: The Requested Exception