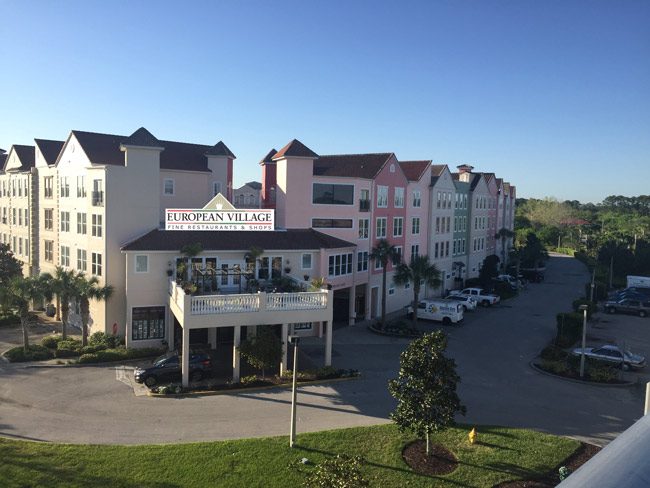 Five years ago (on June 4, 2011) Palm Coast made the front page of the Washington Post but not for flattering reasons. Reporter Michael Fletcher chose the area to illustrate Florida's struggles out of the Great Recession.
"With no port, no rail sidings and no signature industry, local political and business leaders see no obvious route to new prosperity," he wrote. "Officials say they want to do more to market the county — with its retro beachfront, surfable waves and canopied bike trails — as both a tourist and retirement destination. Beyond that, they are unsure what to do."
The article was accompanied by an extensive image gallery by two-time Pulitzer Prize-winning photographer Michael Williamson that left an even more vivid impression of a county either in ruins or in rehab, with images of Tidelands, the deserted Conservatory, the empty Roma Court, the wreckage of the old Palm Coast tennis courts, and a half dozen pictures from European Village, when it was ghostly with dashed hopes and downscale residents.
He hasn't been back since. He'd see a different picture.
"European Village and Palm Coast should be the poster-child of recovery," Beau Falgout, Palm Coast's economic development chief, said, making a corrective reference to the Washington Post headline. "If you haven't been to European Village, a lot has changed, the old stories are long gone, the old façade is repainted, it's more vibrant with more shops and restaurants and entertainment and a weekly farmers' market as well."
"Much like Island Walk," City Manager Jim Landon said, "we're seeing revitalization of some of our commercial areas, and this one in my opinion is real exciting, because it's not just commercial, it's also the residential area."
Last week and two weeks earlier, the Palm Coast City Council voted to approve the latest zoning change at European Village to enshrine a few changes the city has been working on for months with area residents and business owners to help European Village maintain its newfound momentum. The lighter regulations will allow European Village to govern itself with a bit more autonomy, reducing permitting requirements, enabling the installation of a big sign, and rezoning European Village's 11 acres from mixed use to a master-planned development.
The council approved the changes unanimously in late May and last week, after dispensing with only one emailed concern about the city's allegedly negative influence on resale values at European Village. The vote is the culmination, in the city's view, of the sort of success stories that have happened gradually—stories that reflect a sense of regained normalcy that don't necessarily lend themselves to arresting headlines or image galleries, but that nevertheless speak to broad gains and benefits to businesses, residents and visitors.
As much as European Village had illustrated what had been lost during the downturn, it now illustrates what has been reclaimed. It's the "rebirth of European Village," in Falgout's words.
"Talk about a roller-coaster ride," Landon said. "European Village is a great example of that where, when it first opened, it was a real spotlight in the community. And then during the recession, businesses struggle and it became one of our priorities, like with any small business in town, to see what we could do to work with these small businesses to bring European Village back as a highlight in the community. Very, very pleased to report that we've been very successful."
---
A business and residential community thrives again, as it was intended to.
---
European Village was born on paper in 2002 before it started rising as a 143,000 square foot development that was to include 95 multi-family housing units above the development, and 37,000 square feet of commercial space split between 35 shops and restaurants. The development was to replicate a European-style town, where homes are typically built above businesses to foster an intimate life of commerce and leisure, with 305 parking spaces at the rim of the development.
The original concept did not just idealize the sort of European-style shopping experience it was seeking. It wrote it into the city ordinance, listing the shops to be sought there. Those were to include a French crêperie where the crêpes would be prepared in front of customers, a German "esoteric store" that would provide tarot readings and esoteric books, a jewelry store offering Cartier and Rolex brands, an English pub, a store offering international periodicals, an Einstein bagel shop, a poker saloon, a Birkenstock shoe store, and so on. Many, but not all, of those ideas proved beyond European Village's ken.
"It's proven very difficult to administer and very narrow to implement," Ida Meehan, a city planner, said of the explicit and heavy-handed planning. So the new ordinance deletes that sort of specificity.
The city also dispense with requiring European Village to secure special events permits for any event within its confines that doesn't exceed 1,000 people (or that doesn't include fireworks).
And most visibly to residents and drive-by traffic, the new development allowance allows European Village to advertise itself with a big sign visible to traffic on the Hammock Dunes Bridge. Until now, the village was actually forbidden to have signs on its exterior, making that regulation more restrictive than what other businesses in town must comply with. The sign, a city official said, will meet the city's dimension requirements currently on the books.
"So what makes European Village unique?" Meehan said. "It is the architecture, it is the mixed-use, it is the urban form. These attributes contribute to a sense of vibrancy, creates an active, on-site experience, and that's evidenced by the number of special events and the farmers' market. What this proposed modification intends to do is to be supportive of that atmosphere and of those goals. And to maintain European Village as a destination location for residents and visitors alike."
All council members got an email charging that city regulation regarding an access and parking easement in the development had hurt resale values at the village and made it difficult for people to buy into the properties, because of the long-term uncertainty that parking will always be available.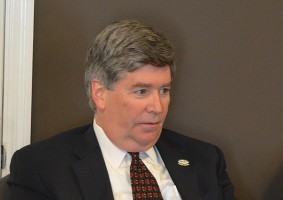 Landon dismissed the claim, saying the original easement was converted to a license agreement with the city. "One of the clean-ups we're doing here is actually cleaning that language up and getting that all out of there altogether and just addressing the fact they have to have parking and access," Landon said. "That's what our interest is. So the whole issue of whether it's an easement or it's a license is being taken care of with this document, if you approve it."
He said only one person complained about resale value in the development—Dennis McDonald, the author of the email to council members. But Landon conceded that the lease arrangement that the Community Dunes District grants European Village for parking space could theoretically be withdrawn, creating a parking problem. But that's very unlikely: European Village pays rent for the parking under the bridge, for space that could not realistically be used for much else.
"I don't want you to speculate, I want you to tell me, there is no other land there for parking," council member Steven Nobile told Landon.
"Oh yes there is," Landon said. "There's land all around to both sides of European Village, absolutely."
Falgout said there's been no problem with real estate transactions in the area. "A lot of property has transacted in European Village over the last few years, so I have not heard that concern," Falgout said.
"I can't go without saying that this objection is coming from an individual who also sued us over trying to stop Island Walk. We have some very positive redevelopment in the shopping area that we've been working hard on, and why somebody would want to stop this kind of positive redevelopment on a detail that is of no consequence whatsoever–I would hope that city council would agree that this is a very positive thing to move forward with."
"The business owners and the residents are 100 percent behind this," a property owner who owns a business and some residential units at the village said. "The values have gone up considerably." He said the reason mortgages were difficult to get in the past was because of the numerous foreclosures. But that's in the past, he said. Business is now brisk. "This are happening at European Village. It did go down, now things are back on the way up."