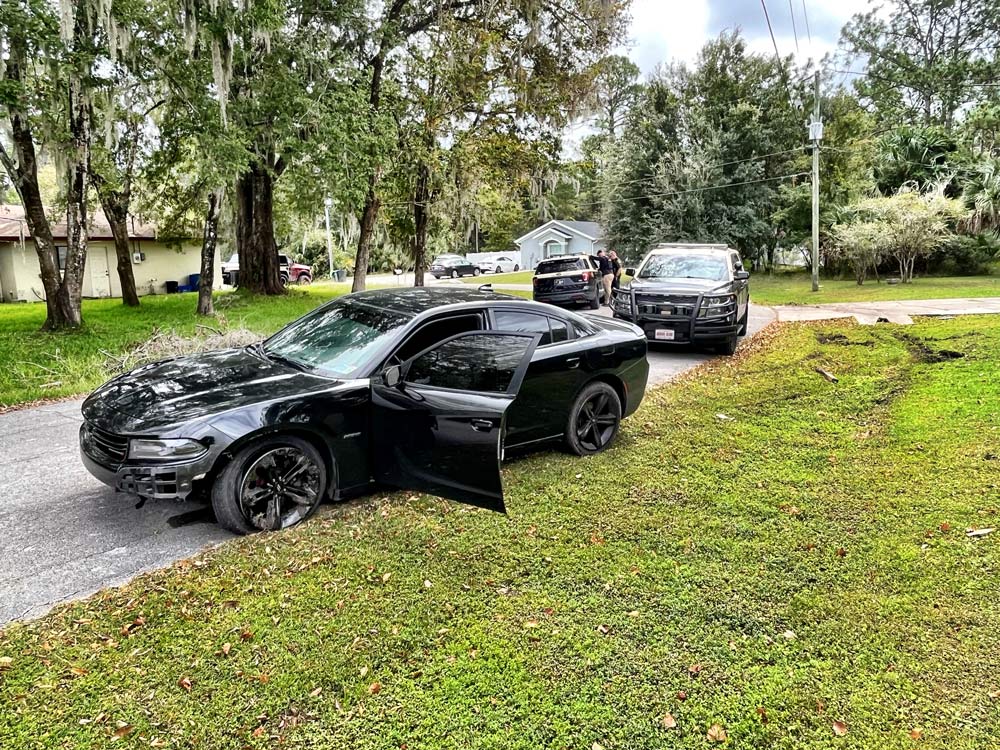 A chase initiated by Florida Highway Patrol troopers–the second in less than 24 hours in Flagler County–ended after a manhunt in the woods off Slow Drift Turn in Palm Coast's Seminole Woods early this afternoon, with the arrest of a man who'd crashed the Dodge Charger he was driving.
On Wednesday evening, an FHP-initiated chase following a traffic stop ended at the Hammock Dunes resort with the shooting of one of the two women who had earlier fled from troopers in a white car. Troopers have been conducting drug-interdiction operations in the county. The woman was flown to a hospital.




Today's incident developed shortly after noon as troopers began chasing the dark-colored Charger from U.S. 1 into Seminole Woods neighborhoods. The driver evaded the chase by taking one of the two turns of the Slow Drift Turn loop. Either because he was unfamiliar with the neighborhood or because a FedEx truck was in the way, or both, the driver lost control of the car at a sharp 90-degree turn, swerved into a ditch, shattered a mailbox and popped a rim on a front tire. He then left the car running, its hood smoking, its front bumper missing, and fled on foot, the driver's side door left gaping.
A witness who walked near the car soon afterward described an overpowering waft of marijuana smell coming out of the car, and hearing two gunshots before the troopers arrived. Neighbors also heard gunshots before troopers' arrival.
Slow Drift Turn's west side parallels woods and farmland. The man,  described as Black with a slight afro, darker blue shirt, had fled toward the farmland by the time residents heard the gunshots, then was seen reappearing near the line of homes along Slw Drift before disappearing again. Before long about a dozen law enforcement cruisers were at the scene, most of them FHP's, some of them the Flagler County Sheriff's Office's, and an FHP K-9 unit was among the searchers.




A witness on County Road 330, near Seminole Woods and U.S. 1, was told by a state trooper to stay indoors and lock his doors. At 12:50 p.m., a sheriff's spokesperson said the sheriff's office was "assisting FHP locate a subject who fled" in the area of County Road 330, U.S. 1 and Seminole Woods.
The man was apprehended and placed in one of the patrol cars before 1 p.m.