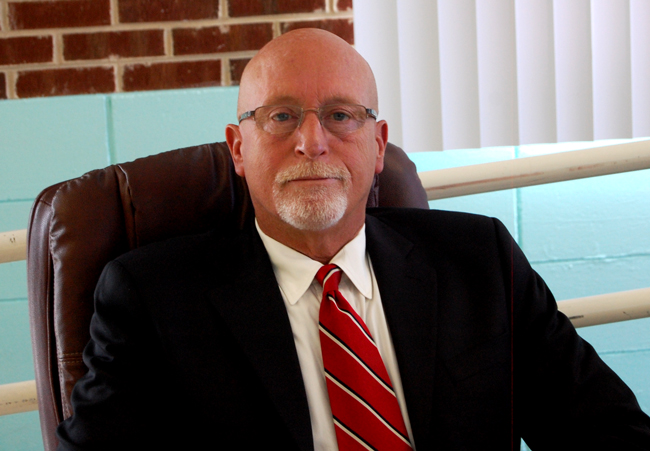 After interviewing eight candidates for city manager over three meetings and two weeks, Flagler Beach city commissioners have each picked their top two choices. Only one name appears on every participating commissioner's short short-list: Scott Janke, the former town manager of Fort Myers Beach and several other cities and towns in Florida and Alaska. (See Janke's resume.)
Janke was the number one choice for commissioners Jane Mealy and Joy McGrew. He was the second choice for Commission Chairman John Feind and commissioner Steve Settle. On Sunday, Feind, who prizes consensus (and termed Janke "the most personable") said, "if three people say Scott Janke, I can easily say the same thing."
Word and Janke were both among five finalists for the South Miami city manager's job two weeks ago, though neither made the cut down to the final two. (See Gary Word's resume).
Commissioner Ron Vath, who took a job with the Federal Emergency Management Agency in mid-August, apparently in Iowa, did not participate in any of the interviews and has not turned in any opinions about the candidates, though the city was making every effort to send him audio recordings of every interview.
The commission's goal is to name a new city manager by Oct. 1. It agreed last week not to wait on Vath, who may or may not be back by then.
The commission's choices will surprise a faction of Flagler Beach residents who campaigned strongly for a Flagler Beach resident to have the job–and in particular, for Bruce Campbell, a building maintenance worker with the city who led his own company in Ohio for many years and interviewed assertively last month. Campbell had two strikes against him: no executive experience in public service, and what turned into an unveiled political campaign on his behalf, which turned off commissioners. Campbell's name appeared on only one commissioner's final list. He is Settle's first choice. (See Campbell's resume.)
No other local candidate–there were two more: Caryn Miller, the city's community redevelopment director, and Mike Evans, an army reservist who briefly seerved on the commission early last decade–made any commissioner's short list.
The candidate with the second-most votes is Gary Word, who is Feind's first choice and McGrew's second choice. Edward Sealover made an appearance in second place on Mealy's list.
Janke and Word clearly outshone the rest of the field with a combination of government experience, professionalism, preparedness and poise. Word, the outgoing town manager in Surfside (which has about the same population as Flagler Beach and is located near Miami Beach), repeatedly emphasized professionalism and a degree of presumed deference to the administration that signaled discomfort at commissioners' micromanagement.
Word and Janke hardly differ in breadth of experience and familiarity with managing towns the size of Flagler Beach, in Florida and in the public eye. One signal difference, however, is personality. Word described himself as "shy" and less outgoing–more interested in working behind the scenes than seeking the spotlight. His professionalism was evident. But so was his primness. Janke's personality–at ease with the unexpected or the esoteric–appeared more in sync with Flagler Beach's, and certainly with its commissioners' tendency to do the unexpected.
Both Word and Janke also unhappy ends to their last jobs. Word in March told his city commissioners in Surfside that he would resign by fall because, he wrote them in a letter, ""there appears to be a dissatisfaction with Surfside local government at the staff and policy making level. This is a distraction which, in my professional judgment, impacts the essential principles of efficient municipal government management." Word had been openly criticized by the mayor and some commissioners during meetings.
Janke was fired from his last job on July 21, 2009, when the Fort Myers Beach Town Council learned of Janke's wife's occupation as a porn actress. Janke had had a glowing career until then, including seemingly good relations with the town council and the community. Speaking on CBS' Early Show days after the firing, Janke, appearing on the show with his wife, said the couple had intentionally shielded the commission from her job the way they had from her three teen-age children (from an earlier marriage). The city's mayor, Larry Kiker, claimed at the time that Janke was not fired over his wife's job, but over the fallout from the news, which was considered a distraction. Nevertheless, Janke was never afforded a chance to appear before the commission before the abrupt firing, nor to resign.
He has been separated from his wife since January. The incident has dogged his chances at restarting his career.
"It has nothing to do with me, and it shouldn't affect the commission's process," Janke said Monday morning, when contacted by phone. "It certainly doesn't affect my decision making process. It was an unfortunate knee-jerk reaction and it had absolutely nothing to do with my running a city as a city manager."
Janke put the incident behind him. Flagler Beach commissioners have signaled strongly that they have no intention of holding the issue against him, once Janke brought it up of his own volition during the interview, and set it aside.
"I actually felt very good about it," Janke said of last week's interview. "I thought I connected well with the city commission members, they asked good questions, I believe I answered them to their satisfaction, and I look forward to getting there. I anticipate being hired, and I'm dying to get to work."
The Flagler Beach City Commission meets Thursday at 5:30 p.m., in its usual chambers, to decide its next move.

Commissioners' Picks
| | John Feind | Jane Mealy | Joy McGrew | Steve Settle | Ron Vath |
| --- | --- | --- | --- | --- | --- |
| First | Gary Word | Scott Janke | Scott Janke | Bruce Campbell | |
| Second | Scott Janke | Edward Sealover | Gary Word | Scott Janke | |
Commissioners agreed to provide their top two choices following their interviews with eight candidates for manager. Ron Vath has not attended commission meetings or workshops since mid-August, and has given no indication of having received or listened to the audio recordings of the interviews, which the city was sending him by mail.