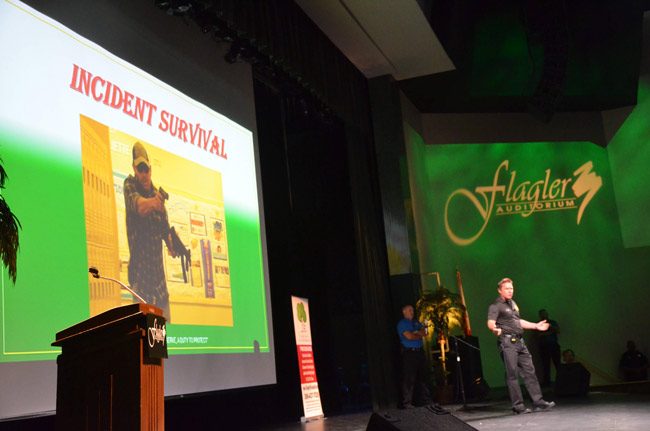 I attended last week's safety-training session for school district faculty at the Flagler Auditorium, the first of its kind in Flagler, one of many like it in post-Parkland Florida. Training on what to do when a mass killer is on school grounds is now the law in this state. I was impressed by the candor, clarity and humor of the trainers–Mark Carman, the Sheriff's Office's Palm Coast precinct chief, and Sgt. Mike Lutz–and by their command of an unnerving responsibility: describing how to keep children in our schools from getting massacred.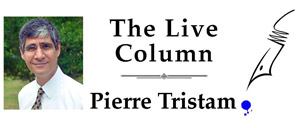 I was also utterly saddened by the fact that that kind of training was taking place–that we've reached a point in our society's perversions, where lechery for guns is so commonly worshipped and excused in language more juvenile than middle schoolers' autoerotic fantasies, that this sort of training is not only necessary, but essential. That this sort of training is accepted as a norm, even applauded, when, even as we resign ourselves to it, sorrow is the more appropriate response.
We're not solving anything of course. We're just building fortresses while the barbarians reload. They'll find the way in. They always do, not because schools aren't "hardened" or cops may be late to the scene or hesitant or misdirected, but because the Achilles heel of so much armed and perfected defense is still a Maginot Line against the individual suicide killer who has nothing left to lose but his own life, as long as he takes down a few dozen others along the way. His whole thing is to defeat the perfected defense. These are not "active shooters" but America's suicide bombers, terrorists minus the bombs, though who needs bombs when you have the NRA for an armory.
The lead stories in the Sunday New York Times and the Daytona papers were all about students returning to armed guards and lockdowns this week. The News-Journal put it more curtly: "Armed and Ready," a headline I found lecherous in its own way, its alliteration misplaced (we're dealing with children at risk of massacre here, not a movie review) and its choice of words as if rooting for an attack, maybe to see how all this preparation can be triumphantly validated. (The subhead was as small as an afterthought: "but will Volusia and Flagler schools be safer?"). You can't really blame a copy editor for being as out of touch as we have all become.
We're so out of touch that we've lost sight of how schools are nowhere near the dangerous grounds these headlines–these school shootings, these corporate salesmen of safety, who are reaping millions from the fear–make them seem.
You wouldn't know it from the new arms race to put a cop in every school but it's worth noting that in almost every regard, schools are still the safest place for your child. The numbers are not close. If it's guns you're worried about, more than 19 children are shot every day in the United States, more than 30 are killed every week–26,000 killed by gunfire since the year of Columbine, to be precise (200 of them at school). But the statistical probability that a public school student will be killed by a gun on any given day is 1 in 614 million. Most children victims are shot at home, on the street, as bystanders to crime, or by accident–though in reality there's no such thing as accidental deaths by gunfire: no gun claims victims by accident. When 4-year-old Shane Zoller shot herself with her grandmother's gun in Tampa last September, she had been looking for candy in her grandmother's purse. It's not an accident when a grandmother leaves a loaded gun in a purse accessible to a child. It's a felony, though not in Florida. Never in Florida. Would Shane have ever found a gun at her pre-K in a Florida school? Not likely. Except maybe in Polk County.
If it's sexual predators you're worried about, again, schools are safer by far than the child's own home, where most of the sexual predation takes place. Schools are safer than parks, streets or churches. Same thing with other kinds of crimes. There's a bullying problem in schools to be sure, but it doesn't approach the rates of abuse children suffer at home from parents or siblings, and bullying is mostly a reflection of what happens at home: the brutalized child can always find someone to victimise in turn at school.
I don't mean to downplay the catastrophe of school shootings nor do I buy into the claim that the shootings are sensationalized. You can't overreport a school shooting. But you can overreact to it. That's what we're doing, expensively and not just pointlessly for the most part, but at the expense of more serious issues in and out of school, not least among them underpaid and overworked teachers, undereducated and overtested children, dilapidated facilities and exhausted bus fleets.
Florida's ongoing $100 million plan to put a cop in every public school is one example. We're forging headlong into this transformation of campuses into precincts at a cost as immense as it is unjustified–and deceiving. That $100 million represents only what the state is willing to pay. It's less than half the actual cost, which counties and cities are picking up once they get through beating each other up and their school district over who should be responsible for what portion of a tab none of them should be made to pay. If the state is so intent on forcing a cop on every campus, the state should pay the full bill. But we're making fortresses of the safest places in America, out of fear that one of those 120,000 schools might at some point be the target of a shooting. The calculus is absurd when you consider what violence toward children we're doing nothing about beyond schoolhouse walls.
It's not just the expensive and misplaced fixation on cops. School architecture for the past 20 years has trended toward the institutional and the prison-like, the unimaginative consequence for that desire for efficiency and discipline. The shootings are amplifying the trend. The rebuilt elementary school in Newtown, Conn., site of the Sandy Hook massacre six years ago, is an example of faux rusticity dissimulating calculated regimentation. The school looks more like an airport or a mega church than a school. Its windows are bulletproof–ostensibly because the killer shot his way through glass panes–but they've also been covered up in deflectors that look no less like prison bars for being painted in primary colors. A moat runs along the street side of the building. A moat. All classrooms lock from within, a concession to an easy form of security (until the next band of school murderers uptick to plastic explosives) but also a surrender to an impulse to manufacture peace of mind of barricades in the one place in a child's life where doors should never lock. The same kind of so-called "hardening" is changing school construction across the country, to the joy of contractors and security consultants with so much less work in Iraq and Afghanistan.
It wouldn't be so bad, it might even be justified, if we were doing all this in conjunction with greater efforts to stop the killers before they reach campus. But we're not. We're spending a fraction of the dollars on mental health than we are on cops. The Times story on Sunday quoted a ninth-grade special education math teacher: "I don't know where the line is of making people safe — spending money on a resource that won't be utilized every day like an armed guard — versus a counselor that would be utilized every day." (Flagler schools are on their way to having a psychologist in every school, an admirable step, yet still less than the ratio of cops to students.)
And we're working against addressing the root of it all: the guns that we prize and protect with ironically violent fanaticism. Sure, state legislatures have passed some 600 new gun laws since the Newtown massacre. But most of those have loosened restrictions on guns, not tightened them. Mass shootings have always been great business for the gun lobby. School shootings are a bonus.
Counterintuitively perhaps, and with the rare exception, these 120,000 schools of ours remain exceptionally safe. It's their surroundings that aren't. There's no hardening there. There's just complacency and complicity. But making fortresses of schools is another surrender. It concedes that, to borrow a phrase from George W. Bush in a former context, "fighting them over there so we don't have to fight them over here" is no longer possible. Our school faculty and staff, our students are sitting through mass-killer training because we've conceded that fighting them "over there," beyond the schoolhouse, is a lost cause. We have to be ready to fight them "over here," moat or no moat. But above all, let's by all means keep pretending that guns have nothing to do with it. With thoughts and prayers for those felled by guns, no doubt.

Pierre Tristam is FlaglerLive's editor. Reach him by email here or follow him @PierreTristam. A version of this piece aired on WNZF.