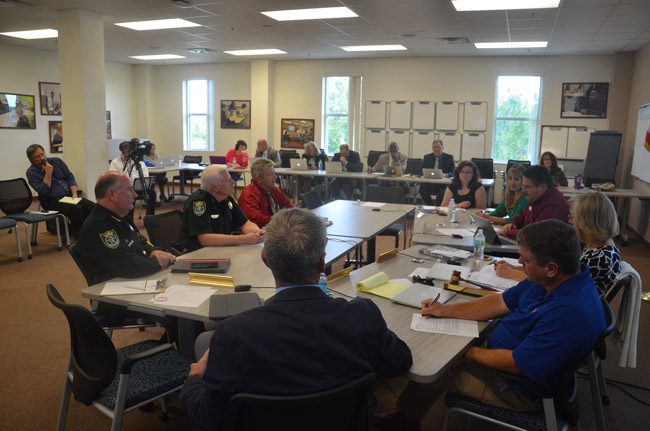 School districts and sheriff's offices across the state have been turned against each other by the Legislature's overreaction to the Parkland school massacre. Like the nation after 9/11, Florida after Parkland thinks our best way to security is more force, more fear, more spying, but nothing to change a culture that more strictly regulates lawn-mowing than guns.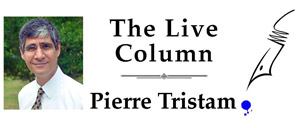 So last Tuesday's confrontation between Flagler County Sheriff Rick Staly and the School Board, or what turned into a confrontation, wasn't either side's doing. They were put in that position by lawmakers who are forcing them to turn schools into armed camps while providing less than half the necessary dollars. They're being manipulated, and local budgets, local taxpayers, are paying the price.
Schools are now required to have at least one cop or one armed person on campus at all times. Flagler wisely dispensed with arming staffers or having their own police department. They're sticking with sheriff's deputies. The question is how many. The plan is to increase the number of deputies from six to 13, including two supervisors, and including two deputies at each of the district's two high schools. That comes to $1.9 million to be split between the district and the sheriff. The district is short at least $88,000.
That's what led to last Tuesday's difficult encounter between the board and the sheriff, who thinks–unfairly–that the board is being "ridiculous" to piddle over $88,000. Board members Andy Dance and Colleen Conklin and even Maria Barbosa questioned him hard, but fairly and necessarily. Maybe it's not what this justly popular sheriff is used to but that's what we expect of our board members, even if they veer from what the administration may have worked out with the sheriff. Ultimately, it's the board's decision, not the administration's. (Where was that school board when it came to questioning the Social Sentinel spying contract?)
Dance may have been wrong to question why there should be two supervisors for school deputies instead of one–not wrong to ask the question as much as wrong to imply that the redundancy is unnecessary: there's nothing worse than a lack of supervision in cops' ranks, the more so when cops interact with children. The question he should be asking, the question no one is asking, is: now that cops are becoming so ubiquitous in schools, who is also supervising cops from the schools' end? If they're answerable exclusively to the sheriff, that too is a problem. (American troops deployed abroad answer to their commanders. But they also answer to local laws. School campuses should be no different.)
Conklin for her part was incorrect (or at least unclear, and I repeated the error in a previous version of this piece) when she said that additional mental health services must be paid for out of the same pot. The Legislature's "Safe Schools" appropriation of $97.5 million must be used "exclusively for hiring or contracting for school resource officers," the law reads. Separate pots fund "hardening" ($99 million statewide) and mental health ($69 million). Shifting money was permissible under the old Safe Schools formula. Conklin's reading of the law is that not all Safe Schools dollars are to be invariably allocated to deputies: only the new allocation is restricted. And in fact the Department of Education's previous interpretation of Safe Schools dollars lists resource deputies as only one of a series of allowable spending. The question is whether that interpretation still holds in this new world.
But Staly gave back as good as he got. That's what we expect of him, too. What we don't want is for either side to limp or submit to an agreement. So far neither has, which is to their credit–and which is just why a compromise that neither side entirely likes is the more workable solution.
On Wednesday, Staly told me that–after opposing the long-standing arrangement for a few weeks–he would accept Palm Coast continuing to include in its contract with the sheriff one full position for a school resource deputy. That's a commitment that, thanks to the city council, Palm Coast is not willing to abandon. (And it raises the question: why aren't Flagler Beach and Bunnell willing to do their proportionate share, however small? These days, every penny counts. So come on, Chairman Rick Belhumeur and Mayor Catherine Robinson.) That cost had not been part of the negotiations with the school board. It means the school board has $55,000 more to work with, reducing its "deficit" to $33,000. The Sheriff is also willing to work out an arrangement involving overtime that may bring down the cost even more.
The school board could cut costs further by sticking with one deputy at Matanzas High School. That's what it has there now. Staly considers that a mistake and says he will put his opposition in writing, so that if something ever happens there, he can point to his letter before the school board points a finger at him. But this week and last Staly touted to the Palm Coast council how his cops' response time has fallen impressively into the 4-minute range, an excellent achievement: that means deputies can respond to a school faster than they can cross certain campuses from one end to another. That must count for something more than boasts. Make that work to the school resource deputies' advantage, and keep the Matanzas force at one. That's another $55,000 saving. And it brings both sides to an immediate agreement, enabling the negotiations to end well and the hiring to begin in time for the sheriff to have his new deputies trained and ready for redeployment by the beginning of school.
Beyond that, the sheriff through the state sheriffs' association and the school board through its own can start lobbying lawmakers to put better sense and more dollars behind their security requirements. But more cops ultimately aren't the answer. The resolution discussed above is a matter of pragmatism within laws that must be followed. But if laws are to be more reasonably amended, a broader, cultural issue must be confronted.
Even before Parkland, we did not have a lack of security in schools. We did not have a lack of hardening. Nor a lack of vigilance. If anything, we have all three in excess. Entering Buddy Taylor Middle School a few weeks ago was no different than entering the Flagler County jail. The procedure was the same. Getting past entrance metallurgy was nearly the same. We're doing an excellent job of turning schools into bunkers, with more psychological than actual security: students are as vulnerable as ever on sports fields, at bus stops or on buses, on field trips, on their way in or out of neighborhood schools. Mass murderers aren't deterred by "hardening." And it's not just school shootings we should be protecting against, but all mass shootings.
But we're doing nothing about what causes it all, what makes us the only western country that has words such as mass shootings in its everyday lexicon. And I don't mean mental health. The United States has no more and no less nutcases than Germany or Sweden. But it has incomparably more school shootings and street carnage than either. It's not that we have too many guns, either. Germans, Swedes and Swiss have plenty of them too. It's that we worship them more than we do our security. We have more trigger locks on our elementary school doors than we do on handguns. We are quicker to arrest and demonize a hapless middle schooler who makes a joke about guns than we ever are about the more stupid and criminal gun owner who lets his weapons be stolen out of his unlocked car, and who should be arrested and charged with a felony for it. Instead, he's branded a victim. In that regard, yes: we all need better mental health.
Schools are like islands of health besieged by a virus, but we refuse to develop a vaccine. Active-shooter drills have become as grim a ritual as the nuclear bombing drills of the 1950s. But we continue to encourage the arms race, hardening schools while letting the country at large build its arsenal without limits behind a perverted Second Amendment. No one wants it abolished. But it would help to read it less like illiterate vigilantes overcompensating for something and more like reasonable human beings. The arms race isn't necessarily making campuses safer. It's heightening the risk of carnage.Instead of eliminating AR-15's from our lives, we're now adding AR-15's to campus closets as a matter of routine. It's insanity normalized.
Staly is fond of saying that we can never arrest our way out of problems like domestic violence or the opioid crisis. He's right. Along the same lines, we will never fortress our way past mass shootings. Putting so much attention on security and hardening (if not on mental health) is actually irresponsible when it becomes an end in itself, a perfect tough-act decoy to deflect from the root of the problem. It gives the murderers a pass until they start shooting. By then shooting back may be more likely, but it's too late. Adding cops everywhere is popping aspirin for a cancer. It'll do wonder for the headaches of everyday discipline. It won't keep our children from falling to the next mass shooter's bullets.

Pierre Tristam is FlaglerLive's editor. Reach him by email here or follow him @PierreTristam. A version of this piece aired on WNZF.