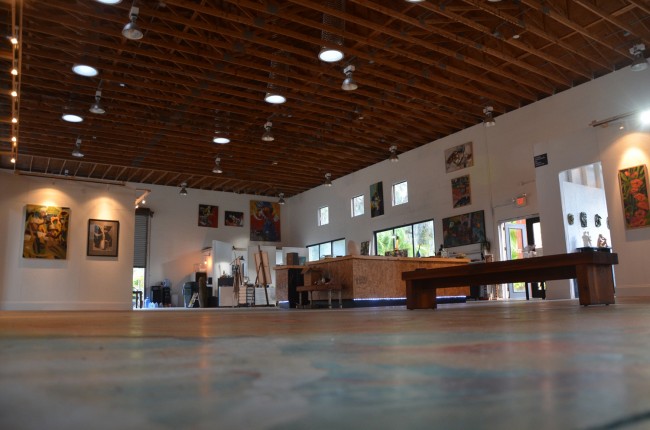 Note: the grand opening of the Salvo Art Project gallery is from 5 to 9 p.m. Saturday, Nov. 1, on the grounds of Nature Scapes, 313 Old Brick Road in Bunnell. There is a $10 cover charge to help defray coming improvements at the gallery.



Gallery openings are fun occasions to socialize, drink and pretend to look at art. So will be the opening of the Salvo Art Project Saturday evening starting at 5, under the immense moss-veiled oaks on the grounds of Nature Scapes in Bunnell, where what used to be JJ Graham's Hollingsworth Gallery has moved from Palm Coast's City Marketplace and been reincarnated as this new "project." But openings somewhat cheat certain galleries of the intimate experience they're designed to elicit, if not the interaction with artists who breathe life into the space.
The Salvo Art Project is made for that experience. It is finally more Gauguin than mall, as Hollingsworth was in its confined rectangles at City Marketplace for six years. The gallery's single, vast exhibition space, vaulting to a 35-foot-high ceiling with all the vibe of a church minus the pews, invites contemplation of the work on display as much as it invites immersion in the space itself.  But it also invites a literal (in this case the word is used precisely) wander behind the scenes: artists' studios are right behind secondary 10-foot walls on three of the four sides. Artists are usually in there, working, because the Salvo Art Project is foremost a stable of workhorses, not Chardonnay-sipping half-Sunday artistes. These artists tend to be as inviting as their work. One afternoon this week, the place could count four former Flagler County Artists of the Year, all of them working at one thing or another—Christine Sullivan, Linda Solomon, Weldon Ryan, and of course Graham, Salvo's co-creator with Petra Iston, whose Artist of the Year laurels are a matter of time.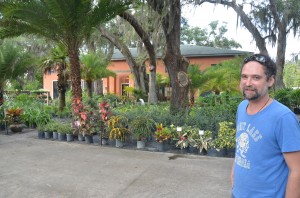 It's worth visiting the place just to talk to them briefly (too many interruptions are real artists' bane) or watch them work and see how what you see on the gallery walls is made and remade and twirls before your eyes, like Solomon's dancers. ("There's nothing that's stationary for me," Solomon says as she worked in her studio. "It's a flow. It has to flow.") That's how the gallery reveals itself, in unexpected encounters, whether with the art or the artists. So when Graham celebrates the opening of Salvo Art Project Saturday evening he'll be smiling, hugging, kissing, smoking, drinking and evangelizing about his new world. But he'll also be hoping you return on a quieter day and become familiar with the gallery's DNA.
"That's why we called it a project, not a gallery," Graham says. None of them have doors on their studio. Eventually we're going to build a studio here but I don't have doors." He points to the large semi-circular space outlined in easels, file drawers, work stations and errant white panes, the space where he and Iston work, opposite the reception square Iston built out of remaindered woodwork that built some of the secondary walls. "I have this philosophy that I've been toying around with, and Petra shares it with me," Graham continues. "The really coolest thing about art is the process. It's one thing to have a finished painting and show it. But we want to invite people to see the process, of things being made. We don't ever want to be posh or pretentious. We want the place to be real, to be grounded."
For now Salvo Art counts seven studios, including his own. All were rented to 11 artists before the gallery had its opening. All but four of the artists used to be  in the more isolated cubicles at Hollingsworth, where views like the ones at Salvo could only be imagined on canvass—huge bay windows opening on oaken sights, a pond, a garden area, the distant traffic of State Road 100, and a scenery that, inside and out, seems to change hourly with the play of natural light.
In the near future Graham hopes to secure the permits to build additional studios on a second level, above existing ones. He'll need to. He constantly gets inquiries from artists who want to rent. The space can certainly bear it. It's about 6,000 square feet in a brick building that had long gone unused by the late Marylou Baiata, the owner of Nature Scapes who died earlier this year, and who'd dreamed of having an artists' colony on her property for a long time. She struck the deal with Graham shortly before her death. The business is now run by her son, Chris, with his wife Pasang. It frames Salvo Art in natural insulation from the more prosaic parts of Bunnell on one side and Palm Coast on the other, while keeping the artists connected to both.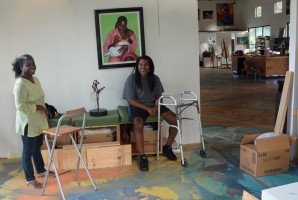 "For us we were trying to do things with the community in Bunnell," Richlin Ryan, an artist who shares a studio with husband Weldon, said, "a lot of the kids who wanted to do our programs couldn't get to City Marketplace. This is a lot more accessible for them, so if we're doing anything that we have in mind to do, this will be key to that because kids can walk, the bus can drop them off after school, and it opens a new world for those kids in Bunnell."
The Ryans have a corner studio. "I like the feel of the openness, the camaraderie with the artists," Richlin says, "especially that there's more—I'm a feminist, sorry: I keep bringing up the women's point of view—I love the women who work here. There's only two men. Enough testosterone to go around. But I love the variety of what the different artists bring and what we can share and learn from each other."
"What I like is it's like an artists' retreat," Weldon says. "We're separate, but still in Palm Coast or Flagler County. You look out, you see nature and you're inspired by it."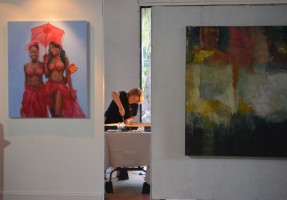 Christine Sullivan rented the studio next to the Ryans' sight unseen. Graham had one left. Sullivan spoke to him by phone., He described it. She took it. She'd just arrived this week. "Of course I'm OK with it, it's beautiful," Sullivan said, "but because I'm kind of playing catch up, I feel I've just landed in some type of merging animated Disney movies. I've got the [planes going over, and we've got the exotic birds that whistle at you, woohoo, woohoooo, when you go out to your car there are goats out by my car, when I got here I was like, 'what is this?' Because I'd never been to Nature Scapes. So what a beautiful escape."
Sullivan took a landscape workshop with New England artist Anne Packard last summer. It was held outside, by seaside. She admonished studio painters, telling them, "How could you be a landscape painter if you're not painting from life?" Sullivan recalls. "So here I have the best of both worlds. I'm a studio painter who can now also step outside and paint from life."
The lesson works not just for established artists. Graham teaches numerous art classes during the year, as do some of the resident artists, and Salvo Art is intended to be a school as well. Some of the classes are advertised with Graham's irrepressible wryness. Example: the six-week mixed-media painting class, starting Nov. 12, is explained this way: "This is not some Bob Ross, One Stroke Wannabe art class. Take off your Wyland's and Kinkaid's (sic.) at the Front Door."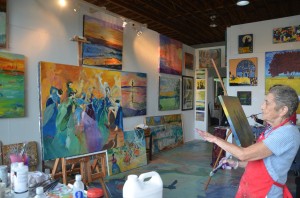 The name Salvo is derived somewhat from its rather high-charging origins (a gun salvo, a series of shots, a burst), but more imaginatively applied to art. In Graham's retelling—and retooling of the word—it's a "persistent barrage of creativity, a colossal cannonade of color and artistic zeal, often originating from a natural setting or a garden. Rarely experienced in obnoxious commercial shopping centers or mundane outlet malls." And so goes the not-so subtle dig at his old digs at City Marketplace, imprinted on little cards showcasing the new place.
But he's earned it.
When he opened Hollingsworth six years ago Graham almost single handedly gave abstract expressionist art a place in Palm Coast, unlikely as it was. He found and fostered an audience for it, small but avid, and remarkably sustaining despite personal struggles, a bout with cancer and a shattering loss. His relationship with a new and alienating landlord at City Marketplace had frayed. A plan to move the gallery to the Hammock, on school board property, collapsed. But then the Nature Scapes deal worked out. Despite the coffee-guzzling Graham at least appears to be more at peace now, his complexion less blanched by the concrete surroundings that seemed at times to asphyxiate him at City Marketplace despite the oasis of color and serenity he'd built inside his galleries.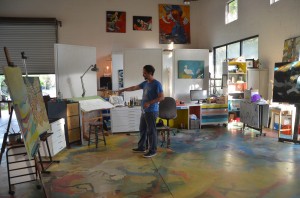 "There was kind of a romantic, destitute feel to the place," Graham says of the old location, "like you felt you were kind of on the fringe of something. I used to sit up and think how the heck did we end up there. How the heck did we end up here, too. This is a dream."
Perhaps that's one of the reasons he dropped the Hollingsworth name, even though it was an homage to his grandmother. "We had six years there and I honored her, but I wanted this to be less personal, more collaborative," he says. He has very serious, very big plans. And he's just 39.
He tells the story of Claude Monet working on his famed water lilies, some of which he painted within hearing distance of the front during World War II, mulling over the irony of finding beauty in horror's echoes.
"I think sometimes we need permission to have beauty in our lives," Graham says, "and I know I've felt that way at times. This place kind of gives me permission. Because as an artist I think you're empathetic, you know, you have to deal with the fact that the world that you create on canvass often can't really exist in our modern society. But I do, I want to find peace here. And I want the other artists here to feel that."